Which Generation Has Relied on Food Stamps the Most?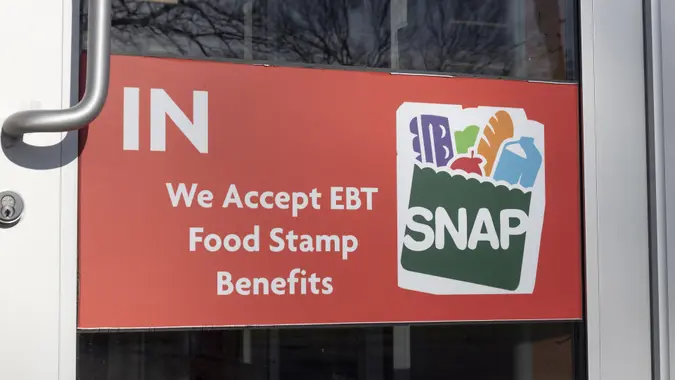 jetcityimage / iStock.com
Food stamp programs help millions of Americans gain access to food. But who exactly uses them?
GOBankingRates surveyed more than 1,000 Americans ages 18 and older from across the country asking about income, spending and savings details. According to the data, nearly half of the respondents have used food stamps at one point in their lives.
But different age groups have had very different experiences with food stamps, and some generations have used them more than others. The food stamp program has grown since its inception in 1969.
We'll review the details of our survey to see which generation relies on food stamps the most, and we'll review the history of the food assistance programs as well.
Food Stamp Use by Generation
According to our survey, here's the breakdown of what percentage of respondents are currently using food stamps or have used food stamps in the past (by age):
18 to 24: 57%
25 to 34: 56%
35 to 44: 59%
45 to 54: 53%
55 to 64: 41%
65 and over: 26%
Over 50% of respondents ages 18 to 54 have used food stamps. This makes sense, as SNAP was not expanded until 1969 with the establishment of the USDA Food & Nutrition Assistance Program, making it less accessible to older generations. Respondents who are 65 and older were born before 1959, which means the national food stamps program wasn't available until at least 10 years after they were born. So only 26% of their generation has used food stamps in their lifetime.
The highest use of food stamps is from first-generation millennials and younger Gen X respondents, with 59% having used food stamps at some point in their lives. With pandemic-era shutdowns, it makes sense that younger generations that aren't near retirement had to rely more on food stamp programs while the world was shut down for months on end. 
Make Your Money Work for You
Why Do Millennials Use Food Stamps the Most?
There are a myriad of factors that may cause someone to sign up for a nutrition assistance program. And while each generation has used the program, according to our survey, nearly 60% of older millennials have used the program at one time.
If we dig into the data a bit further, 30% of the respondents ages 35 to 44 are currently enrolled in a food stamp program. And over 50% of respondents in that age group have an annual income under $50,000 per year. Plus, over 40% of survey participants have less than $500 saved in the bank.
In other words, millennials are hurting (financially), and food stamp programs can help them afford to feed their families. Combine that with the fact that older millennials are parents to teenagers and growing children, food costs alone can cost over $1,000 per month for some.
Millennials are also struggling with massive student loan debt, with over 30% of total student loan debt being shouldered by the generation. And with student loan payments beginning again in October, the amount of millennials on food stamps may increase significantly.
Food Stamp Program History (and Growth)
Food stamps were first established in 1939, but only lasted for four years, until 1943. There was an 18-year break and then a pilot program for SNAP (Supplemental Nutrition Assistance Program) was launched in 1961. After a successful pilot program, the Food Stamp Act of 1964 was passed into law.
Participation in the program reached 1 million people by 1966 and grew to over 3 million by 1969. With the establishment of the USDA Food and Nutrition Service (FNS), food stamp participation more than doubled. By 1971, over 10 million Americans were benefitting from the program.
Make Your Money Work for You
Multiple programs were established in the 1970s, including the National School Lunch Program, National School Breakfast Program and the Special Supplemental Nutrition Program for Women, Infants and Children (WIC Program). As of August 2023, there are 15 programs serving over 40 million Americans.
Spending on food stamps programs has grown from $1.6 billion in 1970 to over $200 billion in 2022.
Who Is Eligible for Food Stamps?
Not everyone can qualify to receive food stamps. There are three tests you must pass to be eligible:
Gross monthly income. In general, your gross income must be at 130% of the poverty line (or below) to qualify. The poverty line varies by household size, with a higher income limit for larger households with more dependents.
Net income. In addition to meeting the gross income limit, your net income (after deductions) must be at or below the poverty line for your household size.
Assets. You must not have assets totaling $2,750 in value (or more) for any household size. If you have a household member age 60 or older or who has a disability, the asset limit is $4,250.
Here's a breakdown of the income and asset limits for different household sizes in 2023:
Table 1: Gross Monthly Income Limit (130% of Federal Poverty Level)
| | | | |
| --- | --- | --- | --- |
| Household Size | 48 States, District of Columbia, Guam, Virgin Islands | Alaska | Hawaii |
| 1  | $1,473 | $1,841  | $1,694 |
| 2  | $1,984  | $2,480  | $2,282 |
| 3  | $2,495 | $3,119 | $2,870 |
| 4  | $3,007  | $3,759  | $3,458 |
| 5  | $3,518 | $4,398 | $4,047 |
| 6  | $4,029 | $5,037 | $4,635 |
| 7  | $4,541 | $5,676 | $5,223 |
| 8  | $5,052 | $6,315 | $5,811 |
| Each Additional Member | $512 | $640 | $589 |
Table 2: Net Monthly Income Limit (100% of Federal Poverty Level)
| | | | |
| --- | --- | --- | --- |
| Household Size | 48 States, District of Columbia, Guam, Virgin Islands | Alaska | Hawaii |
| 1  | $1,133  | $1,416 | $1,303 |
| 2  | $1,526  | $1,908 | $1,755 |
| 3  | $1,920 | $2,400 | $2,208 |
| 4  | $2,313 | $2,891 | $2,660 |
| 5  | $2,706 | $3,383 | $3,113 |
| 6  | $3,100 | $3,875 | $3,565 |
| 7  | $3,493 | $4,366 | $4,018 |
| 8  | $3,886 | $4,858 | $4,470 |
| Each Additional Member | $394 | $492 | $453 |
In addition to meeting the requirements, SNAP benefits are typically reserved for households with disabled dependents or children. If you are between ages 18 to 49, not disabled and are unemployed, you are limited to three months of SNAP benefits every three years. Individual states may also impose specific work requirements for this demographic of SNAP recipients.
Make Your Money Work for You
What Can Food Stamps Pay For?
Food stamps are designed to provide a household with food items, but they don't cover everything. You can buy most food items at a grocery store, but you can't use them at restaurants. And, as poet Marshall Mathers once wrote, "these […] food stamps don't buy diapers."
Here are some items that food stamps can be used for, and a list of things they aren't able to purchase.
Food stamps cover household food items, such as:
Fruits and vegetables
Meat, poultry and fish
Dairy products
Breads and cereals
Snack foods and non-alcoholic beverages
Food plants and seeds
Food stamps cannot be used to buy:
Vitamins, medicines and supplements
Live animals (except certain types of seafood animals and slaughtered animals)
Beer, wine, liquor, cigarettes or tobacco
Ready-to-eat hot foods
Nonfood items such as household items, pet food and cleaning supplies
How Many People Use Food Stamps in the US?
According to the May 2023 report from the USDA Food & Nutrition program, more than 41 million Americans currently use food stamps via the SNAP program. The program has spent between $10 billion and $15 billion per month on average, excluding school lunch programs, adult care programs and other nutrition assistance. 
Of the other food stamp programs, school lunch programs have the most participants, with over 30 million estimated students taking part. What's interesting is that while over 50 million students are enrolled in the program, only 57% take part in the program. Even so, nearly 5 billion lunches were served in 2022 alone.
Day care homes and child care centers also have about 5 million participants in the program. And the Women, Infants, and Children (WIC) program has about 6 million participants on average.
Make Your Money Work for You
So while a majority of the costs are the SNAP program, there are tens of millions of participants in other food assistance programs that make up the estimated $200 billion in annual costs.
Bottom Line
Food assistance programs have grown since their initial inception in 1939. With over a dozen programs and hundreds of billions of dollars spent each year, every generation is benefitting from these programs. Millennials and younger Gen X participants have relied on food stamps the most, while those 65 and older have used the programs much less.
Methodology: GOBankingRates surveyed 1,091 Americans aged 18 and older from across the country between August 14 and August 16, 2023, asking twenty different questions: (1) Have you had trouble paying your utility (gas, electric, heat, internet, etc.) bills in the last 6-12 months?; (2) Which of the following bills/expenses has been the hardest to keep up with over the past year?; (3) Have you bought a car/truck in the last 6-12 months?; (4) Have you ever been on food stamps?; (5) Have you or would you use artificial intelligence (AI) to earn a passive income?; (6) Where do you shop for the best deals on groceries?; (7) What is your current annual income?; (8) How much were you able to contribute to your savings this year?; (9) How much have your savings/investments decreased over the past year?; (10) Next year's (2024) Social Security Cost of Living Adjustment (COLA) will be 3% instead of the 8.7% it saw in 2023. Will this affect you?; (11) What assets do you have in your retirement portfolio? (select all that apply); (12) How much money do you currently have saved for retirement?; (13) How much personal savings do you currently have?; (14) What's the first step you would take if you were starting a small business?; (15) If given the choice between your current job and starting your own business, which would you choose?; (16) If you have any plans to start a small business, what is the timeline?; (17) How much do you currently spend on rent?; (18) How much do you currently pay monthly on your mortgage?; (19) How much has your housing (rent, mortgage, etc.) gone up over the past year?; and (20) How long do you believe it will take you to save, in order to buy a house?. GOBankingRates used PureSpectrum's survey platform to conduct the poll.
More From GOBankingRates