How Much Did Food Stamps Increase Because of Inflation?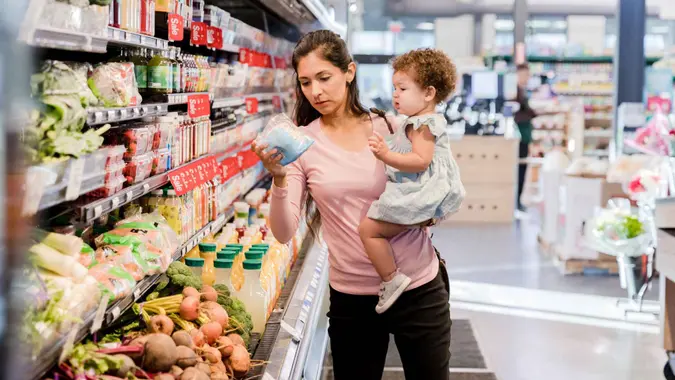 SDI Productions / Getty Images
Even as overall inflation begins to drop, the cost of food has continued to increase. In fact, the Consumer Price Index released by the Bureau of Labor Statistics on Aug. 10 showed a .2% increase in food at home and a year-over-year increase of 4.9%. These costs have put a large dent in American food budgets. So if food costs continue to rise, does that mean how much people receive in food stamps will go up as well?
The continued spike in food prices makes a challenging environment even more challenging for Americans who receive Supplemental Nutrition Assistance Program benefits, formerly known as food stamps. Although SNAP benefits are adjusted each year for inflation, the current fiscal year cost-of-living adjustment is based on 2021 prices — which were much lower than they are now.
SNAP is administered by the U.S. Department of Agriculture to help low-income Americans purchase food. According to the USDA website, the agency adjusts SNAP maximum allotments, deductions and income eligibility standards at the beginning of each fiscal year, which runs from October 1 through July 1. The changes are based on changes in the cost of living or the amount of money needed to support a basic standard of living.
The USDA's Thrifty Food Plan calculates the cost of a market basket for a family of four. TFP is an estimate by the USDA of how much it costs to provide nutritious, low-cost meals for a household. Maximum allotments are calculated from this cost every June. That means the COLA for fiscal year 2024 will be based on June 2023 prices.
Make Your Money Work Better for You
The calculation takes economies of scale into account, which means households of one to three people get slightly more per person than households of four. Households larger than four people get even less per person.
Income eligibility standards are set by law, with gross monthly income limits set at 130% of the poverty level for the household size. For the USDA's purposes, "gross income" means a household's total, non-excluded income before any deductions have been made. Net monthly income limits are set at 100% of poverty. Net income means gross income minus allowable deductions.
From 2013 to 2019, total yearly SNAP benefit payments declined at an average rate of 6.5% a year, according to USA Facts.org. Benefits rose 32% from 2019 to 2020, partly because of increases tied to COVID-19 assistance. Inflation has moved payments higher the last two fiscal years, but even the higher payments could not keep pace with rising consumer prices.
For the fiscal year 2023, the maximum SNAP allotment for almost all Americans ranges from $939 a month for a household of four to $1,691 a month for a household of eight, with $211 a month allotted for each additional member above eight.
Starting Oct. 1, 2023, for fiscal year 2024, the allotment will increase by about 3.5% — 1.4% less than year-over-year inflation levels for food. That means a family of four will receive $973 a month and allotments will go up to $1,751 for a family of eight with an additional $219 per person above eight.
Maximum and minimum allotments are higher for residents of Alaska, Hawaii, Guam and the Virgin Islands than they are for residents of the 48 contiguous states and the District of Columbia.
Make Your Money Work Better for You
More From GOBankingRates