Winter Will Dramatically Change in These Cities

10 min Read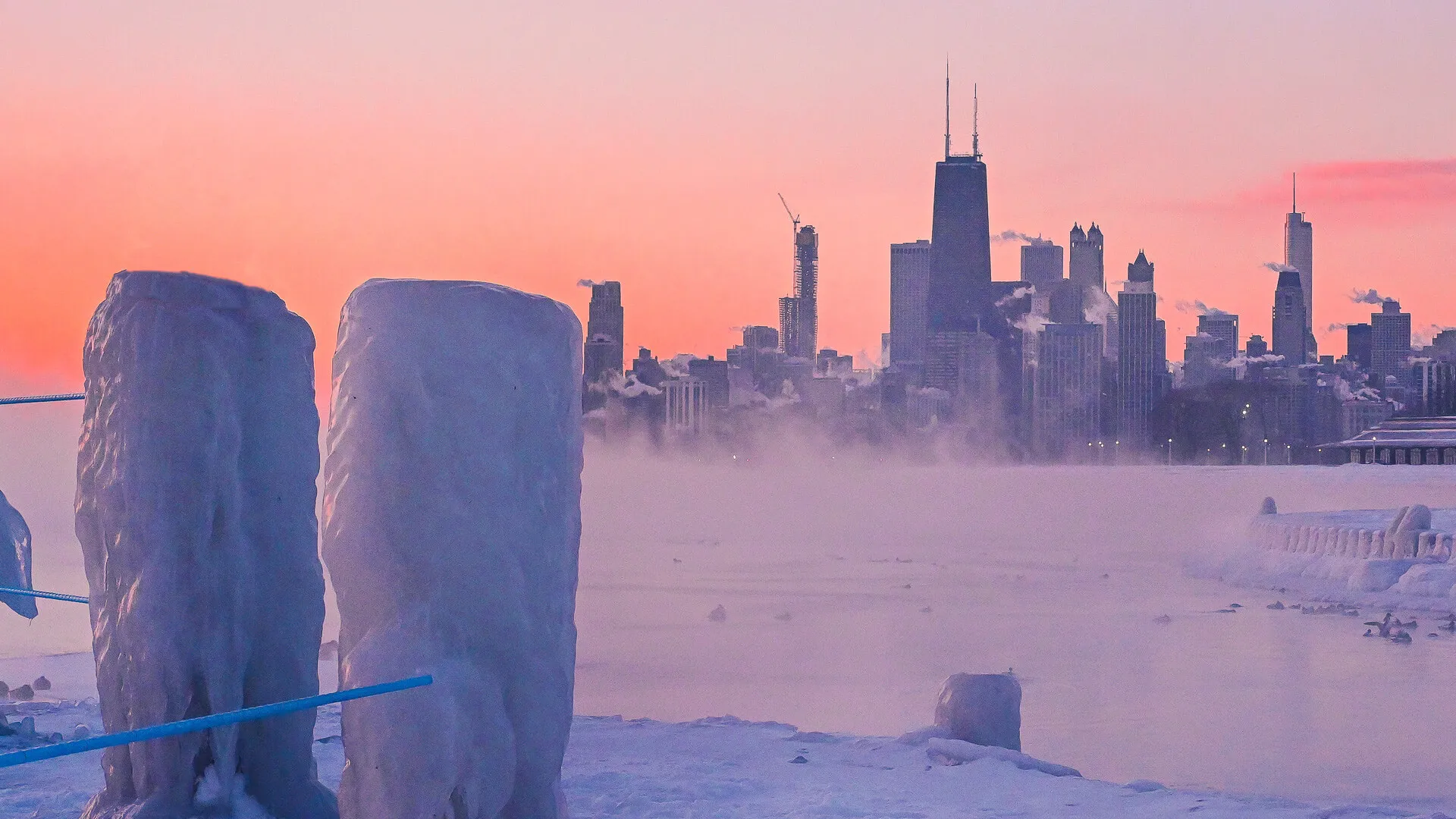 Boston
Snowfall has doubled — and then some — in Boston, increasing from 38 inches to 58 inches between 1970 and 2018. The average temperature is moving up, too, although at a slower pace. It increased 2.3 degrees in the same period, up from 31 degrees to 33 degrees.
Winter isn't the only affected season. Precipitation is rising throughout the year, leading the city to prepare for rising sea levels and potential increases in river flooding.
Burlington, Vermont
Burlington leads the pack when it comes to warmer winter temperatures. It's at the top of the list of the 17 U.S. cities where winters have warmed by more than 5 degrees, according to Climate Central. The city has seen a 7-degree climb since 1970, with the average moving from 18 degrees to a relatively balmy 25 degrees.
The warming trend has some positive effects, like allowing the collection of maple sap earlier in the winter, but ski resorts struggle with higher temperatures and the resulting lack of snow. It forces them to turn to snow guns to keep skiers happy and mobile on the slopes.
Make Your Money Work for You
Casper, Wyoming
Drier conditions in Casper mean less snowfall over the last few decades. In 1970, the average winter snowfall hovered in the 90-inch range, but now it's down to just about 60 inches as of 2018.
One positive effect of this lighter snowfall is a lower chance of flooding in the spring as the snowpack melts in the warmer temperatures. Though the region had a spring blizzard in 2019, the flood risk has been in the low to low-moderate range.
Chattanooga, Tennessee
Chattanooga is seeing much warmer winters since 1970, with a rise of 5.1 degrees. That means temperatures that used to be just below 40 degrees are now above 44 degrees on average.
The city also holds sixth place for the greatest overall temperature increase among U.S. cities, with a rise of 4.11 degrees over the time period. This puts it at risk for drought, even with increased precipitation. Since evaporation is also increasing, rivers and groundwater won't be adequately recharged.
See: Climate Change Is Hurting the Home Values in These Cities
Chicago
Chicago was home to the infamous blizzard of 1967, which dumped nearly 2 feet of snow on the Windy City and virtually shut it down. But there's little danger of a repeat these days.
Back then, the brutal snowstorm hit its hardest during rush hour, halting traffic and creating chaos. Now, Chicago's snowfall rate is declining, with under 40 inches in a typical winter, as opposed to almost 50 inches in 1970.
Clarksburg, West Virginia
Average winter snowfall in Clarksburg, West Virginia, is down nearly a foot since 1970, dropping from 30 inches to 20 inches. Though this loss of snow has not had a major impact, the increase in average temperatures by 1.6 degrees — up from about 32 degrees to nearly 34 degrees — could eventually boost outdoor recreation as people enjoy days above the freezing point.
Colorado Springs, Colorado
Colorado Springs is in a snowfall decline. It averaged over 50 inches of snow in 1970, but it's below 30 inches as of 2018. A late season snowstorm hit the region in June 2019, but overall the city's snowfalls aren't as robust as they were in the past. If the trend spreads throughout the state, it could have a negative impact on ski resorts, as the industry is heavily dependent on steady snows to draw tourists for winter recreation.
Make Your Money Work for You
Concord, New Hampshire
New Hampshire is known for cold winters. But Concord is seeing a rise in average winter temperature from just above 20 degrees in 1970 to 26 degrees in 2018 — at an overall upward trend of 5.6 degrees.
In 2016, the city had its warmest overall winter on record since 1870. Snowfall levels have remained steady. But if the trend continues, the city could see less snowfall in winters with fewer days below freezing, converting the precipitation to rain.
Dallas
Winters in Dallas are getting warmer, with an upward swoop from 46 degrees to just under 50 degrees. That's a rise of nearly 4 degrees since 1970.
This trend could potentially lead to longer and more severe droughts as the warmer temperatures lead to drier soil. Cattle farmers could feel ripple effects in the form of higher hay prices.
Detroit
Detroit's winter temperatures are on an upward climb. Winter in the Motor City used to have an average temperature of 25 degrees in 1970, but it's nearly 30 degrees now as a result of a 4.2-degree climb. The city experienced its eighth warmest winter on record in 2017, and it could move closer to the record in coming years if the trend continues.
Erie, Pennsylvania
Erie's snowfall has risen since 1970, shooting up from 80 inches to nearly 120 inches in 2018, with no signs of slowing down. In 2019, it made the top 10 list of snowiest cities and hit No. 2 in the Golden Snow Globe contest, which focuses on cities with a population of 100,000 or more. In winter 2017-18, Erie recorded a whopping 166.3 inches of measurable snow in a record-setting season.
Fairbanks, Alaska
The white Alaskan tundra is fading in places like Fairbanks, where snowfall has dropped significantly since 1970. The city was getting an average of over 70 inches of snow then but got below 60 inches in 2018. Declining snow here and throughout Alaska threatens traditions like the Iditarod dog sled race, which depends on a good snowy base over which to run.
Flagstaff, Arizona
Flagstaff has seen its snowfall plummet over the years, from around 125 inches in 1970 to closer to 75 inches in 2018. This drop in snowfall is fueled by drier conditions.
However, the city's 2019 weather showed that less snowfall overall doesn't mean freedom from record-breaking blizzards. In February, the city saw 3 feet of snow pile up in just one day. The snowy surprise shut down 50 miles of Interstate 17.
Make Your Money Work for You
Juneau, Alaska
Many people equate Alaska with chilly temperatures, but Juneau is leading a statewide trend of progressively warmer winters. The average winter temperature soared 5.3 degrees between 1970 and 2018, from the 26-degree range to above the 32-degree freezing point.
Balmy winter temperatures have severe impacts on the city and state overall, with effects like more wildfires and accelerated shore erosion. Alaskan warming also has negative effects on fishing.
Las Vegas
Just like the neon-lit casinos of Las Vegas rise out of the desert, the town's winter temperatures are on the rise, too. They're up just over 5.1 degrees since 1970, bumping to an average of 51 degrees.
The warmth means that plants bloom earlier, which brings an early round of pollen that slaps allergy sufferers with symptoms like watery eyes and runny noses. Worse yet, the extended warmer winters draw out the seasonal suffering. Las Vegas is also the No. 1 city in the U.S. for overall rising temperatures, with an increase of 5.76 degrees.
Marquette, Michigan
The snowfall in Marquette, Michigan, has jumped by a massive 68 inches since 1970, fueled by warmer conditions. The Great Lakes are steadily warming, which means less ice formation. That increases evaporation of the lake water, which fuels lake effect snow. In 1970, Marquette had just under 150 inches of snow, compared to over 200 inches in 2018.
Minneapolis
Minnesota has a reputation for bitterly cold winters, but what used to be an average temperature of 15 degrees back in 1970 has soared up to almost 21 degrees, a change of 5.7 degrees warmer. Snowfall amounts have moved in the opposite direction, dropping from 60 inches to around 50 inches in the same time period.
The climb isn't isolated to winter, as the city ranks 14th out of the top 20 U.S. cities with overall fastest annual temperature increases. This could mean chaotic effects like droughts, flooding and wildfires.
New York
The Big Apple is also becoming home to big snowfalls, with averages climbing each winter since 1970. The winter average used to be under 20 inches, and now it's approaching 40 inches.
In March 2018, the city got slammed with the biggest winter snow totals since the 1880s, with one storm dropping over 6 inches of snow on Central Park in one day. That followed a massive 2016 snowstorm that made history by hitting the city with 27.5 inches. The increase is likely fueled by increasing winter temperatures, with a rise of 3.2 degrees between 1970 and 2018.
Vacation Spots: 30 Places To Visit Before They Disappear
Make Your Money Work for You
Peoria, Illinois
Peoria has experienced a steep rise in winter temperatures since 1970, with the average climbing from just below 25 degrees in 1970 to just below 30 degrees in 2018.
The city is also just outside the top 20 fastest-warming cities in the U.S., coming in at No. 22. Snowfall declined slightly during that period, but it has the potential to rise if warmer temperatures facilitate snowy precipitation as they have in other states.
Providence, Rhode Island
Rhode Island comes in at No. 9 on the top 10 list of fastest-warming American states, and winter temperatures in Providence have soared by 4 degrees since 1970. The average winter temperature is up from around 28 degrees to just under freezing.
This overall warming trend threatens to raise the sea level, which could contribute to rising tides and storm surges. This could potentially lead to severe damage like the type caused by Hurricane Sandy in 2012.
Salt Lake City
Snowfall has shrunk drastically in Salt Lake City since 1970. Back then, the average was over 70 inches of snow each winter, and now it's just above a mere 40 inches. The winter season is also shorter in northern Utah, with cold weather lasting two months less than it did a century ago.
This combined warmth and lighter snowfall hurts the region's ski resorts, which depend on snow for their business. With the shorter winters, the resorts open later in the winter than they did before.
San Francisco
San Francisco is in Northern California but its winters are on track to resemble Southern California weather. The city's winter temperatures are already up from just under 50 degrees to just over 52 degrees, for a climb of 2.9 degrees overall. Temperature isn't the only thing poised for a change, as the increasing heat will lead to a drier atmosphere.
Sioux Falls, South Dakota
Winters in Sioux Falls have gotten balmier since 1970, with the typical 16-degree winter day now popping up over 20 degrees. That's a rise of 4.4 degrees over the past four decades.
Snowfall is creeping up, too — from 35 inches in 1970 to about 50 inches in 2018. Even with the increase, it's still a far cry from the record-breaking winter of 1968-69, which dumped almost 92 inches of snow on Sioux Falls.
South Bend, Indiana
While South Bend has not experienced any drastic shifts in winter temperatures, its snowfall has dropped dramatically since 1970. The city once had an average of just above 80 inches of snow each winter, but that dropped to just over 60 inches by 2018. While it's close enough to Lake Michigan to get lake effect snow, warming temperatures in the Great Lakes haven't offset the decline.
Make Your Money Work for You
Youngstown, Ohio
Snowfall in Youngstown has climbed steadily since 1970. Back then, the area had less than 50 inches of snow; as of 2018, the total was just below 80 inches. The warmer Great Lakes produce a frenzy of lake effect snow that hits Youngstown and its neighboring cities and states, too.
More From GOBankingRates
About the Author