Your Tax Refund Will Likely Be Lower This Year: How This Affects You and the Economy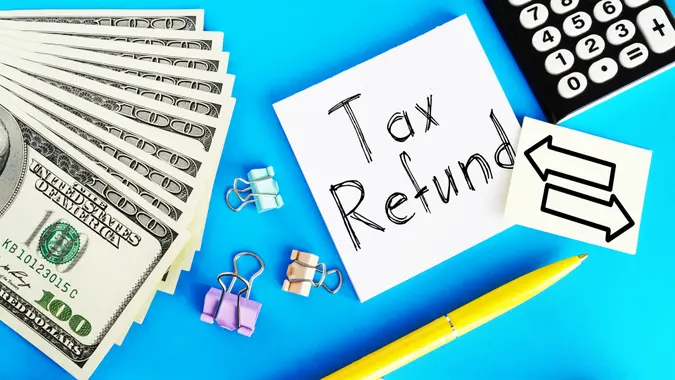 Andrii Dodonov / Getty Images/iStockphoto
Individual taxpayers aren't the only ones feeling the hit with the (on average) lower tax refunds that have been issued this year, so far. Retailers are also experiencing something of a domino effect as consumers have less money to splurge with when shopping this spring.
See: 10 Best New Items Coming to Dollar Tree in 2023
Find: With a Recession Looming, Make These 3 Retirement Moves To Stay On Track
As GOBankingRates reported, the IRS is moving through returns and issuing refunds at a much quicker pace this year, with 36.9 million returns processed and $87.2 billion sent back to taxpayers. However, that good news comes with the update that tax refunds are generally lower — as of Feb. 17, the average deposit was about $3,140, down 11.2% from this time last year, when checks were averaging around $3,536.
The refund "sticker shock" is attributed largely to the fact that many pandemic-era tax credits have now expired, including child and dependent care tax credits among others.
The lower tax refund amount comes at a particularly devastating time for lower- to middle-income families, who often rely on the extra funding for getting caught up in the new year. "While tax refunds provide the average American a little boost, many low- and middle-income consumers depend on these checks to make ends meet, particularly following the holiday season," KeyBanc Capital Markets analyst Bradley Thomas told Barron's.
Make Your Money Work for You
And that has some retailers worried about the lack of a sales boost this year. Thomas cited some of the stores that may feel the brunt, such as Dollar General and Dollar Tree as well as Big Lots, Target and Walmart.
His comments echoed those of Walmart EVP and CFO John David Rainey, who told shareholders during a recent earnings call that the company is cautious moving beyond the first quarter of 2023. Though the company had 60-year record-high profits in December due — in large part — to strong grocery sales, Rainey admitted the gains might be offset by the fact that the other products Walmart sells (electronics, clothing and toys) will see declines as customers become more cautious.
Take Our Poll: Do You Have a Second Job or Backup Plan in Case You Are Laid Off?
More: Here's the Average IRS Tax Refund Amount by State
With lower tax refunds and inflation still an ongoing issue, it could further constrain an already tepid economy if Americans reduce their spending. In fact, according to a recent GOBankingRates survey, only 5.99% of Americans say they will "treat themselves" with their refund — and only 3.59% will use the funds for travel. The majority (25.7%) said they will put the money into their savings account while 21.16% plan to pay off bills. A further 19.66% of those polled plan to use it to pay off debt.
Make Your Money Work for You
More From GOBankingRates
Make Your Money Work for You