3 Brilliant Ways Retirees Should Organize Their Monthly Bills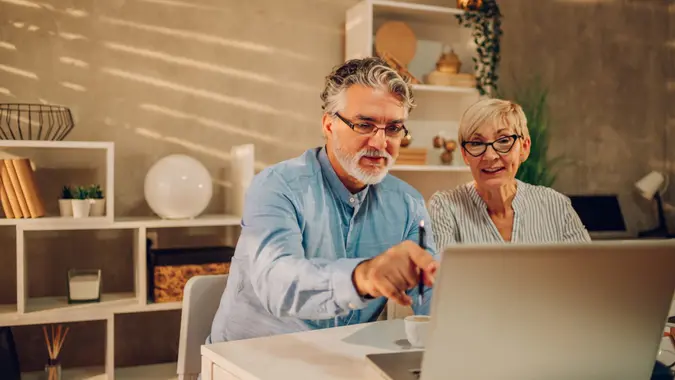 Even if you leave your career and start collecting Social Security, you'll never be able to retire from paying your monthly bills. That's a recurring "joy" that follows you for life.
The good news is there are ways of organizing your bills that are designed specifically for seniors whose dream retirement doesn't involve unnecessary money stress. Here are three strategies for taking the administrative drudgery out of keeping up with your monthly obligations in retirement.
The Three-Bucket Method
Jessica C. McDonald, CFP,  founding advisor of Southern Wealth Builders, advises retirees to keep things as simple as possible by establishing a trio of buckets for their expenses.
"The best way retirees can organize their monthly bills is by using three accounts to categorize them," she said. "Once these categories are set up, life is going to happen — but having a system for the predictable and grace for the unpredictable is what drives the greatest success." Here are those three buckets:
1. Fixed Expenses
This bucket contains the bills that are the same every month and can be set to autopay.
"You would group any mortgage payments, student loan payments, internet, streaming services, utilities — if they are the same every month — plus a little extra amount, in case an unexpected expense pulls out from the autopay," said McDonald. "The key with this account is to make sure these are all necessary, and if none can be cut then these expenses can be set up to get paid and run 'in the background' without needing to take up any stress."
Make Your Money Work Better for You
2. Variable Expenses
These are your expenses that will change from month to month, such as groceries, clothing, gas, restaurants and medical copays.
"The key to this account is that life is going to happen in this account," said McDonald. "These items are usually the 'budget breakers,' so keeping a more careful watch on this account is what leads to a successful week or month.
3. Non-Monthly Expenses
This bucket is for expenses that don't occur every month but should not create any surprises.
"Any car maintenance like oil changes and tire rotations, auto and home insurance payments — if not taken out in escrow — Christmas gifts and decorations, birthday gifts, home maintenance and fun money would all go in this category," said McDonald. "The key with this account is to look at it similar to a savings account, but for these specific items. Needing an oil change is always going to happen, so let's set the money aside now so that when it is needed, you don't have to use a credit card."
Consolidate Due Dates
Another way that retirees can simplify their financial lives and make paying bills as manageable and stress-free as possible is to consolidate far-flung payment deadlines.
"Contact service providers and creditors to align due dates for bills," said Bill Ryan Natividad, head of operations at the financial services comparison site Finty. "This simplifies bill payment, making it easier to manage multiple expenses."
According to Credit Karma, having your bills staggered sporadically throughout the month creates the perception that you're constantly making payments, which leads to anxiety, missed payments and other mistakes.
Retirees might consider arranging their due dates:
To settle everything at once by paying all bills on a single day every month
To coincide with times of the month that they're most flush with cash
To coincide with their Social Security check, retirement fund distributions, annuity or dividend payouts or other sources of regular income
So they pay a quarter of their bills on one day per all four weeks to spread them out evenly throughout the month
Make Your Money Work Better for You
The most important part it to have your bill payments streamlines in a way that works best for you and your budget.
You Have a Robot Now — Let It Help You
Seniors still carry the outdated stigma of being tech-averse, but baby boomers were the earliest adopters of personal computers at the dawn of the digital age, which boomers like Bill Gates and Steve Wozniak pioneered.
They're at least as capable as their Generation Alpha grandchildren of using AI platforms like ChatGPT, which retirees can leverage to craft custom-made bill-paying programs designed just for them.
A Few Simple Prompts Is All It Takes
When fed this prompt: "Please help me organize my monthly bills," ChatGPT returned a 14-step plan. It started with basic organizational tasks like gathering all your bills and putting their due dates on a dedicated digital or paper calendar. It then moved on to ranking bills by priority, calculating monthly expenses and setting up autopay when possible. The closing steps were to monitor accounts and review and adjust where necessary.
When prompted to revise the plan specifically for seniors, the chatbot recommended precisely the kind of due-date consolidation that Natividad suggested, along with tips like setting calendar reminders and documenting passwords if you struggle with forgetfulness.
When prompted to refine once again, but this time for retirees specifically, the chatbot wrote, "Retirees often have unique financial situations and priorities. Their bill organization should prioritize simplicity and accessibility and reduce the mental and physical effort required to manage finances. If needed, involve family members or professionals who can provide support and guidance in maintaining financial stability."
The result was a brand-new 14-point plan for organizing bills — but this time, it was custom-made specifically for retirees.
Make Your Money Work Better for You
More From GOBankingRates