Retirement Savings: 7 Keys To a Debt-Free Retirement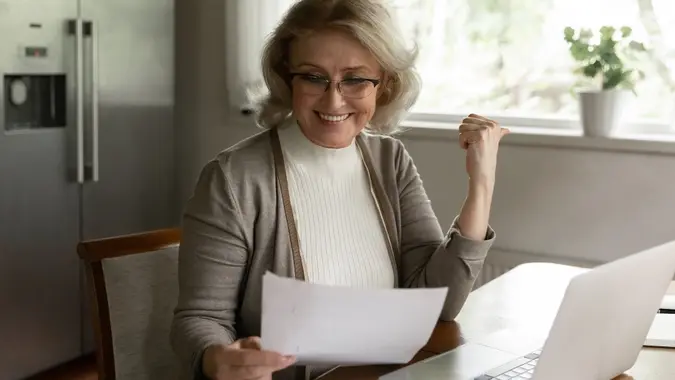 fizkes / iStock.com
Planning ahead for retirement can help you map out how you will tackle debt leading up to retirement so you don't outlive your retirement savings. A proper financial plan gives you a line of sight to your desired future and helps you stay the course over time. Because a proper financial plan includes an emergency fund of three to nine months' of income, it can also help you avoid falling into debt if you stumble along your way to retirement — or if a financial emergency crops up.
Say, for instance, your water heater breaks. With an emergency fund, you can pay for repairs out of pocket. Without proper savings, however, you'll pay with a credit card, piling you under high-interest debt.
Retirement planning done right positively affects your whole life. It gives you a sense of security, direction and motive as you save for retirement. Yet, with how much retirement savings mean, it's surprising how prevalent debt is, even in retirement. Eliminating debt — or better yet, avoiding it altogether — is one of the pillars of a successful retirement. 
7 Ways To Decrease Your Debt
Here are some strategies you can implement to set yourself up for a debt-free retirement.
1. Gradually Increase Savings
"Having a solid savings account can make you complacent. You feel like you have a lot of money, so it's okay to spend it, right? But this is a slippery slope," said Kelsey Bishop, the CEO and founder of Candor. 
Make Your Money Work Better for You
Strengthen your commitment to saving by putting an extra $50 per month in a separate savings account for one year. The following year, double how much you save. By saving $50 each month for one year and $100 each month the following year, you can have more than $1,800 in two years to pay down debt, put in an emergency fund or invest.
2. Trim Fees You Regularly Pay
From mutual funds to modems to ATMs, you likely pay a lot of fees. Examine your bills to find fees you can cut, then take the savings and apply them to your debt. For instance, managing cash better avoids bank overdraft and other account fees. Similarly, consider lower-cost exchange-traded funds instead of mutual funds for investing.
3. Break Old Money Habits
If you're a habitual bad spender or squeamish saver, aim to break your habits for one month. If you're a chronic spender, for instance, commit to analyzing every nickel and dime you spend for one month. Then, use however much you saved for that month on debt.
"Avoid taking on unnecessary debt as you approach retirement. As you get closer to meeting your retirement goals, this can get tricky," Bishop noted.
If you're a squeamish saver, challenge yourself to save a nominal amount regularly. A weekly investment of $40 can produce more than $500,000 over an investment lifetime.
4. Turn a Hobby Into a Business Venture
If you have a hobby or passion, turn it into cash to help you tackle debt. If you like golf, for example, work as a course ranger. You'll cut down on your golf costs with employee perks and make a bit of extra cash on the weekend. You can also babysit, sell crafts online or pick up freelance work.
Make Your Money Work Better for You
5. Downsize Your Life
As a retiree, you probably don't need or want a house big enough for a family of five. Sure, you might love your home, but high taxes and regular repairs won't make for successful golden years. Downsizing can result in a good housing fit and free up money for debt reduction. You're sure to pay less in taxes and maintenance costs on a much smaller home.
"If you want a debt-free retirement, then you need to focus on downsizing your lifestyle," Bishop recommended. "This will allow you to stretch your budget long-term and retire without needing to take out debt."
6. Help Yourself First
Many retirees want to help their children with money. The problem is they do it while they're in a perilous financial position themselves. When you have debt, you have to learn to say no to others and pay yourself first until your finances are in order.
It might be difficult, but cutting off your kids might be the best financial move you can make — both for you and your kids.
7. Liquidate
Your source of cash for extra debt payments might be lying around your house. Check your attic, jewelry chest or anywhere else for valuable things you've accumulated. Selling belongings you don't use or appreciate can be a source of financial windfall.
Creating Your Retirement Plan
Find a trusted financial advisor and work with them to identify your short- and long-term goals. Your entire plan should be focused on meeting these goals. Consider how you want to live in retirement, what kind of legacy you want to leave behind and how much you'll need to save for health-related issues.
Make Your Money Work Better for You
You should also create a personal financial snapshot. Make sure you understand your assets, debts, cash flow, expenses, lifestyle desires and more.
Once you have established what you want, what you have and what you owe, you and your financial advisor can work together to decide on the right investment mix and portfolio structure to help you achieve your goals. Your advisor will also help you create plans for tackling your different kinds of debt, and help you decide whether it's worth it for you to pay off debt or save your money in an investment account.
The important element of any successful retirement plan is commitment to the plan and regular assessment. At the least, you should be assessing your retirement plan annually. Over time, your goals and circumstances might change, forcing you to rework your strategy so you can retire debt-free.
Commit to Your Retirement Plan
The reason you work hard is so you can retire comfortably. Retirement should be a great time of your life. Don't let debt saddle down your golden years. Use these tips to avoid a retirement filled with financial woes.
Create a retirement plan that aggressively tackles existing debts, and find new and creative ways to help you make money on the side. You might have a few stumbles along the way, but if you can stay the course, you'll enter retirement with massive savings.
Retiring without debt is ideal, but even if you can't get to zero, you should eliminate as much debt as possible.
Jake Arky contributed to the reporting for this article.
Make Your Money Work Better for You
More From GOBankingRates