I'm a Retirement Planning Expert: Here Are 4 Reasons You Shouldn't Retire in Florida If You Have a Budget of Over $5K a Month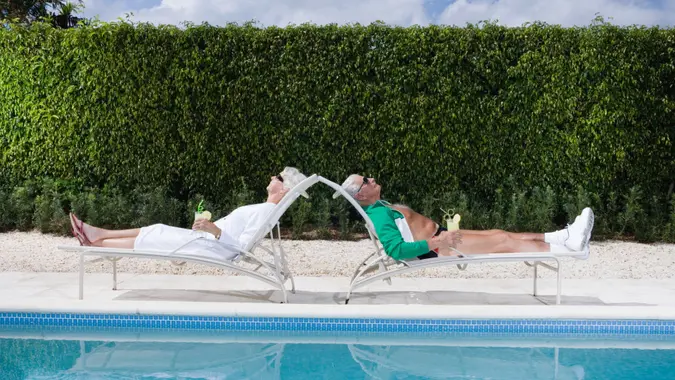 Image Source / Getty Images/Vetta
Pristine beaches. Tropical vibes. Endless summer. When you think of retirement, you might imagine a laid-back vibe, waterfront views, and a simpler lifestyle. And for many retirees, Florida checks all of those boxes.
However, before you pack up everything you own to go hang your hat in the Sunshine State, it's important to consider more than just the sandy beaches for your retirement home.
We interviewed several financial planning experts on choosing a retirement location, especially for those with a good-sized monthly budget. And there were several good reasons to avoid retiring in Florida if you retire with a budget of $5,000 a month or more. Here's why Florida is not the ideal retirement location if you have the funds to move elsewhere.
High Insurance Costs and Climate Risks
Florida has hurricanes. Every year.
And while that might not matter to some, if you have the means to retire elsewhere, it's something to consider. Due to the extreme weather conditions, retiring in Florida means always being ready to evacuate if needed, which isn't necessarily a relaxing way to spend your golden years.
John Grace, president and founder at Investor's Advantage Corp, is worried about the impact of hurricanes on retirement living. "Florida is prone to natural disasters, particularly hurricanes," says Grace. "While homeowner's insurance is essential, premiums in Florida can be substantially higher due to the increased risk of hurricane damage. Retirees should carefully consider these insurance costs in their financial planning. Moreover, climate change could exacerbate these risks in the future, potentially leading to even higher insurance costs and property damage concerns."
Make Your Money Work Better for You
Brian Quigley, finance expert and founder of Beacon Lending, also sees the risk of natural disaster hurting retirees. "Florida is notorious for its susceptibility to natural disasters, notably hurricanes," says Quigley. "This means higher homeowners insurance premiums, especially if you opt for waterfront properties, which are abundant in the state. Additionally, while some areas of Florida offer affordable housing, popular retirement spots like Naples or Sarasota can be quite pricey."
The Real Estate Market Is Highly Volatile
Real estate in Florida has risen dramatically in the past few years, but Florida is prone to "boom and bust" market cycles. As interest rates are on the rise, there is a very real threat of a declining market. This means buying a retirement home in Florida has some serious risk for your long-term wealth.
Mark Smith, a finance expert and founder of When You Need God, sees the Florida real estate market as a gamble. "Florida's real estate market can be volatile, with property values fluctuating dramatically," says Smith. "This volatility can affect your long-term financial stability, especially if you rely on real estate investments as part of your retirement strategy."
Limited Cultural and Educational Opportunities
When choosing a place to retire, it's not all about the numbers. Some locations offer more variety than others, and Florida can be seen as a one-trick pony. Beautiful beaches and sunshine, yes, but that can get old after a while.
Grace sees Florida as a more one-dimensional location. "While Florida offers a range of recreational activities and beautiful natural landscapes, it may fall short in terms of cultural and educational opportunities compared to other retirement destinations," says Grace. "Retirees seeking intellectual stimulation and cultural experiences may find Florida lacking in world-class museums, theaters, and educational institutions."
Make Your Money Work Better for You
Quigley also sees more lifestyle opportunities elsewhere. "With a larger budget, retirees can consider locations that offer a more diverse array of cultural experiences, world-class healthcare facilities, and luxury amenities," says Quigley. "States like California or regions in the Pacific Northwest might have higher living costs, but they also offer unmatched scenic beauty, gourmet dining, and top-tier entertainment."
No State Income Tax Doesn't Mean It's Cheaper
While Florida boasts no income tax, it doesn't mean it's cheaper overall to live there.
"Florida's lack of a state income tax is often touted as an advantage, but it can be a drawback for wealthier retirees," says Sherbina. "With a budget of over $5,000 a month, the absence of this tax benefit might not outweigh the downsides."
And while you might save money on the income tax side, it's made up for with heavy sales and property taxes. "Florida's lack of state income tax is often touted as a benefit, but it's important to note that the state relies heavily on sales tax and property taxes to generate revenue. The state sales tax rate is relatively high, which can impact retirees who make significant purchases."
"Additionally, some counties in Florida have high property tax rates, especially in desirable retirement communities," continues Grace. "Retirees should research property tax rates and sales tax implications in their desired Florida retirement location to ensure it aligns with their budget."
These additional taxes mean that more of your retirement fun-money gets drained. So even with a higher budget, your money might not go as far.
Make Your Money Work Better for You
Where Should You Retire With a Budget of $5k or More?
If you have diligently saved for retirement, it's important to review your options for where to retire. Florida has some advantages, but if you don't want to deal with the negatives, there are several other places that may be more desirable.
"Consider states like Nevada or Texas, which also have no state income tax but offer more diversified and stable economies," says Sherbina. "Additionally, states such as Colorado or Oregon provide access to natural beauty, cultural amenities, and robust healthcare systems, which may be more appealing for retirees with larger budgets."
"For retirees with bigger retirement budgets, there are several better options available that offer a balance between lifestyle, financial considerations, and quality of life," says Grace.
"Colorado: Known for its stunning natural beauty, Colorado offers a wide range of outdoor activities," continues Grace. "It also boasts a relatively low property tax rate, and many cities provide a mix of cultural amenities and recreational opportunities.
"Texas: Texas is another state without state income tax, making it attractive for retirees with larger budgets," says Grace. "Cities like Austin, Houston, and Dallas offer diverse cultural scenes, and the cost of living can be relatively lower compared to other major metropolitan areas."
If you have a substantial retirement budget, you may want to consider alternative retirement destinations that offer more favorable financial conditions," says Smith. "Some options include:
Texas: With no state income tax and a lower cost of living than in many states, Texas is an attractive option for retirees.
Arizona: Known for its beautiful landscapes and affordable housing, Arizona offers a great quality of life for retirees.
Nevada: Another state with no income tax, Nevada can be an appealing choice for those with substantial retirement savings.
Tennessee: Tennessee boasts no state income tax and a lower cost of living, making it a budget-friendly destination."
Make Your Money Work Better for You
More From GOBankingRates