Retirement Savings: How You're Pacing in 2023 on Dual Income With vs. Without Kids — And 5 States Where You'll Save More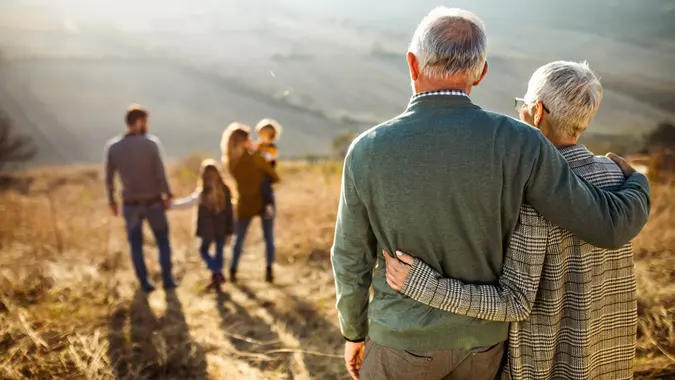 skynesher / iStock.com
Anyone who has kids knows they can bring infinite joy into your life — and a ton of expenses. The average cost to raise a child in the U.S. is $20,813 in 2023, according to a study from SmartAsset. But that cost can push past $30,000 depending on where you live (think California and Massachusetts).
Households without children, of course, don't have to worry about these expenses. Not only that, but they also tend to earn more than households with children, according to a new study from Rocket Mortgage.
Rocket Mortgage analyzed U.S. Census Bureau data and explored households with dual incomes among people ages 22-35 to compare dual-income households with no kids (DINKs) to dual-income households with kids (DIWKs). Those with kids must have at least one child living with them. The aim was to learn about the different finances of both groups.
Not surprisingly, households with no kids have an easier go of it financially, but maybe by not as much as you might think. Among the survey's key findings:
Dual-income households without kids earn an average of $138,000 a year vs. $129,000 for dual-income families with kids.
DINKs contribute about 9% more to retirement savings than DIWKs each year.
Nationally, 72% of DIWKs and 59% of DINKs own their homes.
On average, households without kids save about $4,800 a year for retirement, while those with kids save an average of $4,400. That only amounts to a difference of $400 a year. It can add up over time, however — especially when you factor in the impact of compounding. Over the course of 30 years, for example, the average DINK can build about $12,000 more in retirement savings even before accounting for compounding.
Make Your Money Work Better for You
The difference in retirement savings is much greater in states where DINKs have a higher income than DIWKs. For example, in Connecticut — where DINKs outearn DIWKs by about 70% on average — households without kids save an average of $15,900 a year for retirement. That's more than four times the average savings of $3,100 for those with kids. DINKs in Illinois and Rhode Island save 93% and 50% more than DIWKs, respectively.
But households with children do have certain advantages over their childless counterparts in some parts of the country, either because they earn higher average salaries, have higher home ownership rates or contribute more of their income to retirement savings each year.
Here are five states where households with kids might earn or save more:
Hawaii
Montana
Nebraska
North Carolina
Ohio
More From GOBankingRates