Avoid These 7 Financial Mistakes When Living With a Roommate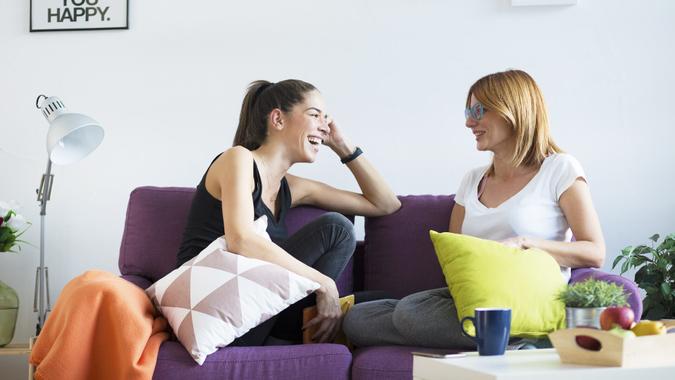 ©Shutterstock.com
Living with a roommate can be a smart financial choice. After all, you can split expenses, which means less money out of your pocket each month. Plus, you'll always have someone to share a Netflix binge with on a lazy afternoon or feed your goldfish if you're out of town for a couple of days. 
More Money Tips: 9 Bills You Should Never Put on Autopay
Make Smart Moves: 30 Essential Money Habits
However, deciding to share living space with someone you're not related or married to can also lead to financial entanglements — some of which can be very awkward and even end in disaster. Here are seven financial mistakes to avoid if you decide to move in with a roommate to save money on monthly expenses and bills. 
Not Choosing Your Roommate Carefully
Jumping into a roommate situation with someone you hardly know is a recipe for financial disaster. 
"Make sure you get along well and have similar financial goals," said Samantha Hawrylack, personal finance expert and co-founder of How To FIRE. "If you live with someone who is always spending money irresponsibly or who is constantly in debt, it can be difficult to stick to your own financial plan."
Not Setting Expectations in Writing From the Start
"Living with a roommate should be treated as if you are in a business partnership with them," said Jay Zigmont, Ph.D., CFP(r) and founder of Live, Learn, Plan. "You want to have a written document that describes your shared expectations — who is paying for what, and what you will do if it does not work out. For example, are you splitting the bills equally? If so, are you going to get upset when your roommate runs a crypto mining rig, running up your electric bill? Also, what happens if one of you wants out? Is it OK if their partner moves in with you? 
"The point is to discuss these (and other issues) in advance and have a plan for what is acceptable and what is not. While you are at it, make sure you agree on what 'clean' means. It isn't a financial issue directly, but if you are a neat freak and they are a mess, it will be a nightmare."
Read More: 40 Money Habits That Can Leave You Broke
Not Asking About Credit Score and Financial Obligations
"You want to ensure that before you sign a lease or a rental agreement together that they can at least pay their share of the rent," said Mark Jimenez, certified financial planner and co-founder of SensibleDollar. "Ask for their credit score, if they have outstanding loans, and whether they have a stable job, etc. You want to make sure that their ability to make payments and their credit history is sound. This increases your success in obtaining a lease and also reduces [the] risk of negatively impacting your own credit reputation."
Of course, if you want proof in black-and-white, rather than just taking a potential roommate's word, Experian suggests asking a potential roommate to obtain a free credit report from AnnualCreditReport.com so you can verify their credit history. You can also ask to see a W-2 or pay stub to verify proof of income.
Not Being Clear on Who Owns What
It's easy to get caught up in the excitement of a new place and buy things with your roommate to furnish it, but you're treading into dangerous territory if you share these expenses. 
"Make sure to be very clear on ownership of certain possessions," Hawrylack said. "Oftentimes, roommates will go in on more expensive purchases together (couches, TVs, etc.) and when it's time to move on, it is unclear who should be the owner of the accumulated property. This can help avoid any misunderstandings or arguments about money down the road."
Not Contributing Equally to Bills
"Sign an agreement between yourself and your roommate(s)," Jimenez said. "This agreement should outline that bills, rent and other share expenses are paid equally by all signees … Perhaps consider creating a shared bank account into which all participants deposit their monthly share, and from which payments are then made. Under no circumstances should bills be paid until all have contributed."
See: 50 Easy Things You Should Do To Save Money
Avoid Making a Single Person Responsible for Paying the Bills
"I don't mean that one roommate pays for everything and the other doesn't, although this is also a bad idea," said Carter Seuthe CEO of Credit Summit. "Rather, it's best not to leave all of the contact with the landlord and any utility providers in the hands of one person. This can result in a situation where one roommate is paying their share of these things to the other, but that roommate isn't passing this money on to the landlord. This can leave you on the hook for missing rent or utility payments even if you've never missed one."
Not Paying for Personal Items Separately
"Grocery shopping doesn't have to be complicated," Jimenez said. He recommends creating a list of communal items and a list for each roommate's needed items and paying accordingly. With this system, each roommate will pay for his or her personal items separately. 
"Use the shared account discussed earlier to pay for the communal items. Ensure these items are essential to all roommates, things like detergent, soap, fruits, etc. Of course, there should be a trade-off between what is considered a communal item versus a personal item."
More From GOBankingRates