Budgeting vs. Taxes vs. Debt Management: What Experts Say Is Most Important To Understand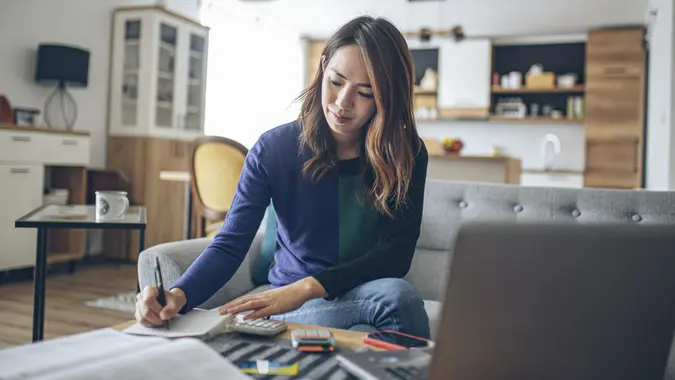 Milan_Jovic / Getty Images
A recent GOBankingRates survey on financial literacy asked, "When you were growing up, which financial topics did your parents talk to you about?" Most respondents said budgeting, at almost 47%, with taxes coming in second with almost 34% of respondents, and 25% of respondents said their parents talked to them about managing debt. All of these topics are important, but which one should you prioritize when teaching your kids about financial literacy?
GOBankingRates reached out to financial experts to get their take on what's the most important topic to discuss between budgeting, taxes and debt management. 
The Case for Budgeting
Thea Wayne, the co-founder of the Money Healing Club, has amassed a TikTok following helping millennials and Gen Zers redefine their relationship with money. Wayne believes budgeting is a crucial skill to master if you're going to both be successful and have a good relationship with money.
"When teaching and sharing my journey with finance and money to millennials and Gen Z on TikTok, I believe that both budgeting and understanding our emotional spending habits are extremely important to creating financial literacy in younger generations," Wayne said. 
Wayne strives to make managing money easier for younger generations by creating minimalist and ADHD-friendly budgeting dashboards. Wayne said that your budgeting doesn't have to be perfect, but that attempting to control your spending in any way will benefit you tremendously. "I encourage my community to be less rigid in their budgeting approach, and that starting however imperfect it may be, is better than not starting at all," she said.
Take Our Poll: Do You Think Bankruptcy Is an Acceptable Way To Escape Student Loan Debt?
The Case for Taxes
Also in the GOBankingRates survey, it was revealed that respondents mostly answered that doing taxes was the most confusing major financial task for them. That means even as adults, people struggle with how to best complete their taxes every year. 
The problem with not knowing the ins and outs of doing taxes is that you could end up making a costly mistake. Making an error on your taxes — even if you didn't intend to misreport your earnings — could get you a 20% penalty. If you don't learn how to do your taxes right, you could be costing yourself money simply due to negligence. 
The Case for Debt Management 
At the end of 2022, American household debt hit a record $16.9 trillion, with $986 billion being credit card debt. Additional data shows that younger people are accruing debt faster, specifically on credit cards and auto loans.
To stay out of the debt cycle, it's important to know how to manage it — or better yet — how to not accrue debt at all if possible. Leslie Tayne, founder and head attorney at Tayne Law Group, said debt management is the most critical money-related skill for young people to learn. "A large or growing debt balance strains any budget, leaving less money to save and invest. And depending on the total amount, a person's debt could keep them stuck in their current circumstances for years," Tayne said.
Tayne went on to add that someone who practices effective debt management strategies has more room for flexibility in their budget, which opens up what they can accomplish. "As a result, they'll have an easier time amassing a sizable emergency fund, investing for their retirement, and achieving other financial and life goals," Tayne said.
The Bottom Line
The truth is that budgeting, taxes and debt management are all crucial to financial literacy. One might seem more important at a given time, but having a grasp on all three is the best way to prepare yourself for the future.
Shyam Pradheep, general manager at Zogo, said all three concepts are intertwined. "Think of it this way: if you're not managing or avoiding debt, you're probably not following an effective budget that's meeting your financial needs. When it comes to taxes, you don't need to be an expert, but you do need to understand the basics of taxes to build an effective budget or debt management strategy. It's essential to budget in taxes to get an accurate picture of your situation, which requires a fundamental understanding of how taxes affect your income."
More From GOBankingRates
Methodology: GOBankingRates surveyed 1,056 Americans aged 18 and older from across the country on between March 17 and March 20, 2023, asking twelve different questions: (1) When you were growing up, which financial topics did your parents talk to you about? (Select all that apply); (2) At what age did you become comfortable with basic money skills (i.e., writing a check, balancing your accounts, budgeting)?; (3) At what age did you start saving and planning for retirement?; (4) How much cash do you think you should have on hand in case of a national emergency?; (5) Do you think a lack of financial understanding has impacted your ability to be financially prepared for the future?; (6) How much did a lack of financial literacy cost you in the last year due to things like not knowing the best way to save for retirement, not being comfortable with investing, not using a budget, etc.?; (7) Which major financial task is most confusing to you?; (8) What percentage do you think you are required to put down on a home when buying?; (9) Do you feel prepared to handle any possible cuts to Social Security benefits?; (10) How has inflation changed how you handle your finances? (Select all that apply); (11) What's the minimum you think experts would recommend you have saved to be comfortable in retirement?; and (12) Which of the following do you find most confusing about Social Security?. GOBankingRates used PureSpectrum's survey platform to conduct the poll.