4 Smartest Money Moves for Gen X To Make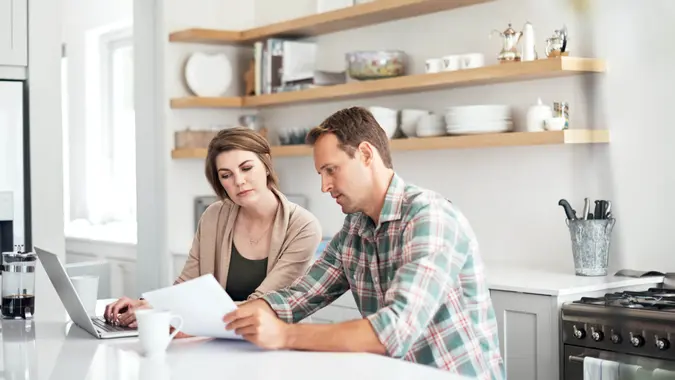 shapecharge / Getty Images
Gen X Americans, part of the so-called "sandwich generation," have a lot on their financial plates. Many of them are caring for aging parents and taking care of their children, while also taking care of themselves.
While these financial and economic circumstances might be difficult to navigate, there are several steps experts recommend for them to take to alleviate financial stress and plan for a comfortable future.
Here are some of them.
Also see bad moves Gen X can make.
Prioritize Your Financial Future
Two out of three members of the sandwich generation say they feel "very stressed" or "somewhat stressed" about affording their financial obligations over the next 10 years, according to a Policygenius Sandwich Generation Survey.
Indeed, Gen Xers are often in the thick of expenses related to other people in their lives, which may include unexpected costs related to both younger and older generations of relatives, said Bobbi Rebell, CFP, founder of Financial Wellness Strategies and author of "Launching Financial Grownups."
In turn, Rebell said it is essential that Gen Xers remain focused on their own financial health and making sure they are on track for retirement.
"That might mean pushing their teenage and young adult kids to be more self-sufficient," Rebell said. "Let them know you are confident they can be financial grownups and that you are always there for them to discuss their challenges. Remember, the greatest gift you can give your young adult children is not having to ever financially support a parent."
Take Our Poll: Would You Put All of Your Savings in an Apple Savings Account?
Keep a Pulse on Your Finances
Adam Davis — VP of financial health, inclusion and liquidity at Capital One — said a great money move that Gen X Americans can make is to view their financial health as critical preventative care.
"By keeping a pulse on your finances and your relationship with money, you're able to help identify financial issues and work on finding a solution," Davis said. "This stops issues from becoming larger and can help you grow your financial confidence."
For example, Davis said, Gen Xers should prepare for unexpected expenses by creating savings plans and setting aside a certain amount from each paycheck to go directly to the savings.
"If your financial institution offers it," Davis added, "an automatic savings plan with scheduled transfers is a great way to pay yourself first and keep yourself on track toward your savings goal."
Retirement and Tax-Saving Moves
Surprisingly, 53% of Gen Xers do not have any retirement savings or a retirement strategy, according to a New York Life Wealth Watch survey. And 45% feel less prepared than their peers for retirement. That matches a recent GOBankingRates survey that revealed 45% of people ages 45-54 have not started saving for retirement.
Gen Xers typically are more established in their careers and are hitting their peak earning years, while also tending to have many goals they're working toward, such as their children's education and taking care of older relatives, said Ryan Viktorin, vice president and financial consultant at Fidelity Investments.
In turn, money moves Gen X should consider include maximizing tax-smart savings, Viktorin said.
"Think HSAs, IRAs, 401(k)s — and ensuring they have an age-appropriate asset mix," he said. "Gen Xers over age 50 can also take advantage of catch-up contributions to boost savings. Most importantly, Gen Xers shouldn't lose sight of their retirement goals, even while juggling their other priorities."
Another tip is considering catch-up contributions: Workers 50 and older have a higher annual 401(k) contribution limit, which allows them to contribute more for retirement by speeding up savings with the same tax advantages — either now or in the next few years, according to Lena Haas, head of wealth management advice and solutions at Edward Jones.
"This year, the catch-up contribution increases to $7,500, meaning that those eligible can contribute a maximum of $30,000 to their 401(k), $7,500 more than their younger peers," Haas said. "There are similar benefits for IRA catch-up contributions that a financial advisor can explore with you."
Watch Out for Junk or Unnecessary Fees
Another smart move for Gen Xers is to take advantage of free financial resources offered by their banks and other financial institutions, said Capital One's Davis.
In addition, he recommends finding a bank that doesn't charge fees for account maintenance, overdraft or non-sufficient funds.
"These fees often affect the most financially vulnerable," he said, "and banking with an institution that doesn't charge them is a simple way to avoid added strain."
Finally, another tip to manage expenses is by evaluating subscriptions and other recurring charges to see whether there are some you no longer use or need and should cancel, he added.
More From GOBankingRates