4 Dumbest Money Moves That Gen X Can Make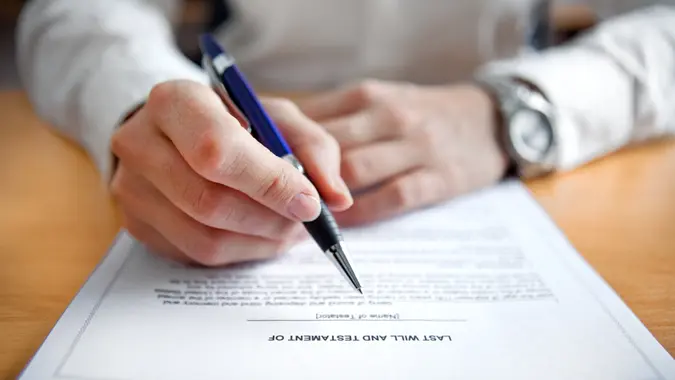 Spanic / iStock.com
Gen X, the "sandwich generation," has to face and navigate many financial challenges at once, as many of them are taking care of their children and/or aging parents while trying to focus on their own financial wellness.
In turn, there can be many pitfalls along the way that could set them back for many things, including enjoying a comfortable and stress-free retirement.
Here are some of the mistakes to avoid. Also see money skills Gen X should focus on.
Taking Money Out of Retirement Accounts
According to Bobbi Rebell — CFP, founder of Financial Wellness Strategies and author of "Launching Financial Grownups" — some of the dumbest mistakes Gen Xers can make include taking money out of retirement accounts, not maximizing contributions or pulling back on contributions if they are feeling financially crunched.
"Many Gen Xers can feel financially pinched, especially if they experience a career disruption such as a layoff," Rebell said. "But while taking money out of a 401(k) has become easier, we know that even if it is taken as a loan, it is tough to get that money back in. And the time that it is out of the account is time it is not growing. Stay on track and look for financial relief in other places."
Not Updating Your Will and/or Your Beneficiaries
Not having a will — or not updating it — are additional huge mistakes for Gen X adults.
"Without a will, a court will decide who gets your property," said Deborah Johnson Miranda, money coach at Bee Money.
If you do have a will, you need to update it — especially if you've had children, have divorced, have become widowed, or have remarried or partnered since you last wrote a will, Johnson Miranda added.
Along the same lines, not updating your beneficiaries can be detrimental to your finances.
"Named beneficiaries trump whatever you say in your will," she added.
For example, if you name two of your children as beneficiaries but never add your third kid, only the older two will receive payouts from that policy.
Not Preparing for Retirement
Gen Xers are at their peak earning years, but they are also approaching retirement — and many of them are unprepared. According to a New York Like Wealth Watch survey, 53% of Gen Xers do not have any retirement savings or a retirement strategy, and 45% feel less prepared than their peers for retirement.
"For those in the mid to late stages of their career, they may be prepared for retirement today. But, what about tomorrow?" said Lena Haas, head of wealth management advice and solutions at Edward Jones. "Unexpected future events could upset their progress toward their goals."
Haas said Gen Xers should keep in mind circumstances such as financial emergencies, market volatility, inflation or health concerns, which can deter them from their retirement path.
Haas added, "Working with a financial advisor can help prepare for any of these events and plan against them, by creating a comprehensive strategy that can prepare them for the what-ifs in the future."
Not Knowing Your Healthcare and Dependent Care Expenses
In a Policygenius Sandwich Generation survey, 66% of the sandwich generation said they are stressed about affording their family's financial obligations over the next 10 years. What's more, 52% expect supporting their parents will cost just as much or even more than supporting their children over the next five years.
Yet, when asked how they would pay for long-term care for their parents, the survey found that 48% said they would use Medicare (even though Medicare doesn't pay for long-term care), 18% said they would have to pay for it themselves and 19% said they don't know how they'd pay for it.
Not preparing and planning for these costs is a mistake that could end up having disastrous financial consequences. 
In turn, Haas recommends that Gen Xers take advantage of every tax deduction and credit they're eligible for.
"Talk to your tax preparer to understand the deductions and credits that are available," Haas said. "Make the effort to determine what you spent this year; and, if that's not possible, resolve to start keeping track this year."
More From GOBankingRates