Gen X Should Focus on These 6 Money Skills, According to Experts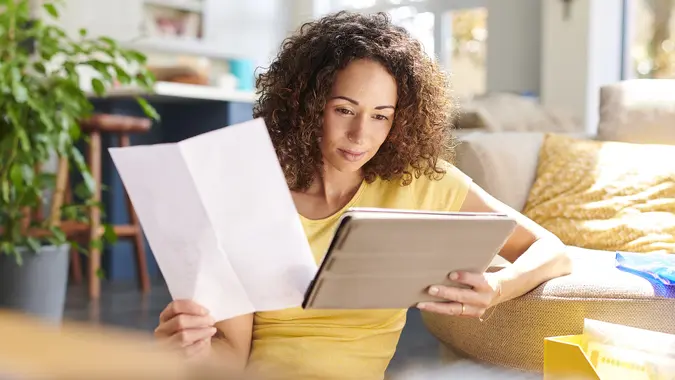 sturti / iStock.com
Generally, individuals born between 1965 and 1980 are considered a part of Generation X. Gen X, as they are called for short, has often been described as the "middle child" generation since they are sandwiched between baby boomers and millennials. According to Britannica, Gen X is known for being "resourceful, independent, and keen on maintaining work-life balance."
Gen Xers are at a point in their careers where they are in their higher-earning years. Many have families and some may even be grandparents. As the generation ages into middle adulthood and retirement, experts recommend sharpening these six money skills to help achieve financial stability now and in the future.
Manage Debt
Many Gen Xers will soon be preparing for retirement, so it's important to start getting your finances ready for it now. "As you approach retirement, it is crucial to reduce your debt as much as possible, as it can significantly impact your financial stability," said Jeff Mains, a five-time entrepreneur and CEO of Champion Leadership Group LLC. 
He added, "You can start by creating a budget that allows you to pay off your debts systematically. Prioritizing high-interest debts, such as credit card balances and personal loans, can help you save a lot of money on interest payments in the long run. You can also consider consolidating your debts into one payment with a lower interest rate to make it easier to manage."
Michael Hammelburger, the CEO and financial consultant working for The Bottom Line Group, agrees with this thought. "Mortgage loans, auto loans, and credit card debt are among the likely types of debt accumulated by Generation X. It is essential that they prioritize high-interest debt and devise a repayment plan to eliminate it as soon as possible in order to effectively manage their debt," he said.
Invest In Real Estate
Diversifying your investments is a great move at this age. "Investing in real estate is another money skill that Generation X should focus on," Mains said. "Real estate is an excellent way to diversify your investment portfolio and generate passive income. With low-interest rates, it's an excellent time to invest in real estate, especially if you plan to buy rental property." 
For those looking to add to their income, he also noted, "Owning a rental property can provide you with a steady stream of income and potentially increase in value over time. You can also consider investing in real estate investment trusts (REITs), which are companies that own or finance income-producing real estate properties. They offer a way to invest in real estate without having to own and manage properties directly."
Focus On Retirement
It's never too early to begin making a plan for retirement. Hammelburger explained, "Gen X is now in their 40s and 50s, and if they haven't already, they should begin to consider retirement planning. They should begin by creating a retirement plan and determining how much they will need to save each month."
Bennett Heyn, CEO of Parker Marker, agreed, adding, "​​When it comes to retirement planning, Generation X should focus on contributing to their 401(k) or IRA as much as possible. They should also consider investing in stocks and bonds to diversify their portfolio. Additionally, they should consider setting up a Roth IRA, which allows them to save for retirement tax-free."
Save For College
"College tuition is a significant expense that members of Generation X should begin planning for early if they have children," Hammelburger said. "They should consider opening a 529 college savings plan or other investment vehicles to save for their children's education."
Heyn agreed with opening a 529 plan "which allows them to save for college tax-free." He also noted, "When it comes to saving for college for their kids, Generation X should start saving as early as possible." 
"Additionally," he said, "they should look into scholarships and grants to help offset the cost of college."
Develop an Investment Strategy
"Generation X should also prioritize investment planning to increase their wealth over time," Hammelburger said. "They should consider diversifying their portfolio by investing in various asset classes and regularly monitoring their investments to ensure that they remain in line with their financial objectives."
Stash Cash in an Emergency Fund
An important note for all generations, Gen X should also make sure their emergency fund is healthy. "It is essential for Generation X to have an emergency fund that can cover at least three to six months of living expenses in the event of job loss or medical emergencies," said Hammelburger.
More From GOBankingRates