Dave Ramsey's 7 Baby Steps: What You Need To Know About This Money-Management Plan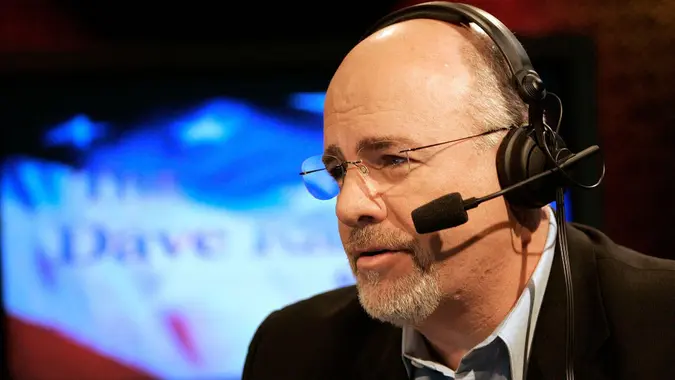 Mark Humphrey/AP/Shutterstock / Mark Humphrey/AP/Shutterstock
You're in debt, and you're not alone. The average American owes a total of $96,371 — including mortgage, HELOC, student loan, auto loan and lease, credit card and personal loan balances — according to Experian.
No matter how much you owe, you feel like it's too much, so you're thinking about using the Dave Ramsey baby steps to dig yourself out of it. Of course, you don't want to follow a program that doesn't work, so you want to find out if this is actually something that offers a good chance of success.
As with any financial program, the structure provided by Dave Ramsey's 7 Baby Steps serves as a guide to making better money moves. Generally speaking, the closer you adhere to the steps, the higher your chance of success.
What Are Dave Ramsey's 7 Baby Steps?
Here's a look at each of the seven baby steps Dave Ramsey suggests taking so you can decide if this program is a good fit for you.
Step 1: Save $1,000
If you don't have money put aside, small unexpected expenses can quickly put you into debt. Therefore, it's not surprising that the first of the Dave Ramsey baby steps is to save $1,000 as fast as you can.
This will give you the means to pay an unexpected expense in cash, instead of putting it on a credit card or finding yourself in a tough situation where you actually have no means to pay it at all. Getting into debt over a small expense isn't as uncommon as you might think.
While 68% of adults are able to cover a $400 emergency expense using cash or its equivalent, 32% do not have the cash to do this — and 11% couldn't pay the expense by any method — according to the 2021 Survey of Household Economics and Decisionmaking, conducted by the Federal Reserve.
If you think saving $1,000 sounds impossible, Ramsey has plenty of tips that can make it easier than you realize. Some of these include cutting all nonessentials, using cash-back apps, buying generic, canceling unused subscriptions and sticking to your grocery list.
Step 2: Pay Off All Debt
After putting a little money aside, Ramsey wants you to eliminate all of your debt — except your house — using the snowball method. This means you'll pay the minimum payments on everything but your smallest debt.
You'll put all your extra money toward eliminating your smallest debt. When you've paid it off, you'll move on to your next-smallest debt, and so on.
Step 3: Save 3-6 Months' Worth of Expenses
After paying off your debt, it's time to start saving again. This time, you'll be working to build a proper emergency fund — not just one that can cover up to $1,000 in expenses.
This makes sense, as experts generally recommend having three to six months' worth of expenses put aside in your emergency fund. This will ensure you're able to pay your bills if you lose your job or are otherwise unable to work for a while.
Saving this much will probably be easier than you think, considering you can put all the money you were spending on debt payments toward this goal. You can also continue to cut costs like you did in baby step one to save that first $1,000.
Step 4: Invest 15% of Your Gross Income
As of May 2022, the average Social Security benefit is just $1,539.68 per month, according to the Social Security Administration. Therefore, baby step four aims to help you supplement that income so you can enjoy your golden years.
Specifically, Ramsey wants you to invest 15% of your gross income for retirement. This aligns with benchmarks set by major financial firms, including T. Rowe Price and Fidelity.
Dedicating this much of your paycheck to retirement can initially seem like a lot. However, by the time you've reached this baby step, you're no longer in debt and you've built a solid emergency fund to handle unexpected expenses.
Step 5: Save for College
For the 2020-21 academic year, the average cost of tuition and room and board for first-time, full-time undergraduate students living on campus at a four-year public university was $25,700 per year — $54,500 for private school — according to the National Center for Education Statistics.
Given this, it makes sense that one of the Dave Ramsey baby steps is to save money to help pay for your children's education. Specifically, he recommends using 529 college savings plans or education savings accounts.
Step 6: Pay Off Your House
Hopefully, you were able to buy your home at a low interest rate. Regardless, paying off your home early will feel great, save you thousands of dollars in interest and allow you to be truly debt-free.
The median monthly mortgage payment is about $1,600, according to the U.S. Census Bureau. Imagine being able to put this money in savings or toward something else you truly enjoy.
Step 7: Build Wealth and Give
Being completely debt-free and equipped with plenty of money in savings is a major accomplishment. When you reach this stage, Ramsey wants you to keep building wealth and give back to others.
This involves leaving an inheritance for your children and grandchildren, but it doesn't stop there. You might provide financial support to nonprofits close to your heart or loved ones who truly need it.
Having the means to help others will feel amazing, especially since you worked so hard to get to this place.
How Long Does It Take To Complete Dave Ramsey's Baby Steps?
There's no specific timeline for making your way through the Dave Ramsey baby steps. Completion will depend on many different factors — i.e., income, amount of debt, dedication — so success cannot be measured on a set timetable.
The best way to achieve victory is to commit yourself to the program. Reducing expenses will involve plenty of sacrifices that won't always be easy to make.
It's important to keep your eye on the big picture and stay focused on how proud you'll feel when you've finally completed the last step. If — and when — setbacks occur, pick yourself up and get right back on track.
Our in-house research team and on-site financial experts work together to create content that's accurate, impartial, and up to date. We fact-check every single statistic, quote and fact using trusted primary resources to make sure the information we provide is correct. You can learn more about GOBankingRates' processes and standards in our editorial policy.