Don't Mail a Check or Other Financial Docs on This Day of the Week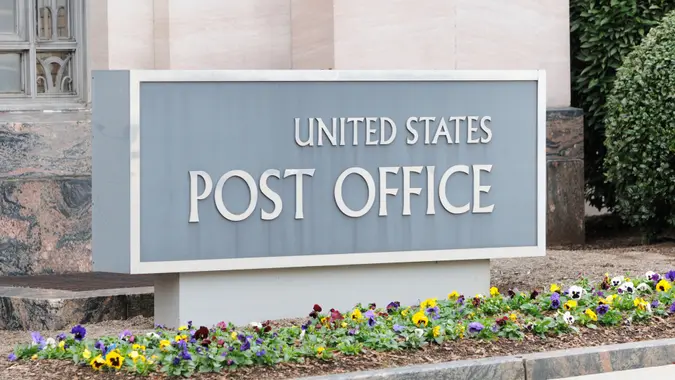 sshepard / Getty Images/iStockphoto
Many people send important financial documents — such as checks, money orders and tax returns — in the mail. While this method might not be as fast as, say, emailing them, it may be more secure. This is because personal information sent via email is more vulnerable to hackers than physical ones. Emailing documents also might leave you more susceptible to identity theft or fraud.
But even mailing out documents isn't a foolproof method of getting them where they need to be. After all, your documents and the information in them still could get lost or stolen. There also could be delays when sending them, particularly if you choose a busy time of the day or week.
The next time you decide to mail a check or other important financial documents, think twice before sending them on certain days of the week. More than that, make sure you're using the most secure method possible to protect your information and prevent any issues from occurring.
Also see how to protect your paycheck from fraud.
Best Days To Mail Financial Documents: Monday Through Thursday
Even though the local post office might be open or the mail carrier could be collecting mail on other days, the best days to send financial documents is during the week. In particular, Mondays through Thursdays are likely to be your best bet if you want to ensure quicker delivery times.
"In my experience, the best days to mail financial documents are early in the week — Monday, Tuesday or Wednesday," said Rahul Paragi, founder of NamesPilot.com. "The postal service has fewer items to process on those days, so letters and packages tend to move through the system faster."
This holds true when sending non-financial documents as well.
Nicole Beauchamp, a licensed associate real estate broker at Sotheby's International Realty, added that she sends other types of documents during the middle of the week as well.
"I typically try to do Tuesday to Thursday when sending things," she said.
Worst Days To Mail Financial Documents: Friday through Sunday
While Friday might seem like a good day to send your important documents, you might want to hold off until the following week. This is because Fridays tend to be busier and, depending on what time you drop off your docs, you could miss the mail pickup for the week.
"Fridays are notoriously bad for mail pickup and delivery," Paragi said. "I'd avoid mailing anything time-sensitive on Thursdays or Fridays as there is more risk of it getting stuck over the weekend. Similarly, right before or after a holiday can cause delays."
Saturday is also a day that is generally best avoided, unless you're not in a rush to get your documents to where they need to be. Of course, if you miss your opportunity to send things during the week, the weekend might be your only option. Just be aware that there could be significant delays.
And, unsurprisingly, you also might want to avoid sending anything time-sensitive or important on Sunday. Not only are most post offices closed on this day of the week, meaning your mail would have to wait until Monday to go out anyway, but you also won't be able to use any in-person postal services.
Strategies To Ensure Safe and Quick Arrival of Documents
When sending anything in the mail, but especially when sending important financial documents, prioritizing their secure, timely arrival is key. Here are some ways to make sure your paperwork reaches its destination without any issues or delays:
Track them. By tracking your documents, you can keep abreast of where they are and when they're expected to arrive. "To ensure secure, timely delivery, use trackable shipping like certified mail or a delivery service like UPS with tracking numbers," Paragi said. "This allows you to verify the location of your package."
Confirm the information. Even a minor error in the spelling of the recipient's name or the address can prevent your documents from arriving on time — if at all. "Always double-check addresses and include full names," Paragi said.
Get proof of delivery. "If something is critically important and I need proof of delivery, I will opt for a return receipt," Beauchamp said. This can give you peace of mind when sending personal or confidential documents. It also can help ensure you know if something does come up, like the mail gets lost or delayed.
Send your documents as soon as possible. While you can't always prevent delays, sending your paperwork early can minimize stress if it happens to arrive a couple of days late. "When I am sending important financial documents," Beauchamp said, "I always think of timing in terms of when delivery is required and who will need to receive it — and I try to allow for delays or rerouting."
Go to the post office. Putting your documents in your mailbox works if you're not too concerned about security or timeliness. But if you're sending something important, you're better off going to a post office. "Go during off-peak hours if possible to avoid long lines," Paragi said. "Hand it directly to a postal worker so it gets scanned into the system right away."
More From GOBankingRates