I'm an Estate Planner: Here Is What Life Insurance Is and How It Works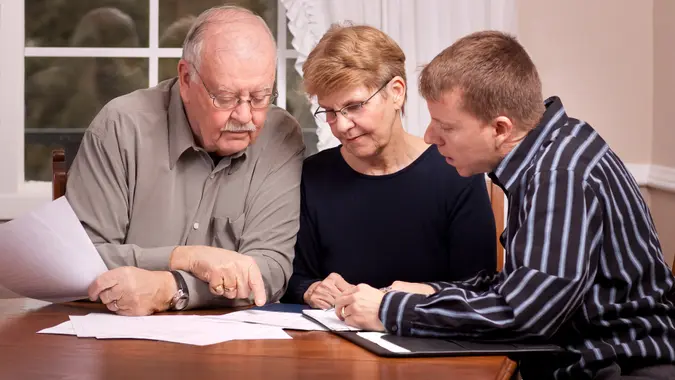 eyetoeyePIX / Getty Images
Life insurance is an important part of financial planning. While individuals may feel like they don't need it, it provides protection for loved ones if the policyholder dies.
Yet, only 52% of Americans own life insurance and 41% of adults — both insured and uninsured — feel they do not have an adequate amount of life insurance, according to Annuity.org.
"Life insurance is like a financial safety net," said Noelle Kimble McEntee,  co-founder of estate planning firm Legado. "The hope is that you don't need it; but, if you pass away unexpectedly, it provides a payout to your loved ones as long as the policy is active. Similar to most subscriptions, like Netflix or HelloFresh, as long as you pay your monthly or annual premium, your policy will be active."
Also, see Dave Ramsey's life insurance advice.
What Is Life Insurance?
Jennifer Mann, vice president at wealth management and insurance advisory firm Lenox Advisors, explained that life insurance helps people in four phases of life and can accomplish the following if your insurance portfolio is set up properly:
If something were to happen to you, it can make sure whoever or whatever organization you care about will be financially OK.
If you are making more money and are concerned about taxes and creditor protection, it can provide tax-advantaged savings.
In retirement, it can be a buffer asset providing tax-free income.
It can be used for legacy purposes to be sure that when you die more of what you have left goes to whoever or whatever organization you care about — rather than to Uncle Sam.
Life insurance also can be used for business purposes to fund buy/sell agreements, help retain key employees, etc.
Mann added that life insurance should not be compared to investments in the market as it is not the same risk profile — unless it is a variable product. It is your safety net.
Types of Insurance
There are two basic types of life insurance: term life and whole life. The key differences are the length of the coverage and the cost.
Ciara Lister, Legado co-founder, said, "Think of term life insurance as a 10-, 20- or 30-year rental. If you pass away during the period of the policy, your beneficiaries get a payout," Lister said. " At the end of the set term, your beneficiaries would not receive a payout and you don't get anything."
As for whole life insurance. Lister said it's akin to owning a home instead of renting.
"You generally pay a higher monthly fee compared to term life, but you have permanent coverage," she said. "Whole life also accumulates a cash value that you can access through loans or withdrawals."
While any type of life insurance can benefit your family, term life is often surprisingly affordable — monthly premiums averaging around $16 to $19 for a 40-year-old with a 20-year policy and a $250,000 payout. That makes it especially helpful for those with dependents or a mortgage, Lister said.
"In terms of estate planning," she said, "a life insurance policy can be the fast cash a family needs to pay for funeral costs, which add up quickly. In fact, according to the National Funeral Directors Association, the median cost of a funeral in 2021 was $7,848."
Another important point is that life insurance payouts are generally not subject to income tax and, assuming the estate plan was structured correctly, they are also excluded from the deceased person's taxable estate, she said.
Why Can It Be Difficult for People To Get It?
According to Kimble McEntee, procrastination and becoming uninsurable are the two reasons it's difficult to be approved for life insurance. 
As she noted, life insurance is priced based on your age and your health when you apply for the coverage and the client enters into a contractual agreement with a life insurance company.
"The older you are or the more unhealthy you are, the more risk and higher the monthly premium are," she said. "Don't wait! Applying for life insurance coverage when you are young and healthy is always the best time and is always the lowest premium per month."
Why Are People Reluctant To Get One?
One of the main reasons is that many people shy away from life insurance because they think it's too pricey.
"It's a common misconception, especially among the younger crowd," said Jeff Rose, CFP and founder of Good Financial Cents. "In fact, a LIMRA study highlighted that some young folks think life insurance costs are triple what they actually are. This kind of overestimation can stop them from even considering it, thinking it's out of their budget."
Indeed, the 2023 Insurance Barometer Study, by LIMRA and Life Happens, found that 38% of millennials and 29% of Gen Z believe it's too expensive and cite this as a top reason they don't buy that coverage.  
Another reason people are reluctant to buy life insurance is that thinking about it means confronting their mortality, and that's not a pleasant thought, Rose explained.
"This often leads to the 'I'll think about it tomorrow' mindset," Rose said. "Especially when you're young, there's this sense of invincibility, making it easy to push such decisions to the back burner. But the irony is the younger and healthier you are, the better rates you might get."
Finally, life's daily financial pressures can make it hard to think about the long game.
"For those juggling bills, debts and immediate living expenses, setting aside money for something that feels so distant, like life insurance, can seem less urgent," Rose said. "It's a classic battle between today's needs and tomorrow's security, with the present often winning out."
More From GOBankingRates