10 Extra Homebuying Costs You're Probably Forgetting About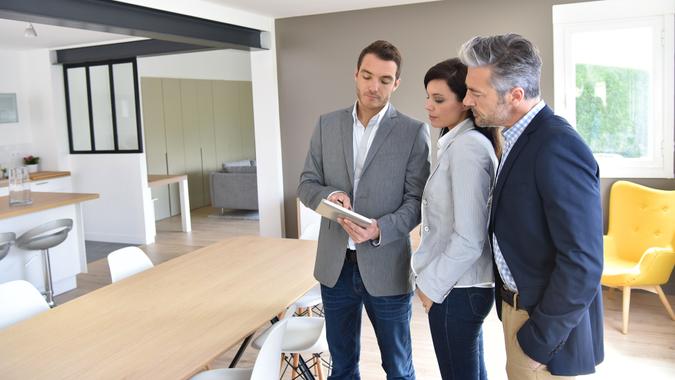 goodluz / Shutterstock.com
Buying a home is likely the most expensive purchase you and your family will make in a lifetime, with a few exceptions. Not only will you be forking out a sizeable amount of money for the down payment and a mortgage, there are a variety of other, often hidden or forgotten costs that pop up during the homebuying process.
According to Amy Kite, real estate agent and owner at The Kite Team at Keller Williams Realty Infinity, "I have worked on the selling of hundreds of homes, and I can't remember one instance where the purchase of a home didn't cost more than expected. There are always unexpected costs; things are more expensive than you might think, and extra fees really add up."
Advice: Unplug These Appliances That Hike Up Your Electricity Bill
Other Tips: Home Renovations That Will Pay You Back
Don't be caught by surprise; know about these 10 costs before they arise:
Inspection Fee
Before you can even sign on the dotted line to buy a house, it first has to be inspected. And contrary to many first-time homebuyers' expectations, that cost is not paid by the lender, said Shelbi Souther, a real estate agent with McWilliams Team Realty in Denver.
"Inspection is actually a cost that is usually covered by the buyer. The cost of inspection can vary based on geographical location and service provider, but it is one of the first and most important costs after you are under contract with a home, to ensure there is no major structural issues or safety concerns."
Agent Transaction Fee
Another cost that can surprise homebuyers, Souther said, is an agent transaction fee paid separately from the agent commission.
"While agent commission is commonly paid by the seller's proceeds and divided between the selling agent and the buying agent, an agent transaction fee is an additional cost that the agent or their employing broker may charge for the transaction. It is usually a fixed fee — and can vary based on the agency." 
Also Find: 8 Things Every Woman Should Know About Buying Her First Home
Title Insurance
If it seems like there's a fee for every paper you sign during escrow, you're right. Souther reminds new buyers that you also pay title insurance, at closing.
"Title insurance is important when protecting you and the lender from any financial losses that could occur as a result of a defect in title," she said. "Title insurance protects you and your lender from having to pay out of pocket for any legal expenses to have these defects corrected."
Fees for Services
When it comes time to move, you have to shut off all your key services, such as water, electricity and internet, Kite said. These companies don't always just happily turn your services off, especially if you're in the middle of a billing cycle; typically they charge you shutoff fees. And many of them also charge you a set-up fee to turn them back on in your new home.
Miscellaneous Costs
Kite also reminds buyers that "boxes, tape, bubble wrap and even the rental of a truck cost quite a bit."
And there's the fact that you may be eating out more often if you've moved appliances or turned off services before your official move-in date in the new home.
Selling? 25 Tricks To Sell Your House for a Bigger Profit
Private Mortgage Insurance
If you're lucky enough to be able to buy a home with less than 20% down payment, you will automatically have to pay private mortgage insurance (PMI), said Marina Vaamonde, owner and founder of HouseCashin, a marketplace for off-market houses.
"Research from Rocket Mortgage found that the average down payment for a home is only 6% of the purchase price," Vaamonde said. "However, most lenders require that for home purchases with less than 20% down payment, the buyer must pay a monthly private mortgage insurance payment. This is an extra cost you might not be thinking about when you buy the home."
Homeowner Association (HOA) Fees
If you buy a home that is part of an HOA community, then you automatically become a member and are required to pay HOA dues every month or year, Vaamonde explained.
"HOAs are organizations that make and enforce rules for the properties and residents that are under its jurisdiction. They own and maintain common areas such as streets, parks, sidewalks, facilities and more."
Pest Control
Many homes have pests, such as termites, which may require a fumigation or other pest control treatment, according to Omer Reiner, a licensed Realtor and president of FL Cash Home Buyers, LLC, a real estate investment company based in Ft. Lauderdale, Florida. In some cases, he said, this costs money not only to fix but to maintain.
Discover: Why Buying Property in These Vacation Destinations Could Be a Great Investment
Wiring
Ryan Waller and his wife, both Realtors in Toronto, Ontario, warn that older homes may not have updated wiring, even if you're told the wiring has been updated. Or it may be done at about 50% of what's needed, which will cost you a lot.
"This is true for electrical, plumbing, HVAC and other things behind walls," Waller said.
Renovations
Even after you've paid for an inspection and appraisal, your property purchase may still leave you with a laundry list of necessary home renovations, according to Matt Woods, CEO of SOLD.com.
"Especially in today's market, buyers are purchasing property knowing they'll be spending more money after the fact repairing and replacing items that came up during the inspection," he said. "Anything from purchasing new appliances to repairing foundational problems are things buyers should be prepared for, depending on the property and the sale contingencies. Other common expenses include new carpeting and paint, landscaping repairs, plumbing or electric upgrades; and, if all goes well, hopefully you'll be able to make these improvements without needing HOA approval."
More From GOBankingRates