7 Frugal Habits That Could Be Very Beneficial for Your Finances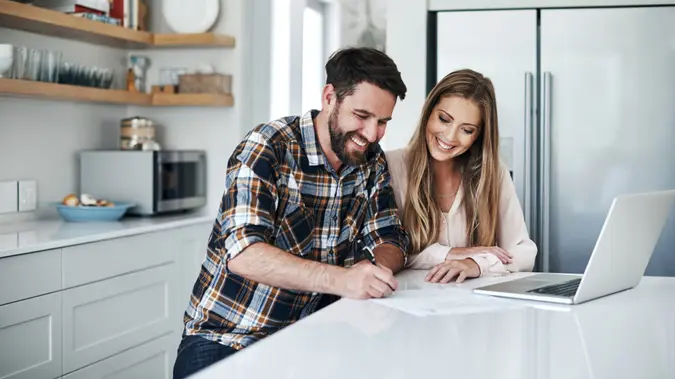 shapecharge / Getty Images
"When people think of the word 'frugal' they immediately conjure visions of someone that is a 'penny pincher,'" said Richard Gusmano, CEO and founder of Business Credit Consultants (BCCUSA). This is often the case for both individuals and business owners.
Being frugal is about much more than just cutting costs and saving money to improve your financial situation, however. It's also about changing your mindset in positive ways when it comes to money.
Whether you already live frugally and want to find more ways to cut costs, or you're trying to make a long-term change, here are seven specific frugal habits that can have a positive impact on your short- and long-term financial situation.
1. Think Before You Buy
It's all too easy to succumb to impulse purchases or spend more than you should when shopping. One way to prevent this is to think carefully about what you're buying before you actually put it in your cart or proceed to checkout with it.
Misty Lynch, CFP, owner and CEO of Sound View Financial Advisors, LLC, suggested asking yourself three questions when shopping:
Will this make me happy a week from now?
Will I have a better time because of this purchase?
Do I already own something like this?
If you answered no to either of the first two questions, or yes to the third one, you're probably better off without the item and your bank account will thank you.
"I used these [questions] myself during a year-long shopping hiatus after picking up some bad spending habits when my children were born," said Lynch.
2. Buy Discounted Luxury Items or Second-Hand Clothes
You'd be surprised at the amount of value you can get from gently-used or discounted apparel, especially if you know where to look.
"Purchasing clothes second-hand on platforms like Poshmark and negotiating for discounts through offers or bundling helps me save a substantial amount, often around 60% or more off retail prices," said Liang Zhao, CEO and founder of Vansary, a public relations and marketing agency. "This approach is particularly advantageous for items like toddler clothing due to their limited usage span. The money saved from buying second-hand can then be allocated to my daughter's savings account, allowing her to accumulate savings from a young age. This habit instills a culture of financial responsibility and sets her up with a strong financial foundation for the future."
As for buying luxury items, Zhao suggested using sites like TheRealReal or Fashionphile for high-quality finds at an affordable price.
"By investing in luxury items that hold their value well, such as designer bags, I'm able to enjoy the indulgence of luxury goods without significantly depleting my finances," said Zhao. "Moreover, when I decide to resell these items, I can often recoup a substantial portion of the initial cost or even make a profit. This habit effectively combines the enjoyment of luxury with a smart financial strategy."
3. Cook More Meals at Home
Based on the most recent Bureau of Labor Statistics data, the average annual cost of food at home is $5,259 — or around $438 a month. But, if you find yourself frequently dining out or if you have a large family, your food bill could be substantially higher.
By cooking more meals at home, even if it's only one or two a week, you could cut down on spending and improve your overall finances. "Pick a day of each week to make a meal at home in 30 minutes or less. If you already do this, pick an extra day," said consumer finance expert Tanya Peterson, vice president at Achieve.
"According to one recent survey, Americans order takeout or delivery 4.5 times a month, and eat at a restaurant an average of 3 times a month," added Peterson. "In a month's time, that could easily total $250 or more for a family. That's $3,000 a year. You can easily make a full meal (prep, eat, and clean up) in less than an hour at home. If you need help, spend a few minutes online or at the library looking at one of many resources devoted to '30-minute meals.'"
While you're at it, look for cheaper or off-brand ingredients when shopping at the grocery store.
"Food is one of the hardest hit sectors right now, but something we all have to buy regularly," said Cody Sparks, director of retail banking at UMB Bank. "When shopping for the week, look for off-brand products. The grocery store might have their own brand that is less expensive and typically the product quality is exactly the same as the name brand. It also helps to stick to your list and meal plan as much as possible to avoid food waste."
4. Automate Your Savings
Automating your savings can help you live more frugally. By having a set amount of money taken out from your paycheck each month, you're effectively limiting your ability to overspend while saving up for something else.
"Many people struggle with budgeting and saving money because it requires them to constantly think about their finances," said Josh Richner, marketing director at National Legal Center. "Automating your savings is an easy way to save money without having to put in the mental effort on a day-to-day basis. You can set up automated contributions that will go into emergency funds, retirement accounts and more."
5. Make a Realistic Budget
"Developing a budget helps you track income, expenses, and savings goals. It ensures that your spending aligns with your financial priorities and prevents overspending," said Joseph Catanzaro, financial advisor at Oak & Stone Capital Advisors. "Budgeting provides clarity on where your money is going, helping you identify areas to cut back. Over time, this practice prevents debt accumulation, builds savings, and contributes to long-term financial stability."
If you don't already have a budget, now's the time to sit down and create one based on your current income and expenses. If you're not sure how to get started, you're in luck — there are several online tools to help.
"If you need help setting and sticking to a budget, use an app like Mint that does the heavy lifting for you by linking all your financial accounts in one place," said money-saving and budgeting expert Andrea Woroch. "This allows you to see your spending and saving habits in real time and monitor where your money goes each month. It even categorizes your monthly spending to help put a spotlight on where you need to cut back."
6. Use a Money-Saving Browser Extension
Certain browser extensions, like Honey or CouponBirds, could save you money when shopping online — and they don't cost you anything to use them.
"Incorporating a money-saving browser extension into your online shopping routine can yield substantial benefits for your financial well-being, both in the short and long term," said Jonathan Prescott, vice president of e-commerce at CouponBirds.
For example, Prescott added, "CouponBirds' browser extension empowers its users to save an impressive $10 per order on average, enabling savvy shoppers to accumulate up to $150 in savings annually. Over a decade, these prudent choices can amass a remarkable $1,500 in total savings for each user, demonstrating the significant impact this extension can have on personal finances."
7. Switch Up Your Mindset
It can take a while to change your mindset about money, but it can also be very beneficial in the long run.
"Embracing a frugal mentality allows one to be satisfied with less," said Richner. "Frugality is viewed from a financial standpoint, but it is usually a byproduct of simple living. Rather than viewing frugality as a sacrifice, look at it as a way of living that maximizes the value of every choice, action and experience."
Richner suggested taking things slow by starting with what he called "savings starters."
"Savings starters are small steps towards improving your financial wellbeing in the form of incremental savings over time," said Richner. "The impact of these savings starters is small at first, but cumulates over time as what you're really doing is creating a financial environment that allows you to save."
More From GOBankingRates