I'm a Financial Planner: 5 Best Money Decisions Lottery Winners Should Make With Their Cash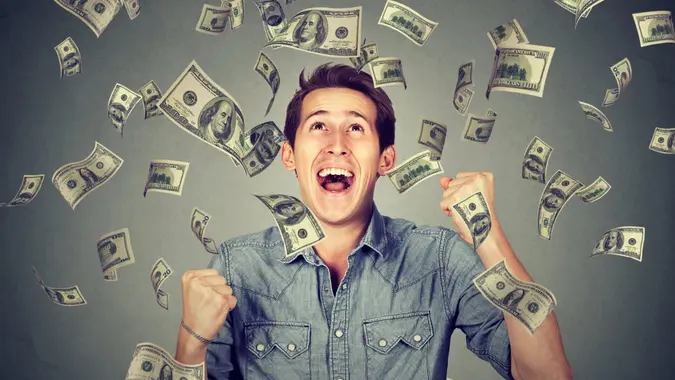 The current Powerball jackpot soared to $1.4 billion on Oct. 5 after no players matched all the winning numbers. It's the No. 7 largest prize in world history, and whoever reels it in should start with a whole lot of jumping up and down and screaming — but then that lucky winner needs to pause and take a deep breath.
Sherman Standberry is a licensed CPA and managing partner at My CPA Coach, a firm specializing in financial and tax planning for business owners and investors. He has guided many clients through the responsible management of unexpected windfalls reminiscent of a jackpot, from inheritances to lawsuits.
He knows how quickly a blessing can become a curse when a mountain of unexpected and unearned money lands on someone who doesn't know how to manage it.
"For lottery winners, handling newfound wealth can be overwhelming," he said. "But there are some wise decisions they can make."
Congratulations, You're Rich! Now Keep It That Way by Splurging Within Reason
Some people keep showing up to their jobs every day for years after hitting the jackpot, which makes you wonder why they were buying lottery tickets in the first place. No one expects you to shun your newfound wealth, but remember, for lottery winners, there's one rule on which all other rules are based — whatever you do, don't blow it all.
"It might be tempting to make extravagant purchases, but it's important to live within a budget to avoid depleting your new fortune quickly," said Standberry.
In September, Edwin Castro, the winner of America's largest-ever $2 billion Powerball jackpot, added a $25.5 million Bel Air mansion to his burgeoning California real estate portfolio, which already included a $25.5 million Hollywood Hills mansion and a $4 million home in Altadena.
Why not? After all, his lump-sum haul was just shy of $1 billion — and no one could ever blow through that much money, right?
Castro shouldn't bank on it.
The National Endowment for Financial Education disputed the authenticity of an often-cited statistic attributed to it, which claims that 70% of lottery winners go bankrupt within a few years. Whether it's 70% or not, the so-called lottery curse has seen countless jackpot winners go broke or meet even more tragic fates — your first and only job is not to become another statistic.
You've Officially Outgrown Your Money — Invest in Professional Help
If you win the lottery, the first thing you should do is nothing at all. Don't tell off your boss, don't buy a Lamborghini, don't blabbermouth to anyone and, if your state allows it, which most don't, claim the winnings anonymously — or plan on having a whole bunch of new best friends.
While you're struggling to swallow your excitement and keep a low profile, enlist a team of financial professionals who know how to manage large windfalls.
"A trusted financial advisor, a CPA and an attorney can help manage and protect your new wealth," said Standberry. "They can assist with tax planning, estate planning and investment strategies."
That trio is the nucleus of your team, and according to CNN, all three should come from major firms with national reach that serve wealthy clients, even if you have relationships with local professionals who have served you well in the past.
Experience the Sweet Relief of Being Debt-Free
While experts and common sense advise against mansion-buying yourself into poverty, no one could blame you for making a few reckless splurges after you stumble into a country's worth of money.
But some common-sense personal finance housekeeping should come first to start your new life as a one percenter off on the right foot.
"If you have any outstanding debts, now is the perfect time to clear them," said Standberry. "This will give you a clean financial slate."
Turn a Small Fortune Into a Big One by Investing Wisely
The best way to secure your financial future and achieve true generational legacy wealth is to put some portion of your money to work right away. That way, it can earn returns and start compounding to eventually replace whatever percentage of your winnings you allot to lifestyle upgrades now.
"Don't let your money sit idle," said Standberry. "Invest it in diverse portfolios to generate returns and grow your wealth."
But Standberry reminds winners that these are not decisions to take lightly or to make on your own. Upon winning the lottery, you'll be bombarded with can't-lose investment opportunities. Some of them might be legitimate and promising. Others will certainly be dead ends or outright frauds. Now is the time to add an investment manager to your team of financial pros.
Purchase a Happy and Secure Future
Finally, look past all the instant gratification that you're now more than capable of purchasing and set your sights on more distant aspirations that wouldn't have been achievable without your lucky lottery ticket.
"Consider long-term goals such as retirement, children's education or philanthropy," said Standberry. "Allocate funds accordingly."
Here, too, allocate with professional help. In this case, you'll probably want to bring someone who specializes in estate planning along for the ride.
More From GOBankingRates