How To Make Your Paycheck Last Longer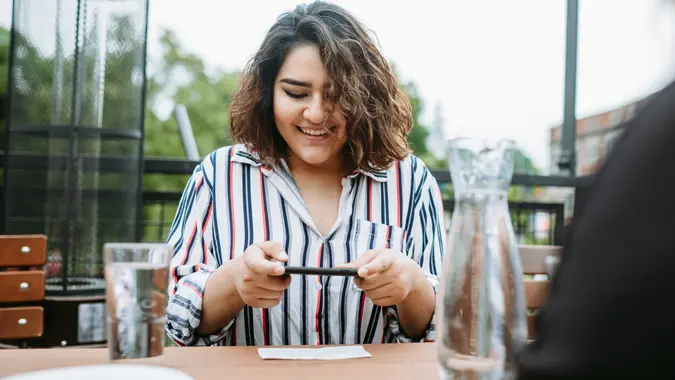 RyanJLane / Getty Images
Does it seem like as soon as your paycheck hits your checking account, you've already spent it all?
Breaking out of a paycheck-to-paycheck cycle can seem difficult, but there are some simple ways to save more and spend less that will make your paycheck last longer — no matter how much you are making. We spoke to financial experts to get their best tips for holding onto more of your paycheck.
Save a Portion of Every Paycheck
"Pay yourself first," said Renee Johnson, editor-in-chief of The Tech Report. "Instead of paying your expenses first, put a set percentage of each check into your savings account. Take care of your expenses next — and what you have left over is your fun money. If you don't do it this way, it's far too easy to overspend on the fun stuff and not put a lot into savings."
To ensure you actually follow through with this, consider setting up an automatic transfer from your checking to your savings or retirement account every pay period.
"If you have the option to have your 401(k) contribution taken out of your paycheck before you even see the money, do it," said Chalmers Brown, former CTO of Due. "There are several benefits to this, including that you don't have to remember to put money aside each month for retirement. You also won't see the money, so you won't have to budget for it. Look into other options for automatic paycheck withdrawals to help simplify budgeting and to ensure money goes where it needs to."
Find Other Sources for Your Savings
Come up with a savings rule for yourself to ensure that you are regularly contributing money to your savings whenever possible.
Bobbi Rebell, a CFP and the founder of Financial Wellness Strategies, offers the following examples: "Every time you get a coupon that you use for a purchase, move that amount of money into savings. Or any time someone pays you back via Venmo, put that into savings. Or every time you get cash change under $5, put that into a savings jar at home, and then deposit once a month. You get the idea."
Track Your Spending
"We all need to live within our means, but it's often far too easy to lose track of what exactly our spending parameters are," said Meredith Stoddard, group team lead at Fidelity Investments. "Even if you think you're living well within your paycheck, it can be helpful to periodically step back and review where you actually stand."
Stoddard said the first step to doing this is to be aware of exactly where all of your money is going.
"Even simply tracking what you are spending over a short period of time — say, by taking a look at one month's worth of bank statements and bills — can give you a good sense of where your money goes," she said. "You can't fix what you can't see."
Stoddard said to be especially aware of any recurring payments.
"Recurring payments and subscriptions are a great way to automate your life, but it can be easy to forget they're there if you're not paying attention," she said. "Make sure you know what you're paying for and that you're actually using what you're paying for. If you're paying a monthly fee for something you really haven't used in months, it might be time to free up that cash for other uses."
If you have multiple subscriptions for the same type of service, consider canceling the ones that you don't use as often.
"Look for ways to scale back," saidElena Ochian, senior director of work & rewards at WTW, a multinational business consulting firm. "Is it really worth it to you to have multiple streaming services at the same time? Also, if you tend to overspend in one category, like eating out, try giving yourself an allowance for that category every month to reduce expenses. Consider the amount saved as a mini pay raise, and apply it right away toward your goals."
Try To Lower Your Essential Expenses
"Shop around — insurance, cellular, wireless and the internet often have options," Stoddard said. "Check out the competition and also take a look at the plans your existing providers offer to determine whether there are more economical alternatives that fit your needs just as effectively. The savings can add up."
While it may be more convenient to comparison shop online, sometimes a phone call can be worth the extra effort.
"There's a very good chance you could be paying far less, and oftentimes it just takes a phone call to find out," said Jim Wang, founder of WalletHacks.com. "If the service refuses to budge when you ask, threatening to cancel can often lead to big savings because they want to keep you as a customer.
"Satellite radio is a prime example. Many folks are not driving as much for work and so canceling that service could be a great way to save money. The standard rate for satellite radio is around $20 to $30 a month; but, if you threaten to cancel, you can often get it for $25 every six months. That's a significant savings most people don't know about, but I've heard from over a hundred readers that have done it successfully."
Think Twice Before Throwing Something Out
"Extend the life of what you already have — reusing, repairing and using things longer can add up to a lot of savings over time," Stoddard said. "Bonus: There's a great benefit to the environment too!"
Be Mindful Before Making a Nonessential Purchase
"Spending money is a mindset," said Jason Hennessey, founder and CEO of Hennessey Digital. "I like to think of each purchase in terms of the amount of time I had to work to earn the money to pay for that item. It gives me perspective on the value of my time and the cost of a purchase that I'm considering."
Taking the extra time to think about a purchase before making it may prevent you from buying things you don't really need.
"I monitor my impulse purchases," said Misty Larkins, president of Relevance. "If I see something I want to buy that I hadn't budgeted for, I do one of two things based on the cost. If it's less than $25, I usually allow myself to buy it, but I keep this to once a day. If it's over $25, I wait until the next day to buy it. If I'm still thinking about the item and willing to go back to the store or enter my details online, I can get it."
Buy in Bulk
"One thing my wife and I do to save money is to buy in bulk," said Stephen Dalby, founder of Gabb Wireless. "Yes, it's a necessity as quickly as our family goes through things, but there are also discounts involved in buying large quantities of something at once. Don't just look to stores like Costco and Sam's, though. Office supply stores may also offer a surprising number of items you go through quickly."
Make Purchases and Pay Bills With a Rewards Card
"Consider using a rewards card on bills and daily necessities," said Steve Schnall, founder and former CEO of Quontic Bank. "The right card will pay you back in cash or points."
When you use a cash-back card, you are saving money on every purchase.
Stop Comparing Yourself to Others Who May Have More Resources
"Eliminate upward comparisons," said Barbara Friedberg, a financial expert and CEO of Robo-Advisor Pros. "If you're buying to 'keep up' with friends, take a moment to shift your perspective. Instead, compare yourself with those who have less than you do. You'll feel happier and less prone to status shopping."
Laura Beck and Gabrielle Olya contributed to the reporting for this article.
More From GOBankingRates