7 Money Tips Suze Orman Wants Gen Z To Know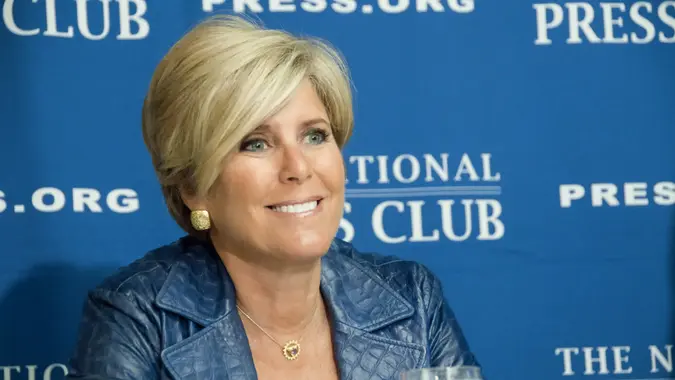 Albert H. Teich / Shutterstock.com
If you're a member of Gen Z who has made it to adulthood within the last decade, you're in a unique position to get your financial house in order at a young age. This will help you avoid the mistakes that people from other generations have made — perhaps even ones that have snowballed and are still haunting them to this day.
To help, here are seven money tips for Gen Zers from famed financial advisor and author, Suze Orman.
Build an Emergency Savings Fund
"The most important thing in anybody's personal financial portfolio — more than all the stocks and everything — is at least an eight-month emergency [fund], maybe even a year emergency fund," Orman told CNBC.
Orman warns on her blog that an emergency fund is vital because it's not a question of "if" an economic recession will happen, it's "when" it will happen. If you are laid off or lose your job, having an emergency fund that will cover up to a year of your expenses can help you stay afloat financially and not drown yourself in debt by using credit cards, borrowing from your 401(k) or resorting to personal loans with high APRs.
Make Paying Off Your Student Loan a Priority
If you've been holding out hope that a big portion of your student loans will be wiped out soon, the Supreme Court is expected to announce its decision in June. Even if that comes to pass, it likely won't wipe out your full student loan balance, as the typical undergraduate student with educational loans graduates with almost $25,000 in debt, according to a Department of Education analysis.
Orman recommends tackling secured debts like student loans first, even before your credit card debt. She wrote on her Facebook page that student loans are one debt that cannot be wiped out by bankruptcy and if you are unable to pay and default, the government can garnish your wages.
Poll: Would You Move for a Job That Paid You a $10,000 Signing Bonus?
Opt To Save in a Roth 401(k)
Orman wrote on her blog that if your company offers a Roth 401(k), you should take advantage of it. "Because young adults are just getting going in their career, it's likely your income isn't as high as it will be as you gain experience," Orman wrote. "That means you're likely in a lower tax bracket today than you will be in the future (and that's assuming there's no change in tax rates). So I want you to pay your tax on your retirement savings right now."
Orman wrote when you save in a Roth 401(k), the money you contribute is money you have already paid taxes on. So when you withdraw those funds in retirement, it will be tax-free. This is the opposite of a traditional 401(k).
Resist the Urge To Spend on Pricey Experiences
It can be tempting to dive in and enjoy life at every chance — especially after being deprived during the pandemic. However, that behavior can come back to bite you in the form of debt if you use credit cards and financial unpreparedness if you use money from your savings.
"If you don't have ample savings and are worried about how you're going to pay bills in the coming months, resist the temptation to make up for what you've missed with pricey experiences, Orman told People.
Live Below Your Means
Orman said on her blog that you should always live below your means, but it is especially important to heed her advice in this economy. Living below your means has two advantages, according to Orman.
"For starters, your living costs will go down," Orman wrote. "If you were laid off, that means your emergency savings will last longer. And when you reduce your spending today that will give you more money to put toward building recession protection. A dollar not spent is another dollar you can add to your emergency savings or use to reduce your credit card debt."
Stop Paying Extra for Conveniences
When COVID-19 was running rampant, it made sense to pay extra for certain conveniences so you could avoid exposing yourself, like having food delivered instead of going to get it yourself and paying extra to have someone shop for your groceries. However, now that the risks are greatly diminished, it's time to forgo those expenses.
Orman said the things you pay for to make your life easier can make it harder for you in the long run because the money you're wasting adds up bigtime. And that's money that could potentially go into savings or investments or toward paying off debt. 
Don't Feel Like You Have To Buy a Home Right Now
Home mortgage rates are at a decade high right now. If you feel like you need to buy a home now because you think interest rates are going to crawl even higher, Orman advises against it.
"If you're refinancing a house or possibly even buying a house because you're afraid that the market's going to miss you, you're going to miss the market," Orman told People. "The fact is rather than a 2.5% interest rate on a 30-year fixed [mortgage], you're going to get a 5.5 or 6 percent [rate]."
More From GOBankingRates