Nearly 1 in 3 Women Avoids Thinking About Finances: Why This Is a Huge Mistake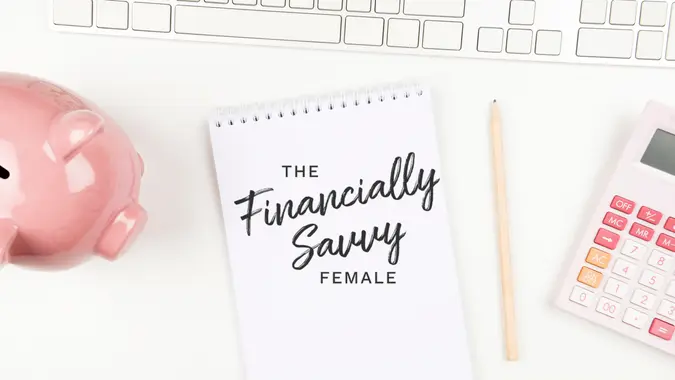 simarik / iStock.com
How would you describe your relationship with money? In GOBankingRates' women and finances 2023 survey, key findings revealed nearly one in three women avoids thinking about or dealing with their finances.
Thinking about personal finance may not be as enjoyable as taking a vacation or enjoying a spa day, but it's necessary in order for women to establish a healthy relationship with money. Let's look at why it's a huge mistake for women to avoid thinking about finance and what they can do to make it easier to manage their finances.
Why It's a Mistake for Women To Avoid Thinking About Finances
Making the decision to avoid thinking about finances impacts women across several levels. 
On a macro level, Patricia Stallworth, CFP and CEO of PS Worth, said 80% to 90% of women will be solely responsible for their finances in their lifetime. Stallworth said women also tend to live longer than men and earn less than men. As a result, they have to do more with less money.
Women who are not interested in learning about finance may position themselves in a vulnerable place. Aviva Pinto, CDFA and managing director at Wealthspire, said this decision is a big mistake when unexpected events arise like divorce, widowhood or the sudden incapacitation of a partner. Women, even if they are very smart, may be left feeling confused and ill-equipped because they do not have a full grasp on their finances. They can try to acclimate themselves but may struggle to figure out exactly where to start since they don't know what to do next.
How To Face the Bigger Financial Picture
Women can start empowering themselves now to learn more about their finances and feel confident managing money. Here are a few helpful steps which can make it less daunting to face finances.
Gather and Organize All Financial Documents
Women who do not have a full grasp of their finances may struggle to figure out where all of their financial documents are and what types of financial paperwork they need. 
Pinto recommends gathering all paperwork related to financial accounts, information and statements. This paperwork may include documents related to bank accounts, investment accounts, retirement accounts, business information, tax returns and debt such as mortgage, credit cards and/or home equity lines. Organize everything and keep it in a safe place.
Set Goals and Start Saving
Stallworth said women can start setting goals for the present and future. These goals should have a money component to them, such as paying off credit card debt, starting a retirement fund or purchasing a house, and should motivate you to reach them.
Women who begin working to achieve their financial goals will need to start saving money. Stallworth recommends automating savings to begin building a stash of cash which goes toward reaching these goals. Get into the habit of paying yourself first each time you are paid and funneling your money toward achieving your financial goals.
Meet With a Wealth Advisor
Once you have gathered your financial paperwork and started saving to hit your financial goals, it's time to meet with a wealth advisor or another trustworthy and balanced financial professional. A wealth advisor will be able to work with you to assess your current situation and update your financial plan. 
Done right, Pinto said your financial plan will paint a clear picture of where you are, where you're going and how you'll get there. This plan will factor in what you earn, what you spend and what you anticipate needing in the future for you and your loved ones to have enough. 
Above all, Pinto said it should bring women peace of mind. You know you understand your finances, have gotten organized and are prepared for whatever may come.
Pro Tip: Keep Learning About Finances
Even if you reach your financial goals or think you have learned enough about personal finance, there's always room to keep educating yourself on financial concepts. Continue learning about finances and utilizing resources like books, webinars and working with a money coach to bring yourself up to speed.
More From GOBankingRates