I'm a Self-Made Millionaire: These Are the 5 Places I Go for Money Advice During an Economic Downturn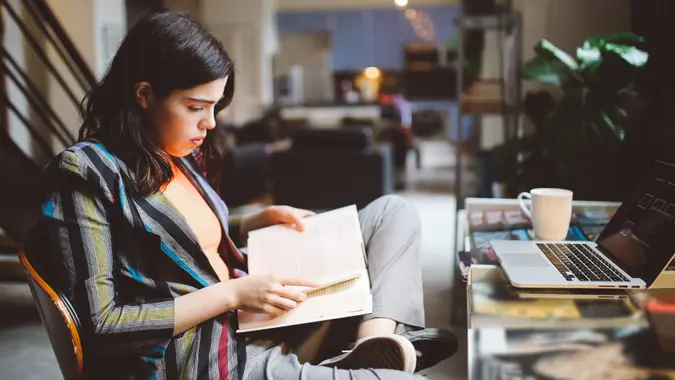 lechatnoir / Getty Images
Where do millionaires get their financial advice? The answers might surprise you.
Like everyone else, self-made millionaires can turn to many resources for money insight. Common sources include family and friends, books, personal accountants, financial advisors and other well-known financial experts. These sources become especially valuable in an economic downturn when it is uncertain whether the economy will recover, or how long it may take.
GOBankingRates spoke with several self-made millionaires across a wide range of industries to learn more about the sources they rely on in good and uncertain times alike.
Reports
Kisha Mays is a venture capitalist and the founder of Just Fearless Women and HERStory Connections. Mays said her go-to for financial advice starts with reading The Financial Disclosure Reports by Congress and the Senate.
Why does she read these reports? "It shows what they are buying and selling as they have insights we don't," said Mays.
See Our List: 100 Most Influential Money Experts
Financial Influencers
In GOBankingRates' Top Money Experts 2023 survey, we polled 1,045 Americans on the topic of money experts. 52% of overall respondents surveyed said they follow money advice from a well-known expert. 
Mays said she follows the moves of Berkshire Hathaway and Icahn Enterprises, owned by Warren Buffett and Carl Icahn, respectively. Berkshire Hathaway typically buys and invests in solid companies while Icahn Enterprises goes after companies to break them down and make them better and more profitable in the long run.
Books
While only 4% of respondents surveyed by GOBankingRates said they turn to books for money advice, many books offer a blueprint for understanding the ins and outs of finance.
Self-made millionaire Lisa Zahiya is the CEO and founder of a business strategy firm. Zahiya said books have always made her money. She still relies on basic principles learned in books about investing both in good times and economic downturns. One piece of advice is knowing that money is on sale when the market is down, so Zahiya said she buys heavy.
Some of Zahiya's book recommendations are also written by recognized financial experts. Her favorite investing books include "Unshakeable" by Tony Robbins and "I Will Teach You To Be Rich" by Ramit Sethi.
Fiduciary Advisor
Self-made millionaire Chad Willardson is a financial advisor and founder at Pacific Capital. Willardson has advised entrepreneurial investors during the dot-com bubble, the 2008 Great Recession and the COVID-19 pandemic, making him no stranger to understanding economic downturns.
In unprecedented times, Willardson said you need to seek advice from reliable, well-informed sources. His recommendation? Meet with a trusted fiduciary. By meeting with a fiduciary, you'll be able to receive personalized guidance based on your unique financial circumstances.
"The key to navigating an economic downturn is staying well-informed, adaptable, and maintaining a long-term perspective for all of your big money decisions," said Willardson.
Take Our Poll: Who Has Given You the Best Money Advice You Have Ever Received?
Multiple Resources
Should you consult several resources during an economic downturn? Absolutely. 
Dottie Herman, vice chair and the former CEO for Douglas Elliman, is a self-made millionaire. Herman said she utilizes multiple resources for financial advice. This includes seeking out more than one financial advisor and comparing what each one says.
"I want to know if they are basically offering me the same advice or are there big disparities," said Herman. "If I'm getting widely different views, then I ask deeper questions and do my own research."
Other resources for Herman include asking respected businesspeople for their thoughts and reviewing financial websites and publications to gather more information. After this has been done, Herman said she looks at the overall big picture and forms an opinion on what she thinks is best for her situation.
More From GOBankingRates