8 Things You Must Do Before You Make a Purchase Over $10,000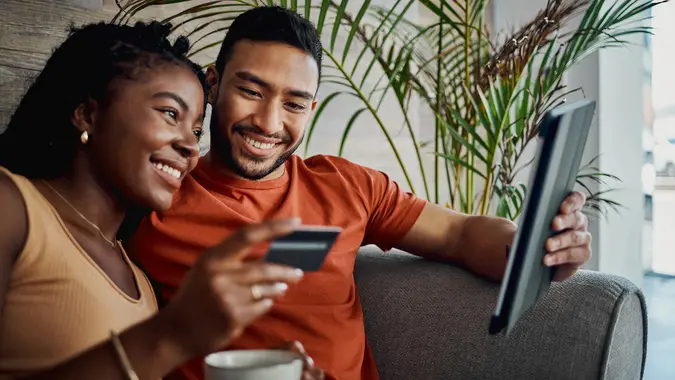 Delmaine Donson / iStock.com
You're thinking about spending a lot of money. Like the kind of money that can take years to save up.
Maybe you're planning to buy first-class plane tickets to Paris, a boat, a seriously high-tech TV or a fancy new piece of art. No matter what the potential purchase, you're feeling a mix of exhilaration and apprehension.
It's possible this purchase is a great idea, but it also might be a terrible one. Here's eight things you need to do before making the final call on this purchase.
Make Sure It's Not an Impulse Purchase
"To start, assess the necessity and long-term implications of this purchase," said Khwan Hathai, CFP, CFT, founder and financial therapist at Epiphany Financial Therapy.
She said to consider whether this is a knee-jerk reaction to an emotional trigger or something that truly aligns with your financial roadmap.
"This primary evaluation is a pivotal part of what I refer to as behavioral financial planning," she said. "Your psychological relationship with money, intertwined with your financial standing, needs to guide this purchase."
Determine Why You Want To Make the Purchase
"It's crucial to tap into your emotional state during this period, incorporating money mindset shifts to understand what drives such significant decisions," Hathai said.
She said to think about whether societal pressure, a form of escapism or a genuine need is behind your desire to make the purchase.
"If you're clear on both financial and emotional fronts, go ahead and make your purchase," she said. "But remember, the financial journey doesn't end there. Take time post-purchase to evaluate the impact on both your finances and emotional well-being."
Apply For a New Rewards Credit Card
"When making a purchase over $10,000, consider applying for that new credit card you have been eyeing," said Kelly Palmer, founder and chief wealth officer of The Wealthy Parent LLC, a fee-only financial planning firm located in Chicago, IL. "Some of the big travel credit cards offer excellent signup rewards but only if you spend over a certain amount."
While she recommends putting your purchase on a credit card, she doesn't commend going into debt.
"I don't recommend carrying a balance on the card but instead paying it off immediately," she said. "You are making a big purchase, so might as well make your money work for you."
Find Out If There's Room For Negotiation
"You should also be sure to negotiate any purchase over $10,000," Palmer said. "Even if it doesn't seem negotiable, it never hurts to ask."
She recommended checking to see if you qualify for any available discounts, as this can allow you to save some extra cash.
Talk to Your Partner
"Be sure you are on the same page with your partner about the purchase," Palmer said. "No one wants to be surprised with a larger purchase, so having an honest conversation about where this purchase fits into your financial goals is key."
If the tables were turned, you likely wouldn't want your partner to spend that much money without running it by you, so give them the same consideration.
Conduct a Thorough Financial Analysis
"Before you part with your hard-earned money, get a clear picture of your financial health," said Brian Quigley, founder at Beacon Lending.
He said this should involve a close look at your current debts, monthly expenses and savings.
"Ensure that this purchase won't disrupt your short and long-term financial goals," he said. "As I often tell my clients, a large purchase without financial foresight is like sailing a ship without a compass."
Comparison Shop
"Never jump into a purchase without doing your homework," Quigley said. "This doesn't just mean looking at the price tag — it's about understanding the value of what you're buying."
He said performing proper due diligence can help you avoid investing your money in the wrong purchase.
"Whether it's an investment, an asset or a luxury item, you should be aware of its market rate, longevity and potential returns," he said. "Knowledge is power, and in financial matters, it's also your safeguard against overspending."
Seek Expert Advice
"I've seen many regrettable purchases that could have been avoided with the right guidance," Quigley said. "Before making any major financial decisions, consult with a financial advisor or someone knowledgeable in the specific field of your purchase."
Gaining the input of a professional can help guide you in the right direction.
"An informed external perspective can help you see potential pitfalls or benefits that you might overlook," he said. "Remember, two eyes are good, but four can see even more."
Ultimately, he said making a purchase over $10,000 isn't just a transaction — it's a significant financial decision that can impact your future. Therefore, it's important to be equipped with knowledge, foresight and expert advice to ensure your money goes to the right place.
More From GOBankingRates