3 Things You Must Do When You Overspend in a Month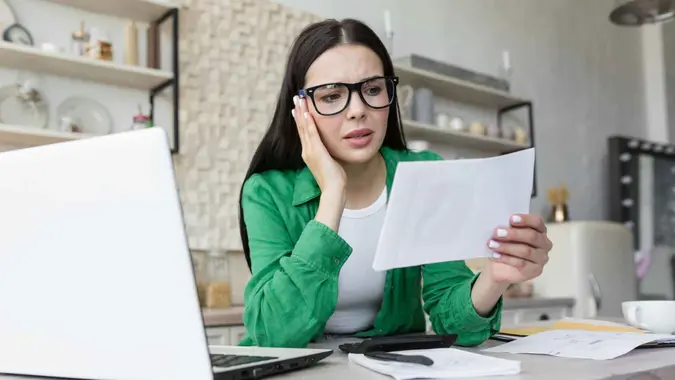 Liubomyr Vorona / iStock.com
We've all been there. Maybe it was the holidays, maybe it was your birthday or maybe you just wanted to treat yourself to something special. And just like that, your budget goes sideways and you're off track with your spending.
But don't panic. Experts said that if you overspend in a month, with discipline and a plan, there are a few steps that can help you get back on track.
Look At the Numbers
Look at the numbers and decide: Is this a one-month aberration or is this an ongoing change in expenses?
"If it is a one-month situation, hopefully it can be managed with an emergency fund that you will replenish and you can move on with your life," said Bobbi Rebell, CFP, founder of Financial Wellness Strategies and author of "Launching Financial Grownups: Live Your Richest Life by Helping Your (Almost) Adult Kids Be Everyday Money Smart."
However, if it is an ongoing change in expenses, then it is decision time.
"Do you want to find a way to increase your income to be in line with the new normal, or do you want to nip it in the bud and bring the spending back in line with your budget?" she added.  "If the spending you regret is on something you can return or cancel — do it! Stores give refunds. If you can't return an item, sell it. You will feel a huge weight off your shoulders."
Be Honest With Yourself
Knowledge is power, and if you do not know how much you are really spending, you will not know how to fix it, said Thomas Racca, manager, personal finance management team at Navy Federal Credit Union.
"Check the balance of your credit cards every day, ask yourself if you really need that purchase and make budget adjustments when necessary," he said.
For instance, if you thought you would spend $50 a week on groceries but are actually spending closer to $70, find ways to reprioritize your spending to make up the $20 difference.
"You'll stay on track with your financial goals if you always have your finger on the pulse of your expenses," he said. "It is not complicated, but it is not easy either!"
Prevention Is Key
Melissa Cid, consumer savings expert for MySavings.com, recommended doing a mid-month budget check-in to review how your spending is progressing, and end-of-month budget cleanup to address any overspending.
"This will set you on a positive path the following month," said Cid.
She also suggested getting in the habit of "finding the money first" before making purchases.
"This could be in the form of making more money or saving money in another area of your budget, like dining out," she said.
How To Get Back On Track
Here's the expert advice on getting back on track after you've blown your budget.
Plan In Advance
According to Rebell, going forward, find ways to do more advance planning when it comes to your spending, as it is always easier to make decisions about big budget items when you are not under pressure.
"That's when we get in trouble," she said. "It is painful to pay full price for something you knew you were going to need but didn't snag when it went on sale. They say time is money but time can also save you money if you get organized about upcoming expenses."
Develop a Realistic Budget
Navy Federal Credit Union's Racca explained that this should be based on your current assets and any new debts you may have acquired.
He suggested considering the 50/20/30 budgeting plan, which divides your income into three categories: essentials, financial obligations and "fun money." Fifty percent of your income goes toward essentials (rent, utilities and groceries), 20% goes toward expenses you should prioritize (getting out of debt, retirement savings) and the final 30% goes toward nonessentials (shopping, travel, dining out).
"There are a host of free budgeting tools online to help you get started. Going forward, create a timeline to check back in to make sure your budget is working for you," he said.
In addition, you should try to check in at least on a monthly or quarterly basis. Financial priorities can change, so don't be afraid to make adjustments.
"Remember, debt is not made or repaired in one pay period…if it took months to create, it may take months to fix. Keep chipping away and focus on where you want to be," he added.
Meal Plan and Use Coupons
One of the easiest places to save money is at the grocery store, specifically by meal planning and using coupons on your groceries and drugstore purchases, said Cid.
In addition, maximize your saving efforts by combining coupons with store sale promotions.
"Some stores like Publix, Target, CVS and Walgreens will let you coupon stack by using a manufacturer coupon with a store coupon on the same item. It's easier now than ever to use coupons," she said. "Take it a step further and download an app like Ibotta to earn cash back on your store purchases."
More From GOBankingRates