What Is the State of Women & Money in 2023?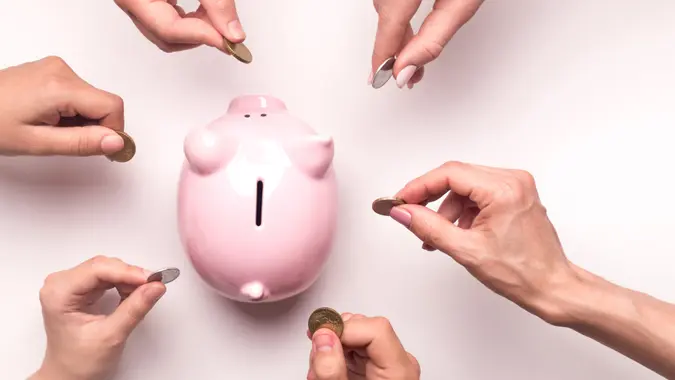 Prostock-Studio / iStock.com
Women have been making major strides in the worlds of personal finance and careers. A recent LendingTree analysis found that single women now own more homes than single men. And in January, Fortune reported that women CEOs run more than 10% of the Fortune 500 companies for the first time in history. Still, the gender pay gap persists and women continue to be less likely to invest than men — even though data has shown that they tend to be better investors.
To get a complete look at women's financial standing in 2023, GOBankingRates surveyed over 1,000 American adults who identify as female about their financial obstacles and goals, career priorities and attitudes about money. Here's a look at what we found.
Women's Primary Financial Goal Is Covering Basic Expenses
Over the past year, women have shifted their financial priority from saving for the future to getting by right now. In 2022, the majority of women (30%) said their primary financial goal was saving for retirement. Now, the majority (26%) said their primary goal is covering basic expenses, with an additional 20% prioritizing paying off debt.
Nearly half of women (47%) said that a lack of money is the biggest obstacle to reaching their financial goals. Additionally, the majority of women (39%) cite inflation/not being able to afford everyday expenses as their biggest financial stressor. This percentage is slightly higher among women who are parents — 41% cite everyday expenses like groceries as the cost they are most overwhelmed by.
Most Women Are Not Actively Investing
The GOBankingRates survey found that 57% of women are not actively investing. When asked why they are not investing, one-third of women (33%) cited a lack of money.
The most popular investment vehicle among women is work-sponsored retirement plans (16%). Less than 10% utilize a brokerage account, IRA or investing app.
Women Are Dissatisfied With Their Career Opportunities
The majority of women (34%) cite a lack of opportunities as the biggest obstacle they've faced in their career path. Other obstacles women have faced include having to take time off for caregiving and/or lack of access to affordable child care (16%), lack of fair pay or stagnant income (12%) and gender discrimination (7%).
As for the workplace benefits that matter most to women, having a flexible work schedule (29%) and being able to work remotely (21%) come out on top.
Most Women Don't Have Debt
On a positive note, the survey found that the majority of women do not have student loan debt (57%) or credit card debt (43%). And among those with debt, the amounts owed were generally on the lower end — 32% of women with student loan debt owe less than $10,000, and 56% of women with credit card debt owe less than $2,000.
The majority of women (32%) cite the high cost of living as their biggest obstacle to paying off debt.
Most Women Think They Are Good With Money — but Admit to Bad Behaviors
When asked if they are bad with money, the majority (53%) said no. However, most women (53%) do not consider themselves financially stable, and many admit to having bad money habits: 29% admit to impulse shopping, 21% said they don't have or don't stick to a budget and 10% order food delivery too often.
As for their biggest financial regrets, the top regret is taking on credit card debt (19%) followed by not building an emergency fund (17%), not investing (10%), not educating themselves on financial topics (10%) and taking a low-paying job (10%).
Women Are in Charge of Household Financial Decisions
The survey found that 48% of non-single women are in charge of making household financial decisions, and an additional 37% make financial decisions with their partners.
In addition, 60% of women consider themselves to be financially independent — only 22% said they are reliant on a romantic partner and just 17% said they are reliant on a family member.
Despite this, 29% said they avoid thinking about or dealing with their finances, and 21% said they are fearful about making financial decisions because they are not confident in their ability to manage money.
More From GOBankingRates