Who Tips More: Men or Women?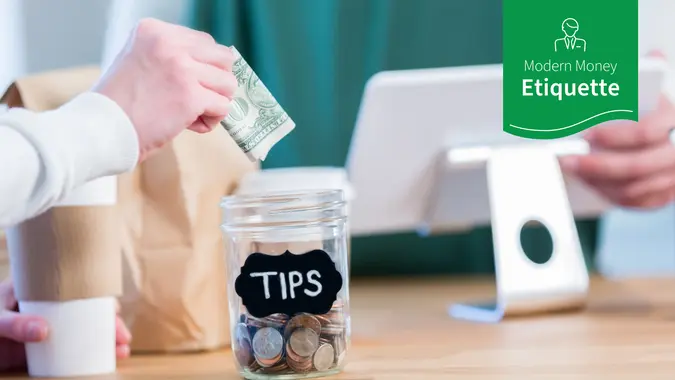 SDI Productions / iStock.com
If you ask people who work in the service industry whether men or women are better tippers, you'll likely get a range of responses. 
"Men," "other people who work in the service industry" and "smokers" were among the responses to this question when recently posed on social media. 
Explore: Your Biggest Money Etiquette Questions Answered
Find Out: Do's and Don'ts of Dollar Store Shopping
"When I was younger, I would have said men, because men just make more than women," said Amee Shepard, who worked as a bartender in Seattle for more than a decade before quitting during the pandemic. "But really, that's not true. It just depends on a lot of different things."  
According to data from a recent survey conducted by GOBankingRates in partnership with PureSpectrum, it turns out that Shepard is basically right.  
When it comes to tipping, there's actually not much difference between men and women. Habits are perhaps more nuanced, though, depending on the circumstances and the service being provided.
Take a closer look at how tipping breaks down when it comes to men and women.
How Much Men and Women Tip
When the service is good, 42% of women and 40% of men said they tip the standard 20%. A slightly higher number of men — 28% — said they tipped 25% or more for good service, compared with 26% of women. 
When it comes to bad service, both men and women tend to either tip 20% regardless or send a message by tipping very little. Twenty-eight percent of women and 27% of men said they tip 20%. Twenty-eight percent of both men and women said they tipped just 10% or less. 
The next largest segment of respondents — 21% of women and 23% of men — scale back their tip to 15% for bad service. Eight percent of women and 7% of men tip 18%. And some don't tip at all. Sixteen percent of both women and men said they don't leave a tip if the service is bad. 
Take Our Poll: What's the Table Time Limit on a $400 Restaurant Meal?
Elaine Swann, an etiquette expert based in San Diego, said she wouldn't expect there to be a big difference in how men and women tip. But she's not surprised by a difference in perception. 
"Folks would probably assume that men would be bigger tippers because we recognize in society that men tend to get paid more than women, so perhaps they have more money to tip," she said. "If we dig a little deeper, though, for women, we have that empathetic gene in us that recognizes folks are providing a service for us, and we make sure to show our gratitude." 
Patricia Rossi, an etiquette expert based in Florida, said that the appropriate amount to tip, even if the service was bad, is at least 20%. 
"You were already prepared to do it, and it affects the whole line," she said, adding that many restaurants and service providers split tips equally among the serving staff and kitchen. "Just because someone didn't do their best doesn't mean it should affect someone else. I just sling a lot of sunshine instead of shame. Especially today, given what everyone has been going through in the service industry, people are working so hard and they deserve that." 
But Are They Both Regularly Tipping All Workers?
Men and women were also asked which service providers they regularly tip. 
The survey results showed that restaurant servers and bartenders might not see a meaningful difference between the sexes and tipping. Figures were mostly consistent when it came to tipping restaurant servers, with 95% for both men and women tipping these workers regularly. The percentage of respondents who regularly tip bartenders was significantly lower but still roughly equal, at 58% for women and 57% for men. 
Across other sectors of the service industry, men reported tipping regularly between 3 and 6 percentage points more than women. This segment included taxi and ride-share drivers, valet drivers, bellhops, hotel housekeeping and room service.  
The biggest difference between women's and men's habits was for spa and salon workers. Sixty percent of women said they tipped regularly for salon and spa services, but only 34% of men did. 
Swann attributes this difference to the fact that women's salon services tend to have a higher price tag than men's. "When men go in for a haircut, they're in and out in 20 minutes. The amount of effort put into it doesn't feel as weighty, and they may or may not tip," Swann said. 
As far as what etiquette dictates, it doesn't matter. "Whether you go to a barber or a nice salon, you should always tip your provider," Swann said. 
What About Splitting the Check?
Men and women also revealed different habits when it comes to how they split the check when dining out with a large group. 
Forty-three percent of women said they divide the check according to what each person ordered, compared with 38% of men. Swann attributes this to women's tendency toward being strong communicators.
"Having that conversation is a challenging position for many folks when dining out. Men don't want the hassle," she said. "But I definitely see the difference here in terms of women being able to communicate a little more effectively." 
Forty-two percent of women and 41% of men said they split the check evenly, regardless of what everyone ordered. A larger number of men, however, said they would pick up the tab for everyone's meal. Twenty percent of men said they take turns covering the whole check, compared to 16% of women. 
What's the most appropriate thing to do? 
Rossi said the best approach is to split it evenly, for the sake of both your dining companions and your server. "You don't want to run your server to death, making them bring 10 different checks," she said. "If someone has one more appetizer or one more drink, who cares? I'm all about honoring respect so you're not being picky with your friends." 
And if someone does pick up the whole check, Rossi said, "just make sure you bring it back around and you do that the next time." 
More From GOBankingRates