Worried About a Recession in 2023? How To Use It To Grow Your Net Worth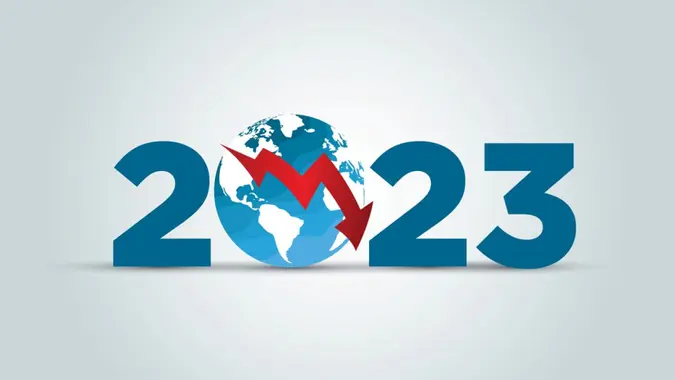 The country dodged a recession in 2022, but plenty of ingredients remain in place. The bear market that started in June ended in the worst year for stocks since the Great Recession. Everyone who buys things is aware of inflation; and, while prices are now rising more slowly, interest rates are still going up and the housing market continues to cool.
The GDP and job market are still holding, but many analysts think they'll give out in the coming months — and America isn't alone. The International Monetary Fund predicts one-third of the world will be in a recession in 2023 — and that means rising unemployment, consumer anxiety and the personal suffering that people endure when recessions steal their homes, jobs and retirement dreams.
But every recession also brings the opportunity to improve your long-term financial prospects and grow your net worth instead of watching it creep toward zero or worse. Turn the tables on a potential 2023 recession by considering these strategies before the coming storm makes your decisions for you.
Savvy Investors Buy Stocks on Sale in Down Markets
The current bear market could fall even further if there's a recession in 2023. That presents the perfect opportunity to buy stocks while they're cheap and watch your net worth grow during the inevitable rebound.
"While the stock market can be volatile during a recession, it's important to remember that it's a long-term investment," said Fluent in Finance founder Andrew Lokenauth, an investing and banking professional who held senior positions at Goldman Sachs, AIG and other major institutions. "If you have a long-term investment horizon, you may be able to take advantage of lower prices to buy stocks at a discount."
Bargain Homes and Investment Properties Might Be Easier To Find
Home values typically fall during a recession and, with rising interest rates already cooling the market, a downturn could sink prices even further. Recessions have a cruel way of producing very motivated sellers, which gives you an opening to score a property at a discount.
"One strategy to consider during a recession is to look for opportunities to buy undervalued real estate," Lokenauth said. "While the overall housing market may be slowing down, there may be specific areas or property types that are more resilient or that offer good value. For example, properties that are in high demand due to their location or amenities, or properties that are being sold at a discount due to a seller's financial difficulties could be good opportunities to consider."
Aspiring Entrepreneurs Can Buy Active Businesses
Business owners — especially those nearing retirement — often sell during downturns to secure windfalls before the recession erodes their businesses' values. That's opportunity knocking for aspiring entrepreneurs who want new income sources without the stress and risk of starting their own companies.
"There will be massive opportunities for people to grow their net worth in 2023 by buying an already successful business that the owner is just tired of dealing with," said Taylor Kovar, CFP, founder of The Money Couple. "Baby boomers are closing or selling businesses every day; so, if you have the drive and the hustle, there is money to be made. SBA 7(a) loans can be your best friend when investing during the recession, so learn all you can about them."
Marketplaces like BizBuySell, BizQuest and BusinessesForSale.com pair prospective buyers with business owners looking to sell. Sites like Flippa are great for buying profitable e-commerce sites or monetized blogs.
Bitcoin Is Cheap and Poised To Rebound in 2024
After the year that cryptocurrency just endured, "Bitcoin" might be the last word you want to hear with a recession on the horizon. But industry professionals such as Colin Aulds, founder of privacypros.io and 10NetZero.com, believe that 2023 presents a unique opportunity to grow your net worth with digital coins.
One reason is that, incredibly, Bitcoin is now less volatile than the S&P 500 and Nasdaq.
"The last time volatility was this low for Bitcoin, it multiplied by nearly seven times within a year," Aulds said. "Bitcoin has also hit a bear market, and there is blood in the streets among the FTX fallout, among other failures in the wider crypto sector."
Bitcoin is cheaper than it has been since 2020, when the last halving took place. Bitcoin halvings are preprogrammed 50% reductions in the number of Bitcoin issued per blockchain block. Halvings — which reduce supply and make Bitcoin more expensive — occur every four years. The next Bitcoin halving is scheduled for March 2024; and, if history is a guide, that will be a good time to be flush with digital tokens.
"The outcome is very predictable," Aulds said. "Six to nine months following the block reward halving, Bitcoin takes off again."
More From GOBankingRates