As AI Gains Prevalence, Women's Jobs Are More at Risk — Here's Why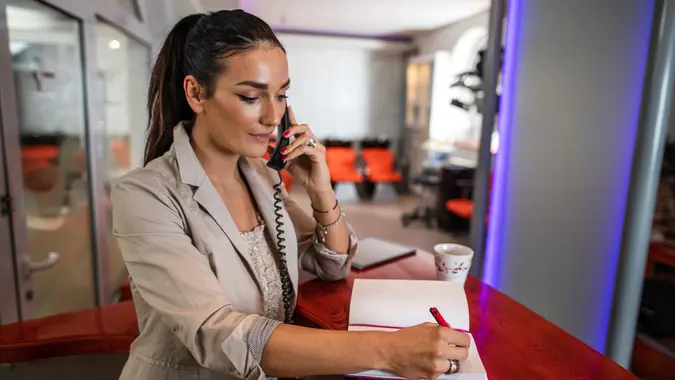 skynesher / Getty Images
The rise of AI has workers across the board concerned that their jobs are at risk. And their worries aren't unprecedented. According to a March report by Goldman Sachs, AI could replace — wholly or in part — the equivalent of 300 million full-time jobs.
Though employees of all gender identities have reason to be anxious over the quick and ferocious advent of artificial intelligence — particularly since the ever-echoing boom of ChatGPT — women may have the most reason to be concerned. This is because women at large have been groomed to hold administrative positions that can more easily be outsourced to AI.   
"The distribution of genders across occupations reflects the biases deeply rooted in our society, with women often being confined to roles such as administrative assistants and secretaries," Hakki Ozdenoren, economist at Revelio Labs, told Bloomberg. "Consequently, the impact of AI becomes skewed along gender lines." 
Based on a study by the National Bureau of Economic Research, Revelio Labs pinpointed jobs that are most likely to be replaced by AI. Here's a look at Revelio Labs' breakdown of the jobs held more by women than men that are most in danger of being replaced by AI. 
Bill and account collectors 
Payroll and timekeeping clerks 
Executive secretaries 
Word processors and typists 
Bookkeeping, accounting and auditing clerks 
Interpreters and translators 
Proofreaders and copy markers 
Writers and authors 
Telemarketers 
Secretaries and administrative assistants 
Production, planning and expediting clerks 
Sales representatives 
Make Your Money Work Better for You
A number of jobs are already being replaced by AI. According to reporting from Benzinga, those jobs are in marketing; fast food; writing, SEO and ghostwriting; customer service and security and courier services.
The Biden administration has been vocal about the risks AI poses to the American workforce, but can a government step in and halt the rapid forces of a technology that is, in so many ways, already here? We'll have to wait and see.
More From GOBankingRates