20 Highest-Paying Jobs in Healthcare in 2023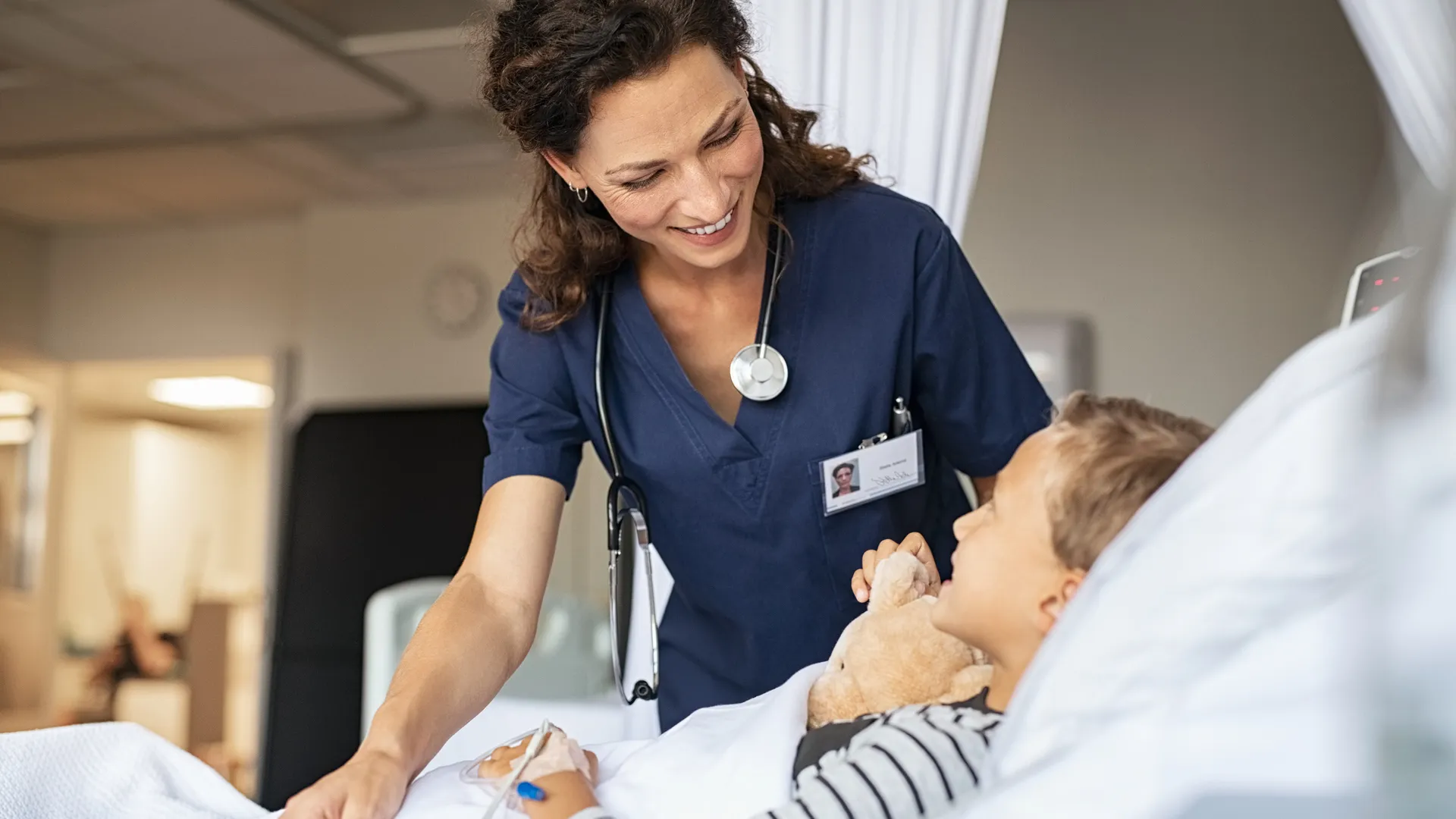 A career in healthcare can be rewarding on many levels. Healthcare professionals help people improve their lives, and many jobs in the field come with a large paycheck.
The highest-paying jobs in healthcare tend to be those that require graduate degrees and other specialty training. But with salaries ranging from $205,770 to $421,330, the additional years of education could definitely pay off.
GOBankingRates analyzed data from the Bureau of Labor Statistics to determine which healthcare jobs will fatten up your bank account. Keep reading to find out which healthcare professions have the highest salaries.
20. Nurse Anesthetists
Mean Hourly Wage: $98.93
Mean Annual Wage: $205,770
Nurse anesthetists administer anesthesia to patients undergoing surgical, obstetric, and other medical procedures. Working under the direction of anesthesiologists, nurse anesthetists are advanced practice nurses who carefully monitor patients while providing anesthesia, overseeing their vital signs, and managing pain and emergence from anesthesia after procedures.
19. Orthodontists
Mean Hourly Wage: $104.00
Mean Annual Wage: $216,320
Orthodontists design and create devices that help align teeth and jaws for improved function or aesthetics. The New York metro area employs the most orthodontists and also has an annual wage mean that's slightly above the national average.
Make Your Money Work Better for You
18. Family Medicine Physicians
Mean Hourly Wage: $107.91
Mean Annual Wage: $224,460
Family medicine physicians diagnose, treat and help prevent common diseases and injuries. California, Florida and Illinois employ the most family and general practitioners.
17. General Internal Medicine Physicians
Mean Hourly Wage: $108.30
Mean Annual Wage: $225,270
General internal medicine physicians diagnose and provide nonsurgical treatment for adults who have internal medical conditions. They manage acute and chronic illnesses, advise patients on health management, provide preventive care, and refer patients to medical specialists as needed.
16. Dentist (Specialist)
Mean Hourly Wage: $112.23
Mean Annual Wage: $233,430
Dentists that have a particular specialty earn even more than a dentist with a general practice. California, Florida and New York have the highest employment level for this occupation.
15. Physicians and Surgeons
Mean Hourly Wage: $114.76
Mean Annual Wage: $238,700
Physicians and surgeons diagnose and treat injuries or illnesses. The pay is high, but the requirements to qualify to earn a doctor's salary are very demanding. Physicians usually need a bachelor's degree, a four-year medical school degree, and — depending on their specialty — three to seven years in internship and residency programs.
14. Psychiatrists
Mean Hourly Wage: $118.92
Mean Annual Wage: $247,350
Psychiatrists diagnose, treat and help prevent mental disorders. California, New York and Texas have the highest levels of employment for psychiatrists.
13. Physicians (Pathologists)
Mean Hourly Wage: $121.56
Mean Annual Wage: $252,850
Physicians who specialize in pathology diagnose disease by examining cells and tissues under a microscope. Pathologists may look at biopsies, bodily fluids and blood to detect cancer, infections and other illnesses, helping physicians determine the causes and best treatment for patients.
Make Your Money Work Better for You
12. Neurologists
Mean Hourly Wage: $122.84
Mean Annual Wage: $255,510
Neurologists diagnose, treat, and manage disorders of the brain and nervous system. As medical doctors who specialize in neurology, they care for patients with conditions such as Alzheimer's disease, strokes, headaches, epilepsy, Parkinson's disease, and multiple sclerosis.
11. Ophthalmologists
Mean Hourly Wage: $127.62
Mean Annual Wage: $265,450
Ophthalmologists are medical doctors who diagnose, monitor and treat disorders and diseases of the eyes. As eye care specialists, ophthalmologists perform eye exams, provide medical and surgical treatment for eye conditions, prescribe glasses and contact lenses and manage issues such as glaucoma, cataracts and retinal disorders.
10. Obstetricians and Gynecologists
Mean Hourly Wage: $133.33
Mean Annual Wage: $277,320
Obstetricians and gynecologists are physicians who specialize in pregnancy, childbirth and diseases of the female reproductive system. They provide prenatal care to pregnant women, deliver babies, perform gynecological exams, treat reproductive disorders, perform surgeries and provide general medical care related to women's health.
9. Anesthesiologists
Mean Hourly Wage: $145.66
Mean Annual Wage: $198,370
Anesthesiologists administer anesthetics prior to, during or after surgery and other medical procedures. Not surprisingly, getting this high-paying job takes a lot of schooling. Anesthesiologists must graduate with a four-year undergraduate degree, then complete four years of medical school and four additional years of specialty training.
8. Oral and Maxillofacial Surgeons
Mean Hourly Wage: $96.15
Mean Annual Wage: $302,970
Oral and maxillofacial surgeons operate on the mouth, jaws, teeth, gums, neck and head. They perform procedures like tooth extraction, biopsy, cyst removal, dental implant surgery, corrective jaw surgery and surgery to repair facial trauma and treat oral cancer.
7. Emergency Medicine Physicians
Mean Hourly Wage: $152.21
Mean Annual Wage: $316,600
Emergency medicine physicians care for patients with acute illnesses and injuries that require immediate medical attention. They work in hospital emergency departments, rapidly diagnosing conditions, treating issues ranging from fractures and wounds to heart attacks and strokes, and deciding if patients need to be admitted for further care.
Make Your Money Work Better for You
6. Dermatologists
Mean Hourly Wage: $157.53
Mean Annual Wage: $327,650
Dermatologists are medical doctors who diagnose and treat disorders related to the skin, hair and nails. They provide care for conditions like skin cancer, acne, eczema, psoriasis and skin infections, and perform procedures like skin biopsies, wart removal, mole checks and cosmetic treatments.
5. Radiologists
Mean Hourly Wage: $158.21
Mean Annual Wage: $329,080
Radiologists are medical doctors who specialize in diagnosing and treating injuries and diseases using medical imaging procedures like X-rays, CT scans, MRIs, ultrasounds and nuclear medicine. They interpret these images to identify issues like fractures, tumors, disease and organ damage to help treating physicians diagnose and monitor patients.
4. Surgeons (All Others)
Mean Hourly Wage: $167.25
Mean Annual Wage: $347,870
Surgeons are highly skilled medical professionals who specialize in performing surgical procedures to diagnose, treat, or repair various medical conditions and injuries. Their expertise includes precision techniques, utilizing medical instruments, and making critical decisions during surgeries to improve patients' health and well-being.
3. Pediatric Surgeons
Mean Hourly Wage: $174.51
Mean Annual Wage: $362,970
Pediatric surgeons are specialized medical professionals who focus on performing surgical procedures exclusively on infants, children and adolescents. They are trained to diagnose, treat and provide surgical care for a wide range of pediatric conditions, including congenital anomalies, injuries and childhood diseases.
2. Orthopedic Surgeons
Mean Hourly Wage: $178.56
Mean Annual Wage: $371,400
Orthopedic surgeons are medical specialists who primarily focus on diagnosing, treating, and surgically managing musculoskeletal conditions and injuries, encompassing bones, joints, ligaments, tendons, and muscles. Their expertise lies in a broad spectrum of orthopedic procedures, including joint replacements, fracture repairs, and spinal surgeries, aimed at improving patients' mobility and quality of life.
1. Cardiologists
Mean Hourly Wage: $202.56
Mean Annual Wage: $421,330
Cardiologists are medical doctors who specialize in diagnosing, treating and preventing conditions related to the cardiovascular system, which includes the heart and blood vessels. They utilize various diagnostic tests, such as electrocardiograms and echocardiograms, and offer treatments like medication, lifestyle recommendations and surgical interventions to manage heart diseases and promote heart health.
Make Your Money Work Better for You
What Are the Best Jobs in Healthcare?
A good predictor of how well a healthcare job pays is how much education is necessary to qualify for the job. The highest-paying jobs require an undergraduate degree plus a master's or medical school degree, whereas some of the lowest-paying jobs require only a high school degree. In addition, technician and technologist jobs in the healthcare field tend to pay the least.
However, pay isn't everything. To find the best healthcare jobs for you, consider the other perks that come with it, such as health and retirement benefits. You'll also want to figure out if the job offers the stability and work-life balance you're seeking, among many other factors.
Gabrielle Olya contributed to the reporting for this article.
Methodology: For this piece GOBankingRates used the Bureau of Labor Statistic's "May 2022 National Occupational Employment and Wage Estimates" to find the 20 highest paying jobs in healthcare. For each occupation GOBankingRates found (1) average annual wage as well as the (2) average hourly wage. All data was collected and is up to date as of September 14, 2023.
More From GOBankingRates