Is Job Loss Insurance Worthwhile?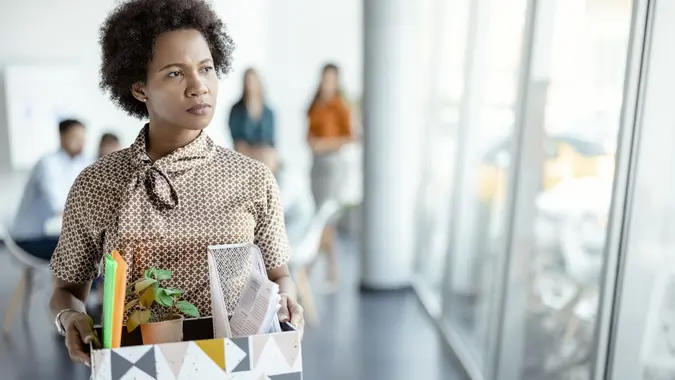 PixelsEffect / iStock.com
During the first quarter of 2023, companies announced 270,000 job cuts, according to outplacement firm Challenger, Gray & Christmas, more than four times the number of cuts during the same period the year before, CBS reported. Unemployment rates are still low — between 3.4% and 3.7% since March 2022, per the U.S. Bureau of Labor Statistics — but layoff rates have steadily increased since last fall.
Workers who lose their jobs can file for unemployment insurance to replace part of their earnings while they find new work. Another way unemployed workers can fill this financial gap is with job loss insurance.
Job loss insurance is a type of supplemental unemployment insurance that provides additional income in the event of a layoff. It could also provide coverage due to business closing, job elimination or other covered events leading to separation from employment. But most policies won't provide coverage if you quit, retire or are fired.
Several types of job loss insurance policies are available, including personal, company or union provided, as well as coverage for mortgage payments and other types of debt.
Most policies have a waiting period of 60 days to six months before you can receive benefits. This waiting period begins after you enroll in the plan. Your policy will either provide monthly amounts or one lump-sum payment.
Make Your Money Work Better for You
Your financial situation and the type of job you have will determine whether purchasing job loss insurance is worth the cost of the monthly premium. If you work in a high-demand career or your labor union or employer provides supplemental unemployment compensation to laid-off employees, you may not need private insurance. If you have enough emergency funds to cover three to six months of living expenses, you could use this instead of purchasing insurance.
Some programs, such as Quil's Income Protection Membership, offer benefits beyond insurance such as debt, credit and housing counseling, discounts on medications, a well-being advisor and more that can guide you through this tough financial time.
Your state could also provide unemployment benefits, but check your eligibility through your state's unemployment website. Benefits vary by state, and most are paid out for a maximum of 26 weeks. According to IncomeAssure, a supplemental unemployment insurance provider, state benefits only replace 50% of your income, and benefits are capped at $425 per week.
More From GOBankingRates