5 Common Reasons 30% of Americans Live Paycheck to Paycheck in 2023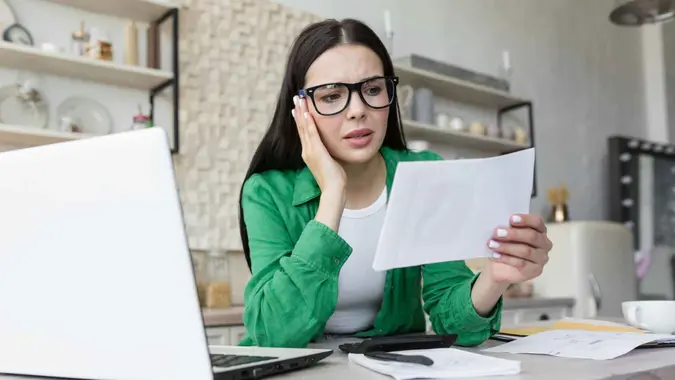 Liubomyr Vorona / Getty Images
There's no hiding it — the cost of living crisis is hitting Americans hard. That's why 30% are currently living paycheck to paycheck, according to a new report from SoLo Funds. It's not just hitting low-income households either. The study found that 11% of "cash-poor" households reported an annual income of at least $100,000.
1. Unplanned Expenses
SoLo Funds' research found that Americans experienced an average of 2.5 unplanned expenses over 12 months. Each unexpected expense averaged $760, which adds up to $1,900 per year. If you have a backup plan like a savings account or a credit card, this could help you cover those costs, but the study also uncovered that only 34% of consumers relied on a savings account to pay for unplanned expenses. Out of those with a savings account, 44% had $200 or less stashed away — not nearly enough for a $760 emergency. 
2. Health Conditions and Caretaking
Of those who lived paycheck to paycheck, chronic health conditions and being a caretaker for loved ones were often cited as reasons behind their financial challenges. A full 43% of people living paycheck to paycheck had a chronic health condition, impairment, or disability.
People who act as caretakers for others in their lives with health issues also make up a significant part of this group at 23 percent. The added cost of medications, medical bills, or other specialized care makes it more difficult to save money and pay for unplanned expenses.
Make Your Money Work Better for You
3. Economic Changes
Economic shocks are likely to impact millennials and Gen Xers who face the unique challenges of caretaking for elderly relatives while raising young children. These generations also deal with stagnated earnings and a higher debt burden due to the rising cost of living. Millennials were also the most likely to be cash-poor, as they made up 37% of the respondents.
4. Lack of Options
Among the 6% of households that wouldn't be able to cover an unplanned expense at all, 90% had no investment account, 84% had no savings account and 66% didn't have a side hustle. That makes them more susceptible to choosing expensive borrowing options that keep them stuck in the same financial situation, such as payday loans.
5. Costly Payment Alternatives
If you don't have the cash to pay for unplanned expenses, you'll typically have to turn to alternatives such as buy now, pay later (BNPL), subprime credit cards, payday loans, and cash advance services to meet your needs. However, these often carry much higher costs than traditional borrowing methods, which creates a cycle of borrowing.
This study developed a new term used to better encompass all known fees associated with borrowing over 12 months called the Total Cost Rate (TCR), which includes:
Origination fees.
Transaction fees.
Subscription fees.
Payments made as donations or tips.
Make Your Money Work Better for You
When analyzing the total cost rate for these payment options, SoLoFunds found the following TCR for each option based on borrowing $1,000.
Subprime credit cards: $770.
Payday loans: $600.
Buy now, pay later: $620.
Peer to peer lending $350.
Cash advance solutions: $260.
When people think the only solution to paying for emergency expenses is taking on high-interest, high-fee debt, it traps them in a cycle of borrowing and repaying that's difficult to escape.
More From GOBankingRates