Here's How You Can Make Six Figures and More With Amazon Right Now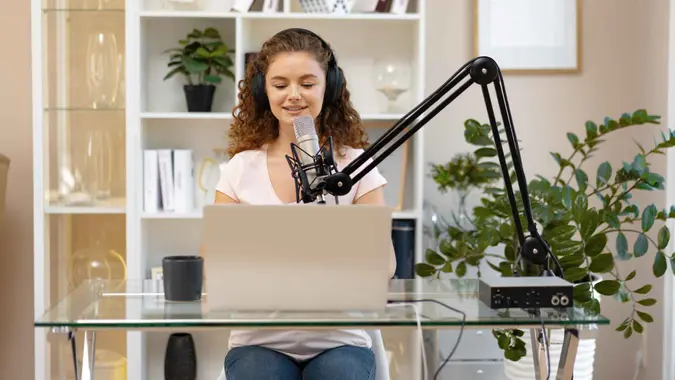 FabrikaCr / Getty Images/iStockphoto
The average Prime member (as of 2022) spends $1,400 per year at Amazon, per The Motley Fool. Wouldn't it be nice if Amazon started paying you, instead?
You could have your opportunity soon enough. The e-commerce giant has launched a new shopping app to go up against social media platforms like YouTube, TikTok, and Instagram, providing a place where influencers can earn six figures a month by sharing their favorite brands.
Amazon's new creator network, Amazon Inspire, is a mobile app which allows users to shop based on photos and videos shared by influencers. Because it's all one integrated platform, your dream purchase is just a click away — often with free shipping if you have Amazon Prime. This provides a benefit to shoppers and influencers, alike.
Influencer Brooke JuLyn told Fortune, "Amazon is just so much easier to shop than platforms like Pinterest and Instagram." "Everything is rolled into one where you can just shop right from it," she explained.
Fortune reported that JuLyn earns anywhere from $5,000 to $50,000 per month between Amazon commissions, creator tools, and brand deals.
Duke McKenzie, CEO of talent management firm PRJT Z, told Fortune, "Amazon is becoming the retail version of YouTube." Some influencers, per Fortune, make $1 million per year through their Amazon affiliate links.
How Can You Join the Amazon Influencer Program?
How can you cash in on big bucks just by sharing your favorite Amazon products? You can get started by joining the Amazon Influencer program. Applying is easy, but not everyone will be accepted. You'll need a substantial social media following on either YouTube, Instagram, Facebook or TikTok.
Make Your Money Work Better for You
If you use Facebook or Instagram as your primary platform, you'll also need to sign up for an Amazon business account. Amazon does not specify the number of followers you'll need to be accepted.
Sellersnap advised that you can join the program with just 1,000 followers, since engagement and account activity is more important than sheer numbers of followers. But finance guru Neal Schaffer noted on his blog that you might need as many as 20,000 followers.
Once you've filled out the application and are accepted, create your Amazon Influencer storefront. You can share your storefront links across all your social media channels.
To tap into the power and immediacy of Inspire, begin creating content on the app the same way you do for your other social media accounts. Design compelling and engaging photos and videos that will resonate with your audience.
The advantage of Inspire is that people don't have to leave the app to make the purchase — and they're shopping with the largest, most trusted e-commerce site in the world. Whether you're just starting your business as an influencer or seeking a new channel to connect with your audience, Amazon Inspire provides an opportunity to earn money working with a trusted brand.
More From GOBankingRates
Make Your Money Work Better for You