9 Best Paying Jobs in Major Banks Right Now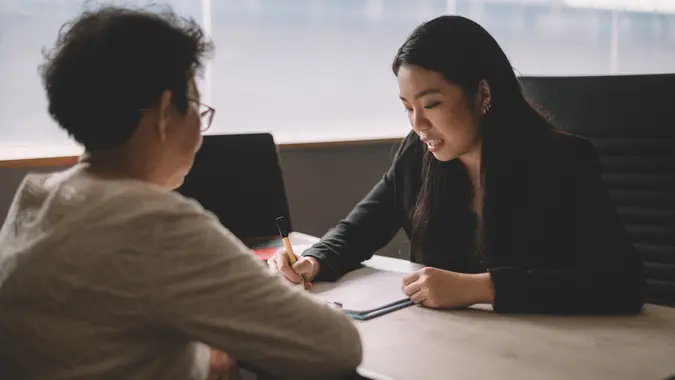 chee gin tan / Getty Images/iStockphoto
A career in banking can be challenging, interesting and, in many cases, lucrative. There are many different jobs in retail and commercial banking. Here are some of the best-paying ones.
What Is the Major Banking Industry?
The major banking industry includes entities like retail banks, commercial banks, wealth management firms, investment banks and corporate banks. People recognize this industry as having highly-professional jobs typically matched with high salaries.  
What Are the Requirements and Skills to Work In Major Banking?
Some banking jobs have little by way of education requirements. For instance, bank tellers are typically only required to have a high school diploma or the equivalent. On the other hand, applicants are typically required to have a bachelor's degree or higher for jobs like credit analyst, financial planner, investment banker and branch manager.  
Regardless of the degree required for the specific position, all applicants should have the following skills:
Basic Understanding. Applicants should understand how banks work and their financial solutions. 
People Skills. Banking is best for those with solid communication and interpersonal skills. 
Numbers. It's a perfect career path for those with strong numerical skills. 
Regulatory Knowledge. Some banking positions may require applicants to have a working knowledge of regulatory activity associated with the job they're seeking. 
Upselling. Those considering a career in banking should be able to spot opportunities for upsales or product trades that benefit the bank and the customer. 
Problem-solving. The best major bank employees have a keen ability to solve problems on the fly. 
Attention to Detail. Those who have the ability to spot even the smallest details tend to do best in banking. 
Make Your Money Work Better for You
9 Best High-paying Bank Jobs
Take a look at some of these best-paying bank jobs in major banks to help you decide if this is the right career path.
1. Financial Manager
Average annual salary: $131,710 per year
Required Education: Bachelor's degree plus five or more years working in another position in the finance or business industry. 
Number of Jobs: 730,800 in 2021
Job Growth: 17% from 2021 through 2031.
A financial manager prepares forecasts, business activity reports and financial statements for banks, non-profit organizations or businesses. They may supervise financial analysts and budget analysts. They ensure that all legal requirements are being met by monitoring financial details. They may analyze market trends to find opportunities and maximize profits.
2. Investment Banker
Average annual salary: $134,180
Required Education: Accounting, finance, business administration or other related bachelor's degree. 
Number of Jobs: 115,365 in 2022
Job Growth: 15% from 2019 to 2029.
Investment bankers work for large banks that facilitate financing for large corporations or organizations. When a company "goes public" by issuing stock for the first time in an Initial Public Offering or IPO, an investment bank sets the price and manages the process. Investment bankers negotiate and execute these transactions.
3. Financial Analyst
Average annual salary: $95,570
Required Education: Typically requires a bachelor's degree in finance, but a master's degree in finance gives applicants better odds
Number of Jobs: 373,800
Job Growth: 9% from 2021 through 2031.
Make Your Money Work Better for You
Financial analysts evaluate current and past financial data to recommend individual investments and portfolios. They may examine financial statements to determine a company's value, if it plans to go public, for example, or if it is an acquisition target.
4. Financial Examiner
Average annual salary: $81,410
Required Education: Bachelor's degree
Number of Jobs: 62,800 in 2021
Job Growth: 21% from 2021 through 2031.
A financial examiner monitors the financial condition of a bank or other financial institution by reviewing financial documents like balance sheets, income statements and loan documents. They may also write reports on the financial soundness of an institution. A financial examiner may specialize in risk assessment (the financial health of the institution) or consumer compliance (ensuring fair treatment for borrowers).
5. Credit Analyst
Average annual salary: $88,030
Required Education: Bachelor's degree in finance or business
Number of Jobs: 65,761
Job Growth: -4.94% over the next 10 years.
A credit analyst examines the financial information of businesses and individuals to determine the risk involved with lending money. The credit analyst will also prepare reports on credit information for making decisions.
6. Auditor
Average annual salary: $77,250
Required Education: Bachelor's degree
Number of Jobs: 1,449,800
Job Growth: 6% from 2021 through 2031.
Auditors examine financial statements to ensure they are accurate and compliant with applicable laws. They inspect the books and systems to ensure accounting principles are followed and look for signs of fraud. They assess financial operations, identify risks and challenges, and recommend reducing costs and improving profits. Auditors may inspect the bank's own records and the records of the bank's current and prospective customers. 
Make Your Money Work Better for You
7. Securities and Commodities Sales Agent
Average annual salary: $62,910
Required Education: Bachelor's degree
Number of Jobs: 466,900
Job Growth: 10% 2021 through 2031.
Those who buy and sell securities, such as stocks, bonds and mutual funds, are often called "stockbrokers." They may also trade commodities like gold, corn or even pork bellies.
Commodities traders specialize in commodities only. 
These financial professionals contact prospective clients to present information and explain available services. They offer advice and facilitate the purchase or sale of securities and commodities. To inform their recommendations, they will monitor financial markets and the performance of individual securities and analyze company finances. 
8. Loan Officer
Average annual salary: $63,380
Required Education: Bachelor's degree plus around than five years of work experience in a related field. 
Number of Jobs: 354,600
Job Growth: 4% from 2021 through 2031.
Loan officers evaluate loan applications and recommend approval of loans, including mortgages. They use financial information to determine if a prospective borrower is likely to be able to repay the loan as agreed.
9. Teller
Average annual salary $36,310
Required Education: High school diploma or equivalent
Number of Jobs: 378,000
Job Growth: -12% from 2021 through 2031.
Tellers process routing banking transactions for customers, such as making deposits and withdrawals, transferring funds and processing money orders or cashier's checks. While not a high-paying job, a teller is often an entry-level position in a bank, and experience in this position could lead to other banking jobs, like branch manager or loan officer.
Final Take
The banking industry can be rewarding, especially for outgoing, analytical individuals. Moreover, as mentioned above, many jobs with major banks have the potential to produce income well above the national average of $63,214. Those looking for a rewarding career should strongly consider preparing for a career in major banking. 
Karen Doyle and Michael Keenan contributed to the reporting for this article.
Data is accurate as of Oct. 24, 2022, and subject to change.
Our in-house research team and on-site financial experts work together to create content that's accurate, impartial, and up to date. We fact-check every single statistic, quote and fact using trusted primary resources to make sure the information we provide is correct. You can learn more about GOBankingRates' processes and standards in our editorial policy.
Make Your Money Work Better for You