Best Entry-Level Finance Jobs for 2022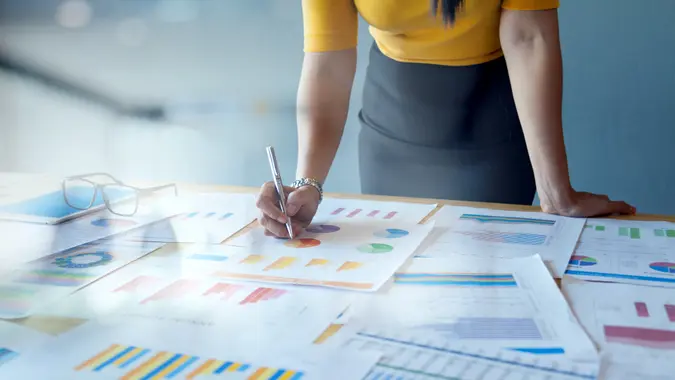 photofriday / Getty Images/iStockphoto
Finance is a popular college major because it can lead to an exciting and lucrative career in a number of different types of jobs. Finance majors learn about banking, economics and financial markets, in addition to general business studies. They may also learn communications and psychology, since many careers in finance include a sales component, making these skills very important.
As a finance major, you can expect to take micro- and macro-economics, accounting, calculus and statistics. You may also take more specific courses in things like finance case studies, mergers and acquisitions, business valuation, econometrics, investing and international banking. Marketing and management courses may be required as well.
Once you've got that finance degree under your belt, it's time to go out and get a job. Here are some entry-level jobs that your finance degree may qualify you for.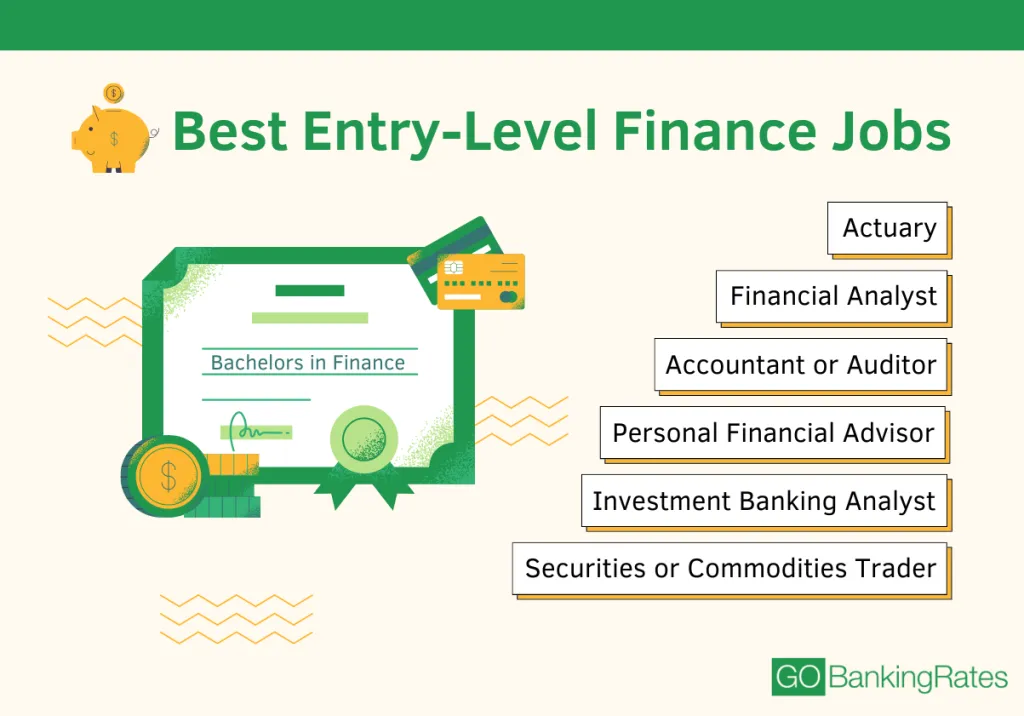 Financial Analyst
Financial analysts help individuals and businesses make financial decisions in search of increased profits. To do this, they may gather and organize data, analyze historical results, generate financial models, and make recommendations and forecasts. Financial analysts may work in investment banks, financial planning firms, private equity firms or corporations.
According to the Bureau of Labor Statistics, the projected growth rate for financial analyst jobs is about average, projected to be 6% between 2020 and 2030. In May 2021, the median annual salary was $81,410 for a financial analyst, but entry-level positions would likely pay less.
Investment Banking Analyst
Investment banks help their commercial customers raise capital and assess investment opportunities. Investment banking analysts review and analyze data, generate reports, and make recommendations and presentations.
Make Your Money Work Better for You
Investment banking analyst is an entry-level job that can lead to a career as an investment banker. Investment bankers work with corporations and organizations to help them raise capital, often with an initial public offering, which is when a company issues stock for the first time, or through mergers with or acquisitions of other companies. Investment bankers use their finance background to model complex financial scenarios to analyze investment opportunities for their clients, but they also need to have the ability to negotiate and close deals.
The career outlook and median salary for an investment banking analyst is similar to that of a financial analyst, as the Bureau of Labor Statistics data does not distinguish between the two positions.
Accountant or Auditor
An accountant prepares financial records for individuals and businesses, and an auditor examines them. These can include income tax returns, balance sheets, income statements, cash flow statements, profit and loss statements and more.
The median annual salary for an accountant or auditor in 2021 was $77,250, according to the Bureau of Labor Statistics. The demand for accountants is expected to grow by 7% between 2020 and 2030, which is about average for all occupations.
To advance in an accounting or auditing career, you can become a Certified Public Accountant, a designation that requires that you have work experience with a major auditing firm and that you pass an exam.
Personal Financial Advisor
A personal financial advisor helps individuals manage their money and plan for long-term financial goals. They may assist with planning for a child's education, for example, or planning to ensure a comfortable retirement.
Make Your Money Work Better for You
Personal financial advisors may charge a fee for their services, or they may earn a commission on the investment and protection products they sell, such as stocks, bonds and insurance. They may work for a company that has other financial professionals and administrative staff, or they may have their own practice.
Personal financial advisors who want to sell securities and insurance will need to be licensed to do so. The Series 7 securities license, issued by FINRA, which requires that you successfully pass an exam, is required to sell stocks, bonds and mutual funds. For those advisors who also want to sell insurance and annuities, insurance licenses, which are state-specific, are also required.
According to the Bureau of Labor Statistics, the demand for personal financial advisors is expected to grow a bit more slowly than average, with growth of 5% predicted for 2020 through 2030. The median salary for a personal financial advisor was $94,170 in 2021, although entry-level advisors will earn less.
Actuary
An actuary analyzes the economic impact of uncertainty and risk. Actuaries are employed by insurance companies to help them determine how much money they need to charge for their policies, based on the likelihood of claims.
An actuary can get certified as an Associate of the Society of Actuaries, by taking several specific courses and passing a comprehensive exam. Other credentials that actuaries can earn include Chartered Enterprise Risk Analyst and Fellow of the Society of Actuaries.
The median annual salary for an actuary in 2021 was $105,900, according to the Bureau of Labor Statistics. Starting salaries for entry-level actuaries will be lower, of course. The field is growing and is expected to grow 24% from 2020 to 2030, much faster than average.
Make Your Money Work Better for You
Securities or Commodities Trader
A securities trader or commodities trader buys and sells stocks, bonds and mutual funds — in the case of a securities trader — or commodities — in the case of a commodities trader.
Securities traders research individual company stocks, corporate and municipal bonds, and mutual funds, and buy or sell them depending on how the trader determines they will perform in the future. They determine the risk associated with buying, holding or selling a given position, and take action accordingly. A securities trader must have a Series 7 license, administered by FINRA.
Commodities traders do the same, but for commodities like wheat, soybeans, gold and pork bellies. Commodities traders often trade "futures" which are contracts that give an investor the right to purchase or to sell a defined quantity of that commodity on a future date. This involves a careful assessment of the expected performance of the commodity until that date. A commodities trader must have a Series 3 license, administered by FINRA, and be licensed by the National Futures Association.
The median annual salary for securities or commodities traders in 2021 was $62,910, according to the Bureau of Labor Statistics. Expected growth for this position is somewhat slower than average and is predicted to be about 4% from 2020 to 2030. An entry-level position as a securities or commodities trader can often lead to more senior positions in brokerage firms or investment banks.
Final Take
A career in finance can be rewarding, both financially and in terms of job satisfaction. Finding the perfect entry-level job to begin your career journey is the first step.
Finance Jobs FAQ
What is a good first job in finance?

If you have a finance degree, there are many jobs to choose from right out of college. If you want to work with corporations to issue stock or acquire other companies, consider a position as an investment banking analyst. If you want to crunch numbers all day, you might look into being an accountant or an actuary. If you'd prefer to help people invest their money and plan for a comfortable retirement, you could be a financial planner or personal financial advisor.

How do I get into the finance industry with no experience?

There are many entry-level positions in finance, and many financial firms will hire recent college graduates who don't have experience in the industry. Be prepared, however, to study for and pass a licensing exam, in the case of securities or commodities trading, to work toward a certification, such as a Certified Financial Planner, and to learn on the job.

How do I start a career in finance?

For most finance careers, you should have a bachelor's degree, preferably in finance but other business disciplines can also work. You can then look for companies that may be hiring for entry-level finance positions, such as investment banks, insurance companies, brokerage houses or financial planning firms. You may need certifications for some entry-level positions, but you should get hired first since most certifications require you to be sponsored by an employer in order to sit for the appropriate test.

How can I work in finance without a degree in finance?

Some companies in the finance sector will hire those without a bachelor's degree in finance, but it helps if your degree is in another business discipline, like accounting or economics or in a data-intensive discipline like mathematics. Most entry-level finance positions require significant on-the-job training, so it's often possible to get the job without a finance degree.
Make Your Money Work Better for You
Information is accurate as of Aug. 18, 2022.
Our in-house research team and on-site financial experts work together to create content that's accurate, impartial, and up to date. We fact-check every single statistic, quote and fact using trusted primary resources to make sure the information we provide is correct. You can learn more about GOBankingRates' processes and standards in our editorial policy.