X Best High Demand Jobs for The Future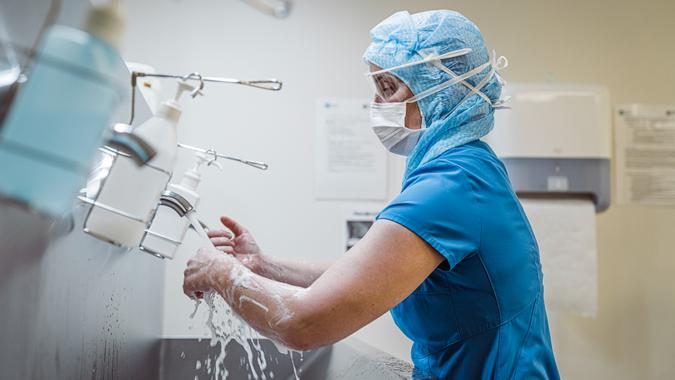 HRAUN / Getty Images
Hunting for a new career can be very frustrating, especially if you need one that's fulfilling, covers your bills and meets your other short-term financial goals, such as building an emergency fund, saving for a vacation or affording a few small luxuries.
Moreover, as you advance in your career, you probably need an income that will help you meet your long-term financial goals like paying down debt, buying a home and saving for retirement.
How to Find The Best Jobs for The Future
Several notable careers can provide you with the financial stability you're looking for. Before you review this rundown of the best high-paying jobs of the future, review the factors we considered to come up with the list — i.e., rapid job growth, projections for new opportunities, educational requirements and earnings potential.
Job Growth
Careers in the healthcare and technology fields are some of the fields with the highest job growth between 2019 and 2029, according to the U.S. Bureau of Labor Statistics. Some fields in healthcare are projected to grow as high as 45% while those in tech will grow by more than 10%.
Educational Requirements
Many careers with a potential for both growth and earnings often require a college degree. Some even require education beyond the undergraduate level. However, some jobs offer high pay even with just an associate's degree.
Make Your Money Work Better for You
Earnings Potential
The best career is one that offers a livable wage that can pay your bills, add to your savings and allow you to occasionally pamper yourself. The U.S. Census Bureau found that the 2019 median household income was $68,703. Yet you don't necessarily need to earn this much to live a middle-class lifestyle.
Before jumping into your dream career, it's crucial to investigate its earning potential and growth prospects in the years to come. The majority of these jobs are in the healthcare and technology sectors. Some other lucrative jobs of the future are in categories like education, finance, construction and others.
5 Best Jobs of the Future
Based on data and projections from the BLS here are the best high-paying jobs of the future.
1. Physicians and Surgeons
Physicians and surgeons diagnose and treat illness while addressing the overall health maintenance of patients. Physicians assess patients, take medical tests, prescribe medications and give advice on diet and preventive healthcare. Surgeons perform surgical operations to treat injuries, diseases and deformities.
Work environment: Physicians and surgeons may work in a clinical setting like hospitals and doctors' offices or non-clinical settings such as insurance companies, government offices and nonprofit organizations.
Education: To become a physician or surgeon, you typically need a bachelor's degree along with a medical degree.
Earnings: The median annual wage for physicians and surgeons in the U.S. was $208,000 in 2020, among the highest of all occupations.
Job outlook: Overall employment for physicians and surgeons is expected to grow 4% by 2029, with approximately 23,000 openings projected every year
Make Your Money Work Better for You
Other occupations in the healthcare sector that pay a median annual wage of $208,000 include orthodontists, anesthesiologists, prosthodontists, general internal medicine physicians, obstetricians and gynecologists, and oral and maxillofacial surgeons.
2. Dentists
Dentists diagnose and treat patients with dental problems such as gum disease, tooth decay, sensitive teeth and general oral health. They also teach patients about proper diet, flossing, ways to prevent gum diseases and other aspects of dental care.
Work environment: Dentists can work in hospitals, clinics, or alone in their own business. Others can also work as associate dentists in well-known dental practices.
Education: You must have a bachelor's degree as well as a Doctor of Dental Surgery (DDS) or Doctor of Medicine in Dentistry (DMD) from a certified dental program to become a dentist. You also need to pass written and clinical exams.
Earnings: In May 2019, dentists earned a median salary of $164,010.
Job outlook: According to the BLS, overall employment for dentists is expected to grow 3% by 2029, with approximately 155,000 projected job opportunities.
Make Your Money Work Better for You
3. Computer and Information Systems Managers
Also known as information technology, or IT managers, computer and information system managers are responsible for analyzing computing needs to meet company goals. They design and administer the installation and maintenance of computer hardware and software while ensuring a company's network security.
Work environment: Computer and information systems managers can work in private enterprises, government offices, nonprofit organizations and schools. They typically work full-time, often putting in overtime hours to come up with solutions when problems arise.
Education: Computer and information systems managers typically hold a bachelor's degree in a computer or information science-related field like management information systems, or MIS. This job requires extensive experience, and organizations usually prefer IT managers with a Master of Business Administration.
Earnings: The median annual salary for computer and information systems managers stood at $151,150 in May 2020.
Job outlook: Demand for computer and information systems managers is projected to grow tremendously over the next several years. The BLS predicts that employment will grow 10% from 2019 to 2029.
4. Nurse Practitioners
Nurse practitioners are a type of nurses with more advanced training in primary care services than registered nurses. NPs can perform many doctor's roles, like diagnosing and treating health problems, doing diagnostic tests and analyzing results .
Work environment: NPs can work in any healthcare facility, from hospitals, clinics and nursing homes to emergency rooms. They typically work full-time.
Education: NPs must have at least a master's degree from a certified institution. You must be a licensed RN before pursuing education in an advanced practice role.
Earnings: The median annual wage for NPs was $111,680 in May 2020 according to BLS statistics.
Job outlook: The BLS forecasts that the overall employment for advanced practice registered nurses will increase 45% from 2019 to 2029.
5. Marketing Managers
Marketing managers come up with strategies to help firms maximize profits while ensuring customer satisfaction. They help identify potential markets for the company's products and services while estimating the demand for them.
Work environment: Marketing managers typically work with top executives because their role directly affects the company's revenue.
Education: Typically, a bachelor's degree is the minimum requirement to land a position as a marketing manager. Some hiring managers, however, prefer a bachelor's degree in journalism or advertising. Any relevant coursework in marketing, management, finance and economics is a plus.
Earnings: The median annual income for marketing managers in 2020 was $142,170, according to the BLS.
Job outlook: Total employment of marketing managers between 2019 and 2029 is expected to rise 6%.
Good To Know

Before choosing a career, consider using tools like the BLS and Payscale to determine which job will offer many opportunities and high pay.
Takeaway
These careers represent some of the best high-paying jobs of the future. If your dream job is not on the list, that doesn't necessarily mean it doesn't pay well. There are many other careers to pursue — the path you take depends on your passion and financial goals in the years to come.
Our in-house research team and on-site financial experts work together to create content that's accurate, impartial, and up to date. We fact-check every single statistic, quote and fact using trusted primary resources to make sure the information we provide is correct. You can learn more about GOBankingRates' processes and standards in our editorial policy.
Make Your Money Work Better for You