Can You Receive Disability Insurance If You Have Long COVID?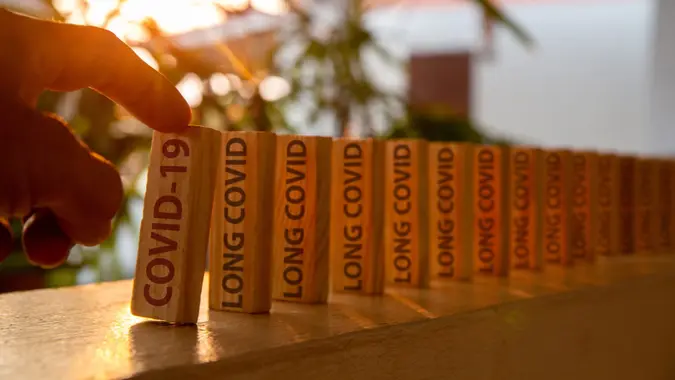 Jikaboom / Getty Images/iStockphoto
Some people who contract COVID-19 don't experience any symptoms at all. Most who do will recover in a few days or weeks. But in some cases, ongoing, new or returning symptoms can linger for many months.
The CDC refers to this condition as post-COVID-19, long COVID-19 or long-haul COVID-19. Although medical professionals are working to understand the condition more completely, some sufferers can qualify for Social Security Disability Insurance (SSDI), a program for low-income people who can't work because of a disability.
Qualifying is no guarantee, but here's what you need to know.
Long COVID Qualifies as a Disability — or at Least It Can
The Office for Civil Rights of the Department of Health and Human Services (HHS) and the Civil Rights Division of the Department of Justice worked together to classify long COVID-19 as a disability.
"Anyone diagnosed with long COVID is protected by Title II and Title III of the Americans with Disability Act (ADA), as well as other state and federal laws," said Chris Orestis, CSA, president of Retirement Genius and 25-year veteran of the insurance and long-term care industries.
But sufferers have to meet specific criteria in order to satisfy the requirements.
According to the HHS, long COVID-19 must result in a physical or mental impairment like lung damage or neurological damage or substantially limit one or more life activities. That includes basic tasks like eating and caring for yourself.
Even When Long COVID is a Disability, SSDI is No Sure Thing
In explaining the criteria for long COVID-19 as a disability, HHS muddies the waters with this footnote: "This guidance only addresses the definition of disability under these Federal civil rights laws. It does not cover other definitions of disability or eligibility requirements such as those necessary to qualify for Federal benefit programs under Social Security."
Make Your Money Work for You
Essentially, even when long COVID-19 is a disability, the Social Security Administration (SSA) gets the last say in whether you qualify for SSDI benefits. 
"An individual may qualify if their medical condition has lasted or is expected to last for at least 12 months or to result in death," said K. Merritt-Grant, operations supervisor with the Social Security Administration in Chicago. "This means any medical conditions including COVID-related symptoms."
According to the Kaiser Family Foundation (KFF), it's simply not clear what percentage of people who qualify as being disabled due to long COVID-19 will be granted SSDI benefits. The situation is further complicated because many people who might qualify simply aren't applying.
"As is true with many disabled individuals, the complexity of the laws and the amount of effort involved in applying and providing supporting evidence is too overwhelming when one is fighting exhaustion, pain, and the lack of mental clarity that typically accompanies long COVID," said Rick W. Fleming, a Social Security disability law specialist and partner at the Law Offices of James Scott Farrin.
Make Sure You Meet All the Application Requirements
If you think you qualify for disability insurance benefits, visit SSA.gov and navigate to the SSDI application page. To apply, you must:
Be at least 18 years old
Not currently be receiving Social Security benefits
Be unable to work due to a condition that is expected to last at least 12 months
Not have been denied disability benefits within the last 60 days
Don't Expect an Easy Go of It
The SSI rejects two out of three disability claims it receives and is notorious for long waits for application decisions and appeals.
"Applying for SSDI is never an easy process, and long COVID, being a newer phenomenon, will not make applying with that diagnosis any easier," said Orestis. "As is the case with the current workforce challenges impacting the private sector as well as government agencies — look at the delays with the IRS — anyone applying for SSDI benefits for long COVID should be prepared for a long review and approval process."
Make Your Money Work for You
It's critical, then, that applicants submit all required documents accurately and on time.
"No one ever has a hard time initially as long as they complete the three-step application process in as much detail as they can," said Merritt-Grant, who outlined the three steps as:
Sign and complete the application
Complete the disability report
Submit a signed authorization form
"Not providing everything and answering all the questions being asked is what makes it harder to apply and/or collect benefits," she said.
Keep in mind that you don't have to go it alone.
"One suggestion to help would be to hire an attorney who specializes in applying for disability and SSDI benefits to help make sure mistakes are avoided that could create delays or cause rejections," said Orestis.
More From GOBankingRates