13 Highest-Paying Jobs If You Want To Work in Financial Planning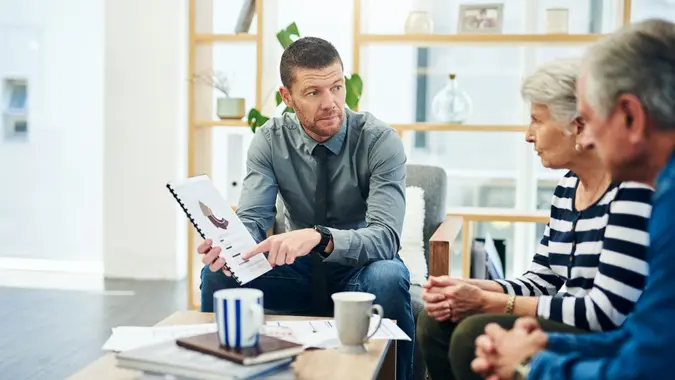 Moyo Studio / Getty Images/iStockphoto
Financial planning is a broad field that covers a multitude of niches, including retirement planning, estate planning, investment planning, risk management and budget management. It's a field that can be highly lucrative, though some positions have higher earning potential than others. It can also be very rewarding, as you get to help others make smart financial decisions, grow their money and achieve their short- and long-term goals.
If you're interested in starting a career in financial planning, here are some of the highest-paying jobs out there. All annual salary estimates are from Indeed and ZipRecruiter.
Personal Financial Advisor
Average annual salary: $79,617
Personal financial advisors are professionals who advise their clients on an array of financial aspects, including estate planning, taxes, investments and retirement. They're also individuals with a high earning potential. On the high end, they earn around $156,257 a year.
"If we're talking about the financial planning gigs where the paychecks make you double-take, you've got to start with the personal financial advisors," said Nathan Jacobs, senior researcher at The Money Mongers, Inc. "These folks are like money whisperers for their clients, tailoring advice on everything from stocks to estate plans. They're the kind you trust with your life's savings, and they get paid handsomely for that trust."
Make Your Money Work Better for You
Financial Therapist
Average annual salary: $66,983
Financial therapists help their clients understand and prioritize the psychological and emotional aspects of money management. On the higher end, these professionals can earn around $96,000 annually.
"This role recognizes the profound connection between emotions and financial decisions," said Alan Beard, the CEO and managing director of Interlink Capital Strategies. "It offers a holistic approach to financial planning, helping clients overcome psychological hurdles that can impede their financial well-being."
Forensic Accountant
Average annual salary: $71,760
As certified public accountants (CPAs), forensic accountants are an essential part of any corporation or legal team working to uncover and rectify financial misconduct within an organization. Forensic accountants can earn up to $130,666 a year.
"Forensic accountants use their accounting skills to investigate financial irregularities, fraud and financial crimes," said John Browning, founder and CEO at Guardian Rock Wealth. "This role involves in-depth analysis of financial records, expert witness testimony and the ability to uncover hidden financial discrepancies."
Budget Analyst
Average annual salary: $74,803
Budget analysts are employed by a variety of companies, including universities and government organizations. Their primary goal is to analyze their organization's budget and expenditures, allocate funds appropriately and create financial projections. They earn up to $112,992 a year.
"The budget analyst anticipates the amount of money that will be needed in the future to address [financial] issues and create, evaluate and implement budgets," said Andy Kolodgie, an experienced real estate investor and the owner of Sell My House Fast.
Make Your Money Work Better for You
Risk Analyst
Average annual salary: $81,484
Another lucrative career path is that of the risk analyst. They earn up to $112,000 a year.
In a business or organization, risk analysts assess the potential risks that could cause a business to fail or otherwise jeopardize their operations. They also work to minimize and mitigate these risks while maximizing opportunities. They typically handle the technical side of an organization's finances.
Financial Controller
Average annual salary: $103,375
Financial controllers "oversee the preparation of financial reports — balance sheets and income statements — to help forecast the company's financial position," said Jonathan Rodgers, CFA at BestDaily. "They also ensure that the company's financial practices are in line with statutory regulations and internal policies."
They earn up to $153,269 annually.
Compliance Analyst
Average annual salary: $72,900
Compliance analysts, or compliance officers, are professionals in the financial planning field who also have high earning potential. On the high end, they earn around $120,000 a year.
These professionals "ensure that the company adheres to external regulations and internal policies," said Rodgers. "They help tailor workflows so the company doesn't break any rules yet maximizes benefits."
Fund Manager
Average annual salary: $74,211
A fund manager is someone who's responsible for establishing and implementing an investment strategy in a company. They may also manage that company's investment portfolio and assets. They earn up to $136,277 annually.
As a fund manager, Aman Ghataura, head of growth at Nuoptima, said they'd "be in charge of looking after a big pot of money that a bunch of people have invested in." And they would "pick the best mix of things to invest in, like stocks or bonds, to make sure everyone's money grows as much as possible."
Make Your Money Work Better for You
Stockbroker
Average annual salary: $149,666
The role of a stockbroker is to purchase and sell securities — like stocks — for their clients. They usually either charge a set fee or work on commission. They tend to work with financial institutions, fund managers and individual investors. Stockbroker salaries can fluctuate widely, with the highest earners raking in up to $401,500 a year.
"The goal [of a stockbroker] is to make clients' money grow by picking the right time to buy or sell," said Ghataura. "It's like being a money coach for the stock market."
Hedge Fund Manager
Average annual salary: $135,399
When it comes to high-paying jobs in the financial field, hedge fund managers are definitely up there. They can earn up to $261,000 a year.
"Hedge fund managers [are] playing in the major leagues, often betting big on the market," said Jacobs. "When their choices hit the jackpot, their earnings shoot through the roof, often with bonuses that can dwarf their already substantial salaries."
Investment Advisor
Average annual salary: $79,831
An investment advisor is a professional who advises a company or individual clients on their investments. They may also perform a security analysis into the client's or organization's current securities. They earn up to $148,556 annually.
"These people have a knack for reading the market's mood swings and setting up investment strategies that pay off," said Jacobs. "It's a bit like being a captain of a ship in stormy seas — the better you are at navigating, the more you're valued. And that value is reflected in the zeros on their paychecks."
Make Your Money Work Better for You
Equity Compensation Planner
Average annual salary: $112,017
Equity compensation planners, or equity compensation managers, are a vital part of any organization that has equity-based compensation packages. This can include things like company stock options, restricted stock units and more. These professionals can earn up to $166,000 a year.
"These professionals help clients maximize the value of their equity awards, which is especially relevant in industries with stock-based incentives, like tech and startups," said Beard. "This niche specialization can be highly lucrative and essential for those navigating complex equity compensation structures."
Retirement Plan Consultant
Average annual salary: $67,502
Under the banner of "financial advisor," retirement plan consultants specialize in developing and managing their clients' or businesses' retirement plans. They can earn up to $92,500 a year.
"They work with company owners to create and administer retirement benefit programs for employees," said Browning. They also must be experts in investment options and legal regulations regarding retirement.
More From GOBankingRates