Banksy Artwork Sells for Nearly $10 Million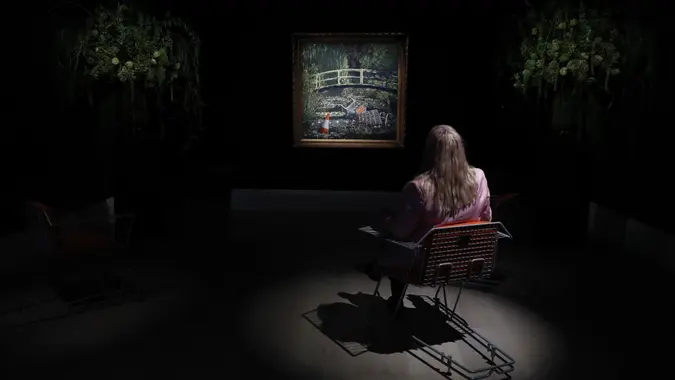 Alastair Grant/AP/Shutterstock / Alastair Grant/AP/Shutterstock
British artist Banksy, often known for high concept street art and graffiti, recently sold a painting at auction, titled, "Show Me the Monet," that reimagines the famous impressionist painter Monet's "Bridge Over a Pond of Water Lillies." The painting sold for 7.6 million pounds, or just less than $10 million, in a nine-minute bidding war. It sold to an unnamed bidder at the esteemed auction house Sotheby's. It beat out its presale estimate of $5 million pounds (or $6.5 million dollars).
Monet's original painting, said to have been undertaken between 1897 and 1899, is one of a dozen he painted of the same Japanese bridge over his water garden near Giverny, France, at different times of day and year. Banksy's take, which adds abandoned shopping carts and an orange traffic cone, has been described as "tongue-in-cheek" by CNN and considered as a possible commentary on environmental pollution.
Alex Branczik, Sotheby's European head of contemporary art, said the work was one of the "strongest and most iconic" of Banksy's works to go up for auction.
Banksy's painting, oil on canvas painted in 2005, was part of a showcase titled, "Crude Oils: A Gallery of Re-mixed Masterpieces, Vandalism and Vermin" where the artist also reimagined famous works by other artists including Edward Hopper, Jack Vettriano and Vincent van Gogh.
Other works of Banksy's have fetched similarly impressive prices. The graffiti-esque piece "Forgive Us Our Trespassing" sold for $8.3 million at Sotheby's in Hong Kong last month and "Devolved Parliament" sold last year at Sotheby's in London for 9.9 million pounds.
Make Your Money Work Better for You
The artist, who got his start making street murals and graffiti in Bristol, England, in the 1990s, is well-known for making such comments on modern society in his work and remains purposely elusive, wearing a paper bag when he has been spotted in person.
Would this art rank among the most expensive versions of everything out there?
More From GOBankingRates
Make Your Money Work Better for You