Check Washing Is an $815M Per Year Scam — How It Works and Ways To Prevent It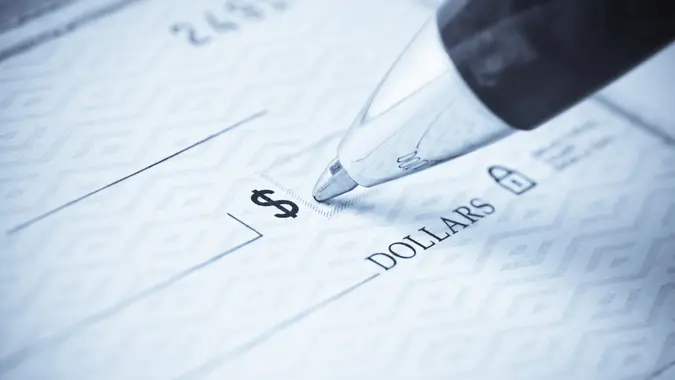 fluxfoto / Getty Images
Every day the United States Postal Service (USPS) delivers millions of personal and business checks. But during its journey from the postal service to a final destination, a check can very easy be stolen by thieves looking to use it for illegal gain.
Cash washing is hardly a new scam, but is one that is seeing a comeback in popularity among criminals. In a recent article written for the Jackson Sun, the Better Business Bureau's Mid-South CEO and president, Randy Hutchinson, claimed that check washing accounts for over $815 million in losses to individuals, businesses and financial institutions per year.
Cash washing involves erasing payee names and dollar amounts from checks using a chemical solution (usually acetone, the active ingredient in nail polish remover and paint thinner) and rewriting the check to steal money from an unsuspecting victim.
Talking about the uptick in stolen checks for The Conversation last year, David Maimon, Georgia State University professor and director of the school's Evidence-Based Cybersecurity Research Group, explained how easy it is for criminals to obtain checks from mailboxes or USPS collection boxes.
"Some of them simply go to your home mailbox and take the mail you left for the post office to pick up," said Maimon. "Others simply go to the blue boxes with the keys that they were able to steal from some of the mailmen out there, empty the boxes and get the checks that some of us send to our utility companies or our loved ones when we want to send a gift. That's how easy it is."
Make Your Money Work Better for You
Many of these check washers are putting a modern twist on check fraud. The advent of digital depositing has allowed thieves to wash and steal by screenshot.
Stolen checks pose an extra identity theft risk, too. Criminals in possession of a stranger's legal checks can use the listed name and address to build phony identities for the purpose of theft by opening bank accounts and applying for loans on behalf of the victim. Additionally, washed checks are making their way to underground markets on messenger services such as Telegram and WhatsApp.
Normally, banks are required to reimburse customers for forged checks — but depending on individual circumstances, they can investigate to determine if the customer is entitled to a reimbursement.
Reporting a stolen check and placing a temporary hold on your account can stop a thief from fleecing you out of money, but by the time you realize it has been stolen, the damage might have already been done.
According to the United States Postal Inspection Service and the BBB's Hutchinson, the following are preventative measures you can take to protect yourself.
Consider going paperless and transition to paying bills and sending money transfers online.
"Write your checks with an indelible gel black ink pen, which makes it harder to remove information from checks," said Hutchinson. "Leave as little space as possible between numbers so crooks can't fill in empty spaces."
Send any outgoing mail before the last daily pick up or at your post office.
Never leave your mail in your mailbox for an extended period of time.
Place a hold on your mail with the post office if you're going to be on vacation. Alternatively, get a friend or neighbor to pick up your mail while you are away.
Monitor your online, mobile or mailed statements regularly for altered checks, look out for checks that haven't cleared and check for past due notices.
Shred any old checks still in your possession.
Make Your Money Work Better for You
More From GOBankingRates