Could This 1975 Dime Really Be Worth Over Half a Million Dollars? Here's What To Look For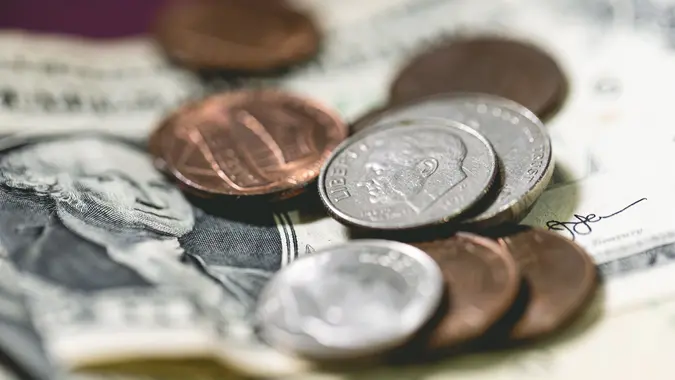 Rmcarvalho / Getty Images/iStockphoto
The surest way to send people shuffling through their loose change jars is to spread the word about a seemingly average coin selling for around half-a-million dollars. That's what happened a few years ago, when a 1975 "No-S" Proof Roosevelt dime sold for $456,000.
The lucky dime was sold in a Heritage Auctions sale on Sept. 6, 2019, according to the Coin World website. Before that, it hadn't been on an auction floor in eight years. Five days after it sold, the buyers turned around and sold it again for even more money — $516,000, a new record — to a Roosevelt dime collector.
Before you go digging around in search of a 1975 dime, you should know this: Your chances of having the rare dime are about 1 in 1.4 million.
There are a couple of reasons it is so valuable. First, it has no "S" above 1975 (hence the name), which means it's an error coin. And second, this error might have been deliberate, meaning that whoever caused the error would have only done so to a minimal number of dimes.
Only two of the 1975 "No S" Roosevelt dimes coins have knowingly been discovered — and that's out of more than 2.8 million Proof sets the U.S. Mint produced in 1975. But this is where things get a little complicated.
According to Coin World, the 1975 No-S Roosevelt dime is "chronologically flanked" by several other No-S Proof coins that were created during the same era. This included three in the Franklin Roosevelt dime series minted in 1968, 1970 and 1983.
Make Your Money Work Better for You
"The story behind how the ultra-rare error 1975 No-S dime was created is unclear, though what's evident is that somehow a die without the 'S' mintmark was used to produce a small run of Proofs," Coin World noted in a 2019 blog.
If the mistake was intentional, it might not have been the only time that happened. Several other "freakish, seemingly impossible numismatic curiosities" came out of the U.S. Mint during that era, according to Coin World — including the 1970-S Washington quarter struck on a 1941 Canadian quarter and the 1970-S Washington quarter struck on a 1900 Barber quarter.
In any case, the two known 1975 No-S Roosevelt dimes don't hit the collectibles market very often. Both have histories of being held in collections for many years at a time, Coin World reported — which means your odds of landing one on the open market are about as rare as the coins themselves.
That doesn't mean you won't find "dealers" willing to sell you a 1975 Roosevelt dime for great sums of money. There are plenty of these folks, except that many could be trying to pass off common, 10-cent dimes as valuable collector's items.
As Coin World reported, a number of listings have appeared on online selling platforms touting a "1975 Roosevelt Dime No Mint Mark" with starting bids well into the hundreds of dollars. Some of these have been promoted as "Rare" or "Very Rare." But none of the dimes that Coin World analyzed were graded or authenticated, and few offered descriptions beyond the title. Many were "obviously" circulated coins.
"It is a classic case of 'Buyer Beware,'" Coin World noted. "It is incumbent upon purchasers to know what they are getting…Added words like 'rare' or 'very rare' are misleading to the point of being false advertising."
Make Your Money Work Better for You
More From GOBankingRates