Fourth Largest Mega Millions Draw Happening Tomorrow — Here's How Much You'll Get If You Win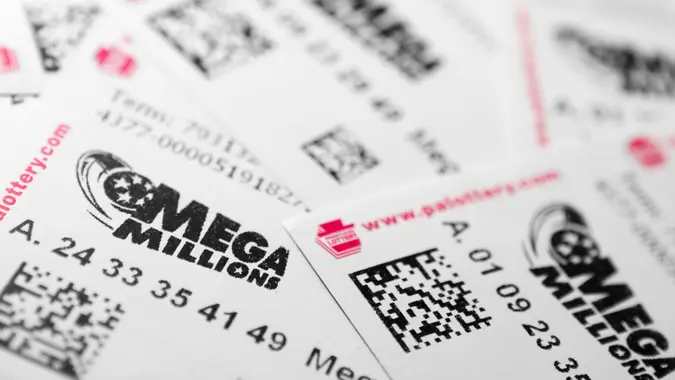 youngvet / Getty Images
It's still early in the year, but with 2023 underway, many Americans are looking for ways to improve their financial standing. Hard work, better investing, and strict saving are all great strategies to put into place if you want to better your bank balance this year, but many still dream of winning the lottery to ease all financial burden.
Of course, that's easier said than done. However, millions of dreamers watched with great anticipation on the evening of Jan. 3 when it was announced that no one had won that night's Mega Millions draw.
With no one matching the winning numbers 25, 29, 33, 41 and 44 (and gold Mega Ball 18) on Tuesday, tomorrow's grand prize draw has grown to an estimated $940 million — and will be the fourth largest Mega Millions draw ever. The cash option will be around $484 million.
According to CBS3 Philadelphia, Friday night's jackpot will be the biggest since a $1.337 billion grand prize was won in July via a ticket purchased in Illinois. The largest Mega Millions jackpot won on a single ticket is $1.537 billion won by an anonymous player in South Carolina in Oct. 2018. The third largest Mega Millions payout, $1.050 billion, was won by the Wolverine FLL Club of Oakland County, Michigan, in Jan. 2021.  
You can play Mega Millions in 45 states (plus the District of Columbia and the U.S. Virgin Islands) for $2 a ticket. There are nine prize levels to play for, from winning your $2 back to the unlimited grand prize (starting at $20 million). The odds of winning the jackpot are 1 in 302,575,350, per Mega Millions.
Make Your Money Work Better for You
To protect winners' purchasing power in times of high inflation, the Mega Millions jackpot annuity is paid out as one immediate payment followed by 29 annual payments. Each payment is 5% bigger than the previous one. Or, you can choose the one-time, lump-sum payment instead.
The Jan. 6, 2022, Mega Millions draw will take place at 11 p.m. ET.
More From GOBankingRates