10 Rules You Need To Follow To Get Rich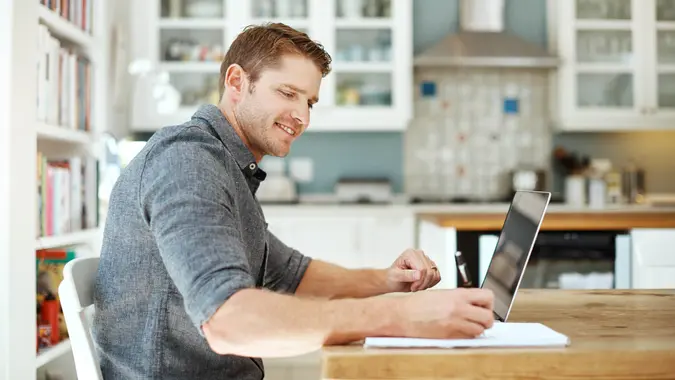 shapecharge / iStock.com
So, you want to get rich, huh? Well, join the club. 
New Year's resolutions tend to involve fitness or finance, and just as most people won't have the beach bodies they're vowing to sculpt once summer rolls around, the masses will also mostly ditch their promises to spend less, save more and pave the path to wealth. However, there are some who will see their resolutions through. 
Retirement at Any Age: Get Retirement Tips That Fit Every Stage of Life
Take a Look Back: 2022 Year in Review
There is no magic formula for getting rich, but most self-made millionaires follow a common path to financial security. These are the steps they take.
Set Realistic and Achievable Goals
You'll only achieve the big goal of getting rich by accomplishing small goals along the way. The trick is to not bite off more than you can chew. 
Make Your Money Work Better for You
"It's important to set realistic financial goals," said R.J. Weiss, a CFP and founder of the personal finance site The Ways To Wealth. "I often see individuals setting goals way out of their current abilities or reality, such as doubling income or sticking to a budget that's having them give up everything they enjoy."
Pursue Fast, Short-Term Wins
With realistic goals in place, you should design your strategy for achieving those goals with small but frequent victories in mind. 
"Instead of setting a stretch goal that has a high likelihood of failure, think small and short-term," said Weiss. "For example, if your goal is to make more money, aim to make $200 more the next month. If your goal is to save more money, pick a specific category, such as your dining out, and aim to cut it by 20% the next month. If you didn't succeed, go back to what worked and what didn't, and try again the next."
Make Your Money Work Better for You
Take Our Poll: How Do You Typically Split the Restaurant Bill?
Spend Smart and Spend Less
Most millionaires get rich not from ultra-high salaries, but from consistent and rigorous financial discipline — and discipline starts with planned and intelligent spending.
"Focus on what are absolute necessities in expenditures," said Dorothea Hudson, a personal finance expert with US Insurance Agents. "And even with necessities, you can save more if you buy right." 
She gave examples like passing on the latest tech gadgets and buying high-quality clothing out of season.
Save, Save and Then Save Some More
Smart and selective spending is one side of the financial discipline coin. The other side is saving every dollar that you don't spend on takeout, coffee and unplanned splurges. 
"To save more money, try automating deposits into a savings account," said Greg Wilson, CFA and co-founder of ChaChing Queen. "It helps individuals save without even thinking about it." 
Make Your Money Work Better for You
Make Your Money Work as Hard as You Do
Your job is to earn income. Your money's job is to grow what you don't spend into something greater. According to Seeking Alpha, the stock market, as measured by the S&P 500, has delivered average annualized returns of 10% for nearly a century, although that often-quoted number doesn't account for inflation or taxes.
As Tesla, Netflix and the entire crypto world proved in 2022, it's always risky to pick individual stocks or gamble on emerging asset classes. The smart money has long been on index funds that mirror the market. 
Starve the Taxman
Presuming you're investing long-term, you'll pay up to 20% in capital gains taxes depending on your income — up to 37% if you realize short-term gains. Suddenly, the market's 10% average returns aren't looking so good.
Retirement accounts like IRAs and 401(k)s limit your liability by sheltering pre-tax earnings and reducing your taxable income. On the other hand, Roth accounts shelter post-tax earnings that you can withdraw from later without the IRS taking a bite. Rich people typically utilize both types of accounts to minimize their tax obligations as much as possible.
Plan for the Worst
A single medical catastrophe can wipe out even the highest earners and most diligent savers. That's why rich people tend to be well covered by health insurance, life insurance and both short- and long-term disability coverage.
According to the Kaiser Family Foundation, the uninsured population is most vulnerable to long-term wealth destruction. Although saving is the key to wealth, it's never wise to forego adequate coverage to cut expenses and boost savings. One way to save without losing protection is through an HSA, a tax-advantaged account that follows you into retirement.
Choose Friends and Life Partners Wisely
Business Insider profiled a study of 177 self-made millionaires, which showed that rich people choose their friends differently than the average person. They tend to surround themselves with people who share their drive, frugality, willpower, work ethic and ambition to become wealthy while cutting toxic personalities out of their lives.
Equally important is your choice of spouse. You'll never get rich while shackled to a partner who doesn't share your financial goals and lifestyle, and there's overwhelming evidence that divorce destroys both household wealth and retirement savings.
Never Stop Learning
Many of the most successful entrepreneurs and business leaders are dropouts, but there's a difference between formal education and a commitment to lifelong learning.
According to Forbes, the most successful people in the world treat the brain as a muscle that will atrophy without regular exercise. Millionaires tend to be voracious readers who are consummately curious and passionate about the ongoing acquisition of new knowledge.
Never Give Up
The most important rule of all is perseverance. Failures, disappointments and setbacks are inevitable on your path to wealth — embrace them as learning experiences or accept a life of financial anxiety and insecurity.
"Money management as a whole — whether that's making money, saving money, investing, etc. — is a skill," said Weiss. "It takes practice to get good at it. Just as important, you should also expect failures along the way."
More From GOBankingRates
Make Your Money Work Better for You