Grant Cardone Says These 10 Steps Can Help You Become a Billionaire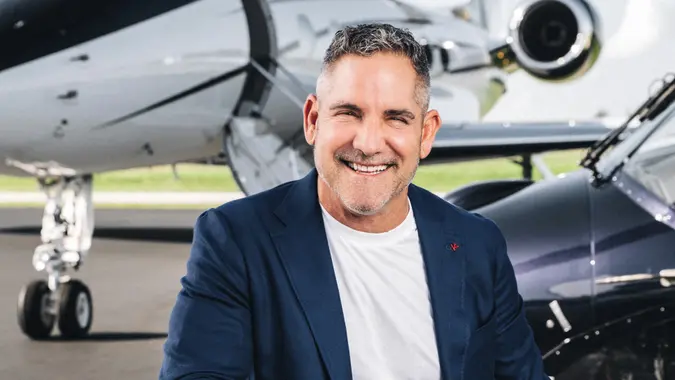 There are roughly 2,700 billionaires in the world, around 26% of whom — 724 individuals — reside in the United States. Considering how few billionaires there are compared to the world population, becoming one yourself might seem like a pipe dream.
But that doesn't mean it's impossible.
Just take a look at Grant Cardone. Cardone made his first million dollars by the age of 30 by investing in real estate and building a highly successful sales consulting company. Since then, he's continued to build wealth at a rapid pace. His current estimated net worth is around $600 million while his real estate investment firm manages over $4 billion worth of real estate. He's also considered one of — if not the — wealthiest real estate investors in the world.
So, what does that mean for you, and what can you learn from Cardone about joining the ultra-wealthy?
Well, according to a short YouTube video by Grant Cardone and a recent article on Grant Cardone TV, there are 10 simple steps to take that can help you become a billionaire. Here's what they are.
1. Master the Art of Sales
One of the very first steps Grant Cardone recommends is to become a master of sales — whether that's a good or a service. There are many ways to do this, such as by cultivating a positive attitude and being prepared for both success and rejection. It also means following up with prospects to keep the sale alive and help you close the deal.
Make Your Money Work Better for You
Cardone has a business training platform called Cardone University, which can help people learn many of the essential skills needed for building a lucrative business, including the art of sales. He also wrote a book called "Sell or Be Sold" on the topic.
2. Reinvest All Surplus Income
The next step involves investing and later reinvesting all of your surplus money each month. Once you've covered the necessary expenses, Cardone's advice is to take any additional cash and put it toward your business, yourself and other investment vehicles.
One of the key things Cardone prioritizes is boosting income, rather than just saving money. On his website, Cardone has an article called "How To Become a Millionaire," which entails how to increase your income incrementally. This isn't something that will happen overnight, but it can happen with patience and perseverance.
3. Collaborate and Build Partnerships
Cardone is an advocate of collaboration over competition, so it's no surprise that his next step toward generating significant wealth is to find and work with good partners. His belief is that no one has ever succeeded in making a billion dollars alone, so having a good team with mutual respect is vital.
Cardone also suggested establishing brand partnerships. Building a social network and following can be a long, difficult process, which is why teaming up with already-established brands can be a great way to build your own traction and brand. While you're doing this, you can also continue to cultivate your brand's credibility.
Make Your Money Work Better for You
4. Invest Heavily in Real Estate Assets
The next step is to invest in income-producing assets, like real estate, as this can help you earn passive income. It can also diversify your existing portfolio, thus potentially reducing risk. Cardone's advice, however, is to only do this once you've started earning extra money from your business.
5. Build a Brand
Step five is all about being present in many communities and finding ways to serve them. One way to do this, according to Cardone, is to use different social media platforms to build your brand, share your purpose and tell your story.
In one article, Cardone noted how some of the richest and most notable people in the world are recognized solely by their personal brand and name, rather than their company name.
6. Use Discipline and Hard Work
According to Cardone, one thing that sets successful people apart from others is their focus, discipline and willingness to fail and get back up again. Cardone suggested removing clutter and distractions and instead focusing on the difficult things that can ultimately build more value.
By doing this repeatedly, the tasks themselves will likely become second nature and become easier to complete. This, in turn, can lead to a prosperous lifestyle.
7. Reimagine Yourself
Next, Cardone's advice is to reimagine yourself over and over again. By doing this, you can feel more empowered, while continually learning the things you need to become wealthy. Along with that, you can also redefine yourself and what you know as you grow your wealth.
Make Your Money Work Better for You
While you're at it, Cardone suggested setting higher goals for yourself, ones that require you to learn and improve.
8. Follow the Money, Not Just Your Passion
The next step is to prioritize the money, rather than focus on your passions. In an article called "Follow the Money," Cardone goes into detail about the different methods for cultivating and maintaining wealth. One example of this is to move somewhere more affordable for your lifestyle so as to open up more room in your budget. This could mean going somewhere with a more lucrative job opportunity or greater tax breaks for your business.
Another example, as illustrated in another video, is to learn to love the things that bring about wealth. Even if they're not your passion at first, they can still help you in the long run.
9. Have Big Thoughts and Goals
The next step is to think bigger about your goals and the ways you can make them come to fruition. According to Cardone, the wealthiest people in the world didn't get their start by thinking small — they got it by thinking big.
Along with this, Cardone remarked on how the middle class often thinks about staying average and realistic with their dreams and goals. For those looking to become billionaires, it requires bigger thoughts and plans.
10. Go All In
Grant Cardone's final step is to prioritize one thing and develop it into something successful and profitable. Only once you've done that should you be focusing on the next goal and then the next. This should be the case whether you're dedicated to building a business, investing in real estate or something else.
Make Your Money Work Better for You
More From GOBankingRates