5 Highest Paid Female CEOs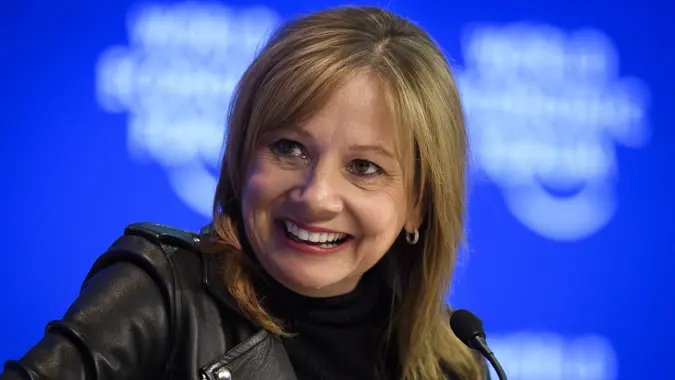 Gian Ehrenzeller/EPA/REX / Shutterstock.com
The ranks of top executives at U.S. companies have long been dominated by men, but women are slowly gaining ground. With the addition of five more women to the roster of Fortune 500 CEOs in January 2023, female CEOs now make up 10% of all CEO jobs at the country's top corporations.
Check Your $2 Bills: They Could Be Worth Upwards of $4,500
With a Recession Looming: Make These 3 Retirement Moves To Stay On Track
As for female executive pay, it's also trending upward. Their median pay for Fortune 500 female CEOs rose 26% to $15.8 million in 2021. That outpaced gains in pay for male CEOs, which went up 18% to $14.4 million that year.
Although women leading the largest American companies typically made more than their male counterparts, when it comes to the biggest pay packages of all companies, women still trail far behind men. The highest-earning male CEO in 2021 — Peter Kern of Expedia Group — received a pay package worth $292.6 million, while the highest-earning female CEO's pay package was just $29.5 million, and was ranked 22nd on the overall list.
Make Your Money Work Better for You
Here are the five highest-paid female CEOs, according to 2021 data from the Associated Press (the most recent available). Find out how they're leading in traditionally male-dominated industries like finance, defense, technology and more.
5. Kathy J. Warden
Company: Northrop Grumman
Annual compensation: $19.5 million
Kathy J. Warden spent nearly a decade at General Electric Company and served in various leadership roles at Veridian Corporation before joining Northrop Grumman, a global security and technology company. Prior to taking the top job at Northrop Grumman in 2019, Warden was vice president and general manager of its cybersecurity business and held other executive positions for the company's different sectors.
At the time of her appointment as Northrop's CEO, Defense News noted that four of the country's five largest defense firms were now led by women (though Lockheed Martin is now led by a man).
Take Our Poll: How Much Salary Would Buy You Happiness?
4. Adena Friedman
Company: Nasdaq
Annual compensation: $20 million
Adena Friedman has led a decades-long modernization of the Nasdaq, the largest electronic stock market in the U.S.
CEO since 2017, Friedman originally joined the company as an intern in 1993 and occupied a number of different management and executive roles along her rise to the top position, as well as serving as the current chair of Nasdaq's board of directors. She has been named by Forbes as one of the 40 most powerful women in the world. She also holds a black belt in Taekwondo.
Make Your Money Work Better for You
3. Phebe Novakovic
Company: General Dynamics
Annual compensation: $23.6 million
The daughter of an Air Force officer, Phebe N. Novakovic worked for the U.S. Department of Defense and as an operative for the Central Intelligence Agency before joining General Dynamics, a global aerospace and defense company that manufactures, among other things, nuclear-powered submarines and guided missile destroyers for the U.S. government.
She was ranked 23rd on Fortune's Most Powerful Women list (2022) and 30th among Forbes' Power Women (2022). She has served as the chairman and CEO of General Dynamics since 2013.
2. Mary T. Barra
Company: General Motors
Annual compensation: $29.1 million
Mary Barra became the first and only woman to lead one of the big three automakers in the U.S. when she became CEO of General Motors in 2014. She started her career there as an engineering student in 1980, graduated with a Bachelor of Science degree in electrical engineering in 1985, and later earned an MBA from Stanford.
Make Your Money Work Better for You
Under Barra's leadership, GM announced that it would sell only electric vehicles by 2035 with the goal of making EVs affordable for the mainstream market. She has also spearheaded heavy investments in self-driving vehicles. According to her LinkedIn profile, Barra currently drives a GMC Hummer EV and a Chevy Volt EUV — Chevy's electric utility vehicle with a base price of $27,800.
1. Dr. Lisa Su 
Company: Advanced Micro Devices
Annual compensation: $29.5 million
With bachelor's, master's and doctorate degrees in electrical engineering from MIT, Lisa Su is one of the world's foremost experts in semiconductors. She led semiconductor research and development during her 13 years at IBM, served as CTO, senior vice president and general manager at Freescale Semiconductor, Inc., and has published more than 40 technical articles.
Su has garnered an extensive list of top industry awards and business leadership honors, including Fortune's Business Person of the Year (#2) and the Grace Hopper Technical Leadership Abbie Award. She was elected to the American Academy of Arts & Sciences and was also appointed by President Biden to the President's Council of Advisors on Science and Technology.
At Advanced Micro Devices, a semiconductor firm based in Santa Clara, California, Su is credited with leading the company in a massive turnaround to see its stock leap more than 25-fold since she took over in 2014.
More From GOBankingRates
Make Your Money Work Better for You