How Did Elon Musk Make His Money? 7 Tips From Elon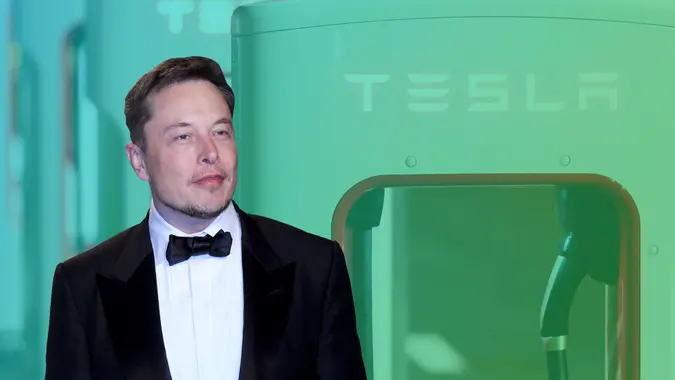 When most people become frustrated with a social media platform, they delete their account — but not the richest man in the world. On Oct. 27, Elon Musk acquired Twitter for $44 billion, a mere morsel of his estimated $195 billion fortune, according to Forbes.
Like many people, you're probably wondering how did Elon Musk make his money? He's best known as the co-founder and CEO of Tesla and SpaceX, but Musk earned his first fortune as a co-founder of PayPal. Keep reading to find out how the man who largely inspired Tony Stark built his unimaginable fortune.
How Did Elon Musk Start Out?
Like many 12-year-olds, Musk had a passion for video games as a child. However, unlike most kids, he already had a strong entrepreneurial passion.
This is evident in the fact that as a pre-teen Musk, created and sold his first video game. Named Blastar, he earned $500 when the source code was published in a magazine, according to the blog Wait But Why.
At age 17, he left his native South Africa for Canada. He later entered the U.S. as a college student by transferring to the University of Pennsylvania. Upon graduation, he briefly enrolled in a PhD program at Stanford, but quickly left to get in on the dot.com boom of the mid-90s.
Make Your Money Work Better for You
How Did Elon Musk Make His Money Originally?
So, where did Elon Musk get all his money? To start, he joined forces with his brother Kimbal to start the company Zip2 — best described as an early version of Yelp and Google Maps. The company was acquired by Compaq in 1999 for $307 million, of which a 27-year-old Musk pocketed $22 million, according to Wait But Why.
Musk went on to invest three-quarters of his net worth into the company now known as PayPal, which he co-founded. He briefly served as CEO but was replaced by Peter Thiel in 2000.
Instead of walking out, he opted to stay on with the company in a senior role, until selling PayPal to eBay for $1.5 billion in 2002. As the largest shareholder, Musk walked away with $180 million.
Many people would have simply taken this larger-than-life fortune and retired, but not Musk. Instead, he invested $100 million to start SpaceX, $70 million to found Tesla and $10 million in SolarCity.
Musk founded SpaceX in 2002 and serves as CEO of the company. He founded Tesla in 2003 and is also the CEO of the electric automaker.
Make Your Money Work Better for You
Tesla is valued at $588.85 billion, as of Nov. 8, 2022. SpaceX is not publicly traded, but is valued at $127 billion, as of August 2022, according to Forbes.
Musk's cousins Peter and Lyndon Rive founded SolarCity in 2006. Tesla purchased the company for approximately $2.6 billion in 2016.
He also co-founded Neuralink and The Boring Company, and serves as CEO of both.
7 Money Tips From Elon
1. Invest in Yourself
As previously noted, Musk has a habit of making money and re-investing it in his next business venture. He could've spent his first fortune — $22 million from the sale of Zip2 to Compaq in 1999 — on lavish homes, cars and vacations, but he didn't.
He continued this trend when he scored a $180 million payout from the sale of PayPal to eBay in 2022, investing $100 million in SpaceX, $70 million in Tesla and $10 million in SolarCity. These smart money moves have allowed him to become the richest man in the world.
2. Don't Be Afraid To Take Risks
Scoring massive paydays on the sale of not just one, but two companies is a huge accomplishment. However, Musk did take a gamble by re-investing all or most of his money to launch new companies.
Make Your Money Work Better for You
Many other people would've played it safe by finding safer investments for their funds, but Musk has taken many risks — and they tend to quite literally pay off.
3. Live Beneath Your Means
As you would expect for a billionaire, Musk once owned several houses, but things have changed.
In May 2020, he tweeted "I am selling almost all physical possessions. Will own no house."
Keeping true to his word, he sold seven homes for nearly $130 million, according to a March 2022 report by The Wall Street Journal. In June 2021, he tweeted that he purchased his primary home in Boca Chica, Texas for approximately $50,000.
Located within walking distance of a SpaceX facility, the property originally had two bedrooms, but, Musk converted the garage into a third bedroom, he revealed on the Full Send podcast. He said he also has a Boxable tiny home in Boca Chica, which he uses as a guest house.
The takeaway here is not to own real estate, but to choose a property that truly fits your budget. Instead of feeling like you need to spend at the top of your price range, consider a comfortable property that meets your needs, without stretching your finances.
4. Splurge Wisely
He might live modestly much of the time, but sometimes Musk does spend like a billionaire. For example, he recently purchased a Gulfstream G700 — a seriously lavish private jet — for $78 million, according to a report by Austonia.
Touted as having "the most spacious cabin in history," the plane seats 19 and can fly up to 7,500 nautical miles without refueling.
Obviously, you're not going to spend $78 million on a private jet. However, you shouldn't be afraid to make an occasional splurge on something important to you — as long as it's within your means.
5. Don't Take Lavish Vacations
Many billionaires practically live on vacation, but not Musk. The notorious workaholic has been vocal about rarely taking time away from work.
However, in 2014, he tweeted that he was on an annual camping trip with his kids. His camping preferences haven't been publicly revealed, but it's unlikely to be anything too lavish.
The lesson here isn't to stop going on vacation, but to take trips you can truly afford. Simple getaways — i.e., an affordable camping trip — still allow you to relax and recharge, without going into debt.
6. Find Inexpensive Hobbies
Given the size of his bank account, Musk could afford any amount of expensive hobbies. However, the activities he enjoys in his leisure time are notably normal.
Still a gamer, he's tweeted about playing Halo Infinite. When asked about what he does in his spare time at the June 2017 Tesla annual shareholder meeting, he said he enjoys listening to music in the car, spending time with his kids, hanging out with friends and watching movies, according to Quartz.
While Musk surely doesn't have much time for hobbies, enjoying simple pleasures almost definitely saves him a lot of money. Learn from this by seeking out ways to spend your free time that bring you joy, without costing a fortune.
7. Give Back
In 2012, Musk signed The Giving Pledge, committing to giving the majority of his wealth to charitable causes, either during his lifetime or in his will. Making good on his word, he gave $5.7 billion to charity in 2021.
Specifically, he quietly donated approximately 5 million Tesla shares to an unidentified charity or charities in November 2021, according to a mandatory securities filing. The shares were worth about $5.7 billion at the time the gift was made, according to The Chronicle of Philanthropy.
Obviously, Musk has unthinkably large donating power, but every contribution counts. If you can afford to provide any amount of financial support to a charitable cause close to your heart, it will certainly be appreciated.
Of course, donating money isn't the only way to help others, as you can also volunteer your time to both people and organizations who need your support.
Final Take
Now that you know the answer to the question "How did Elon Musk make his money?" you can use his story to inspire your own. The Tesla founder hasn't always been a billionaire, so he's clearly doing something right.
Applying at least some of the seven tips above to your lifestyle probably won't turn you into the richest person in the world, but it can help you get a better hold on your finances.
Whether you're currently overspending or simply putting your money in the wrong investments, Musk's money moves are certainly something to think about. While he does make some stereotypical billionaire purchases — i.e., the $78 million Gulfstream G700 — many aspects of his spending are remarkedly normal.
If you're looking to increase your earnings or save more money, taking a few tips from Musk can be a great starting point. Allow his wise money moves to encourage smart choices of your own that can make your financial situation healthier than ever.
Information is accurate as of Nov. 8, 2022. 
Our in-house research team and on-site financial experts work together to create content that's accurate, impartial, and up to date. We fact-check every single statistic, quote and fact using trusted primary resources to make sure the information we provide is correct. You can learn more about GOBankingRates' processes and standards in our editorial policy.
Make Your Money Work Better for You