How Much Is a Meteorite Worth?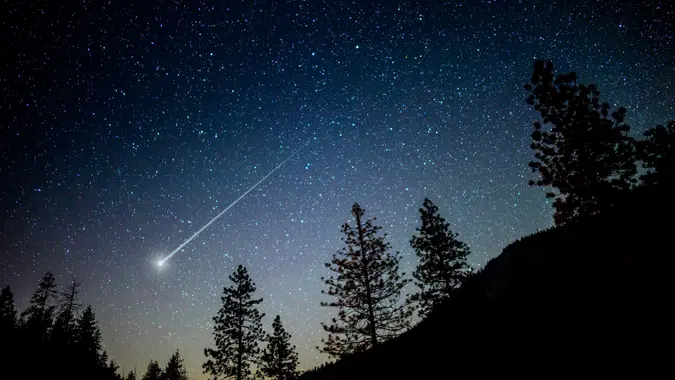 4kodiak / Getty Images
Alongside more conventional investments such as real estate, stocks and ETFs, many individuals choose to buy valuable substances from around the world. Some of those substances aren't actually from this world, with auctions for authentic meteorites drawing attention from countless speculators and driving prices up.
Are Meteorites Worth Any Money?
Meteorites can be worth a lot of money, driven by significant interest from collectors around the world. How much is a meteorite worth? At an auction, meteorites can range into hundreds of thousands of dollars, although many sell for just a few thousand.
Fragments of the Moon or Mars are sometimes blasted into space by impacts and work their way to Earth. These are among the most highly sought-after and expensive meteorites.
Meteorites themselves aren't the only valuable items created by impacts. Items struck by meteorites also sell for high prices, such as a doghouse from Costa Rica that was struck by a meteorite. The dog wasn't hit, and the corrugated sheet metal doghouse went on to sell for $44,000.
How Much Is a 1-Pound Meteorite Worth?
The exact worth of a meteorite varies depending on the specific type of meteorite in question. An 82-pound iron meteorite originating from an asteroid recently sold for $44,100 — about $540 per pound. Other meteorites fetch much more. A unique 4-pound pallasite meteorite featuring crystals of olivine and peridot recently sold for $60,480. That's over $15,000 per pound!
Pieces of Mars rock can command similar prices, with a 4.25-pound piece selling for $63,000, approximately $15,000 per pound. Meteorites from the Moon are even more valuable. A 406-gram lunar meteorite sold for $189,000. That works out to more than $200,000 per pound.
Make Your Money Work Better for You
How Can I Tell If I Found a Meteorite?
Meteorites are incredibly rare, with just over 64,000 known meteorites existing in collections today. It's not common for everyday people to come across them — especially with more than two-thirds being held outside of the ownership of the general public, such as the ones in research and museum facilities.
However, there are steps to take if you think you've found a meteorite and want to know for sure. First, meteorites are much denser than most rocks found on the surface. They're also very likely to be magnetic due to their iron content. Another thing to look for is the fusion crust, a thin crust formed when the meteorite's outer layer melts as it enters the atmosphere.
If what you've found has light-colored crystals or bubbles, it's not a meteorite.
Anyone who believes they have a meteorite will need professional verification. Reaching out to a state geological survey, a museum or a university with a geology department is the perfect place to start.
Taking Advantage of Today's Meteorite Prices
Anyone looking for unconventional investment opportunities might consider investing in meteorites. These unique natural collectibles are reaching a wider audience than ever before and could provide an interesting centerpiece and a solid investment opportunity.
Our in-house research team and on-site financial experts work together to create content that's accurate, impartial, and up to date. We fact-check every single statistic, quote and fact using trusted primary resources to make sure the information we provide is correct. You can learn more about GOBankingRates' processes and standards in our editorial policy.