Jeff Bezos Just Donated a Tiny Fraction of His Huge Fortune to the Homeless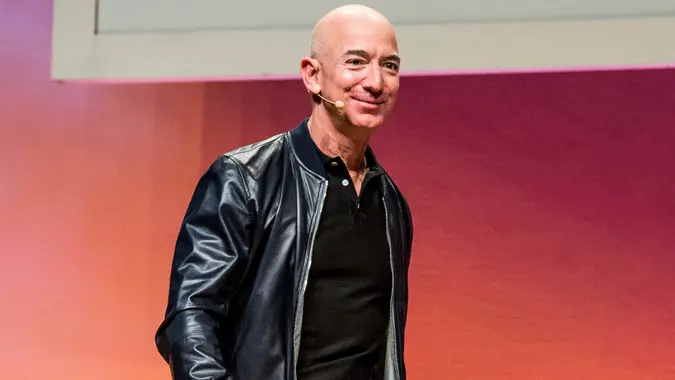 Invision/AP/REX / Shutterstock.com
Amazon founder and CEO Jeff Bezos — the world's wealthiest man — announced the first recipients of grants from his Day One Fund on Tuesday, spreading some $97.5 million across 24 different organizations in 16 states and Washington, D.C. The $2 billion fund set up by Bezos is committed to fighting homelessness and building non-profit preschools for underserved communities. The first organizations receiving funding are all community groups built to address homelessness.
Bezos might be leaning more toward the direction of the charitable billionaire Warren Buffett and other celebrity philanthropists.
Day One Fund Focused on Families, Preschools
The Day One Fund is named for the Amazon's CEO's mantra that you should maintain a "day one mentality" in all things you do. The fund is divided into two verticals, with the Day Families Fund focused on supporting "organizations and civic groups doing compassionate, needle-moving work to provide shelter and hunger support to address the immediate needs of young families."
Make Your Money Work Better for You
The other arm — the Day 1 Academies Fund — is planning to "launch and operate a network of high-quality, full-scholarship Montessori-inspired preschools in underserved communities." Bezos also expects the fund to build an organization to maintain and operate these schools, applying Amazon's "customer obsession" to teaching with the children as the customers.
Don't Miss: Now Amazon Can Build Your House, Too
Fund Makes Big Move Early
The Day One Fund was announced in September, but the distribution of the first funds calls it the "first annual leadership awards," so it would appear to be destined to become a Thanksgiving week tradition.
Although $97.5 million — or even $2 billion, for that matter — doesn't necessarily represent a large portion of Bezos' net worth, the Day One Fund also represents one of the Amazon CEO's first large-scale philanthropy efforts.
Unlike Warren Buffett, Bill Gates, Paul Allen and many other of the world's billionaires, Bezos has yet to sign the Giving Pledge — a promise by the ultra-wealthy to give back the majority of their fortunes to charitable causes.
However, Bezos might still have his own plans for giving. Amazon has partnered with Seattle's Mary's Place to put a homeless shelter in one of its office buildings, and Bezos personally gave over $1 million to the group as a part of the plan. He also solicited advice on how to give back from Twitter users in June of last year.
Make Your Money Work Better for You
Find out more about how Bezos' charity compares with Buffett, Gates and Mark Zuckerberg.
We make money easy. Get weekly email updates, including expert advice to help you Live Richer™.