As Jeff Bezos Prepares To Step Down as CEO, How Much Is the Iconic Billionaire Worth?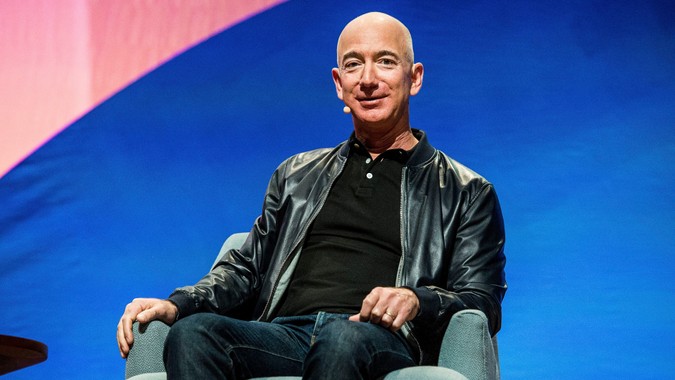 Invision/AP/REX / Shutterstock.com
On Februrary 2, 2021, Amazon announced that founder and CEO Jeff Bezos will transition out of his role to become executive chair in the third quarter, when Andy Jassy will step into the position. If his finances hold, he'll be leaving his iconic role as the richest man in the world.
In 2021, Jeff Bezos lost his spot at the top of the Forbes Billionaire list for the first time in three years – in early January, Tesla and SpaceX CEO Elon Musk briefly surpassed Bezos. But Bezos quickly reclaimed the title and now sits at the top of the Forbes list again. In 2020, Bezos claimed that slot as the world's wealthiest person for the third year in a row, despite giving $36 billion worth of his Amazon stock to his ex-wife MacKenzie Bezos as part of their divorce settlement in 2019.
The business icon has amassed astounding wealth — and significant controversy over how much he pays workers and donates to charity — while using Amazon to disrupt virtually every consumer industry.
See: What Bezos Stepping Down Means for Amazon Investors
Find: 6 Key Milestones That Turned Amazon into the World's First $1.7 Trillion Retailer

Sponsors of
Keep reading to see how Bezos' ideas changed the way you live, and how he made an absolute fortune in the process.
Jeff Bezos Net Worth: $195.8
Bezos lost the title of wealthiest person in the world briefly in January, but has reclaimed it as Amazon stock continues to climb, achieving a market valuation of $1.7 trillion. Bezos also has other investments bolstering his position as world's wealthiest person, ahead of Musk and Apple CEO Bill Gates, who holds the number 3 spot.
See: How Jeff Bezos Built Amazon into What It Is Today
Find: Can Amazon Continue Its Incredible Run in 2021?
Jeff Bezos Steps Up His Charitable Giving
Jeff Bezos has not always been viewed as the most generous billionaire – especially when compared to Bill Gates and Warren Buffett – donating less than others in similar positions to charitable donations. Bezos has also refrained from participating in The Giving Pledge. His ex-wife MacKenzie Bezos committed to the initiative, in which the world's wealthiest people committed to donating half their wealth either throughout their lifetime or after their death.
However, in 2020, Jeff Bezos made the single largest charitable donation of the year, giving $10 billion to the Bezos Earth Fund, an organization that supports non-profits working to fight climate change. Bezos also made a $100 million donation to Feeding America.
See: Global Catastrophes Jeff Bezos Could Fix and Still Be the Richest Man in the World
Find: MacKenzie Scott, Jeff Bezos' Ex, Just Gave Away $4.2 Billion; Now One of World's Top Donors
Jeff Bezos' Start as an Entrepreneur
Started in July 1995, Amazon offers a slew of products and services to customers around the globe, which helped it become the fastest company ever to reach $100 billion in annual sales — a feat achieved in 2015. Today, the company holds a valuation of approximately $1.7 trillion and achieved record fourth quarter revenue exceeding $125 billion.
Amazon issued an IPO in May 1997, but the man behind the online retail giant still retains a 10% stake in the company, holding 53 million shares. In 2020, he cashed out $10 billion in Amazon stock, perhaps to help fund other ventures that he says will become his focus in 2021 and beyond.
Sponsors of
Amazon issued an IPO in May 1997, but the man behind the online retail giant still retains an 11.2% stake in the company. Amazon is Bezos' main focus, but the consumer-friendly company is not his only business venture.
See: If You Would Have Bought Only 100 Shares of These 10 Stocks, You Would Be Incredibly Rich
Find: Jeff Bezos' Most Outrageous Business Failures
In 2013, Bezos became one of the largest players in the news industry after he purchased The Washington Post for $250 million.
In March 2017, Bezos purchased Dubai-based online retailer Souq.com. The final purchase price was not revealed. However, Dubai's state-backed Emaar Malls PJSC announced it made an $800-million bid for Souq.com just before Amazon closed its deal, according to an AP report.
In 2017, Bezos also purchased the Whole Foods grocery store for $13.7 billion, which paved the way for Amazon to revitalize its food delivery service, Amazon Fresh.
The billionaire entrepreneur also founded the rocket company Blue Origin, which is developing reusable rockets to shuttle passengers to and from space. Last year, Blue Origin won a 10-month, $579 million contract for NASA's Artemis Project with the goal of landing Americans on the moon again by 2024.
Jeff Bezos' Real Estate Ventures
In 2016, Bezos spent $23 million to purchase the 27,000-square-foot former Textile Museum in Kalorama, a swanky Washington, D.C., neighborhood. The property consists of two historic mansions that are on the National Register of Historic Places. Despite the major investment, the primary Bezos family residence remained in Washington state.
Located in the suburb of Medina, Washington, the main Bezos residence is a 29,000-square-foot compound not far from Amazon's headquarters. Originally a 13,000-square-foot home, Bezos' 5.35-acre waterfront property underwent a $28 million renovation to transform it into a sprawling oasis, according to Forbes.
Bezos also owns Amazon's Seattle campus that spans four city blocks and is reportedly valued at $4 billion.
In February 2020, Bezos purchased a nine-acre Beverly Hills, California-area estate for $165 million, a record sale for a private residence in Los Angeles County, The Hollywood Reporter reported.
See: How Amazon Changed Our Shopping Habits — For Better and Worse
Find: Walmart+ vs. Amazon Prime: Which Is Better?
Jeff Bezos' Luxury Toys
Immediately after becoming rich, Bezos didn't head straight to the car dealership. Despite owning roughly $10 billion in Amazon stock in 1999, Bezos was reported by CNBC to still be driving a Honda Accord. That said, Bezos isn't always a rich person that lives like an average Joe.
Along with his impressive real estate portfolio, Bezos has amassed a fleet of private jets — including a Gulfstream and a Dassault Falcon-900EX — for his personal travel needs. His limited liability company, Poplar Glen, paid $5.5 million for a hangar at Seattle's Boeing Field to store his jets in 2015.
More From GOBankingRates:
Dawn Allcot, Sean Dennison, Karen Doyle, Rachel Holly Farrow and Gabrielle Olya contributed to the reporting for this article.