10 Luxury Items That Are the Most Counterfeited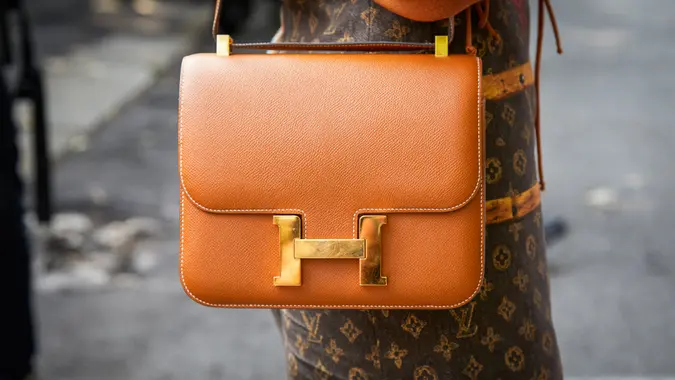 andersphoto / Shutterstock.com
Luxury is often in the eye of the beholder — what someone is willing to pay a fortune for may be something that you'd never wear or own. Just by the nature of being pricey, products lend themselves to being counterfeited, because what people with money can afford the masses also want — but for a fraction of the price.
The Future of Finances: Gen Z & How They Relate to Money
Explore: Your Biggest Money Etiquette Questions Answered
Criminals often take advantage of this and turn it into a lucrative side gig. In fact, if you've ever shopped from street vendors in big cities like New York, Los Angeles or San Francisco, you've probably run across some of these fakes. They may look like the originals, but they often lack the quality and durability of the real thing. These 10 luxury items are among the most counterfeited … so be aware.
Gucci Purses and Bags
Gucci is a luxury brand from Italy known for its purses, bags and clothing. According to High Snobiety, the double G logo is among the most famous of all fashion brand icons, and incredibly sought after by counterfeiters.
According to CNBC, in 2020, Gucci cracked down on no fewer than four million online counterfeit product listings, and actually claimed 4.1 million counterfeit products. It probably won't stop the fraudsters from trying it again, though.
Make Your Money Work Better for You
Chanel Perfume
The French luxury brand known for the perfume designed by its founder, Coco Chanel, as well as clothing, purses, wallets and bags is another easy target for counterfeiters. It's such a common problem that U.S. Customs and Border Patrol put out a press release in 2021 warning retailers to double check their Chanel products, because they'd seized a ton of fake ones at the border.
Louis Vuitton Bags
Louis Vuitton, the French fashion brand, is another one of the most commonly counterfeited brands out there, according to Love Money.
Take Our Poll: Do You Think Student Loan Debt Should Be Forgiven?
In August, 2020, Chinese police cracked down on a sizable Louis Vuitton counterfeiting operation selling fake bags, according to Lexology. They arrested 62 criminal gangs for such crimes as manufacturing and selling counterfeit bags, and took away more than 2,000 counterfeit bags, as well as other materials and equipment valued at $14.6 million.
Burberry Apparel
Burberry is a British fashion brand that was founded by Thomas Burberry in 1856. It's known for its signature plaids and simple designs on items like scarves, hats, and trench coats. In fact, Burberry was one of the first to make a trench coat using the uniquely durable material, Gabardine, which changed how the coat was worn.
Make Your Money Work Better for You
Like other fashion brands in demand, Burberry suffers from counterfeit problems. In 2019, they attempted to put an end to thousands of online stores that were selling counterfeit products but passing them off as the real thing, according to Trademarks and Brands Online, but the problem persists today.
The company has even gone so far as to destroy its own merchandise in an attempt to control their intellectual property, making it easier to spot fakes, according to The Guardian.
Ray-Ban Sunglasses
Ray-Ban's parent company, Luxottica, struggles all the time with a constant influx of fakes, according to TheSunglassFix.com. They try to explain that fakes don't have the important UV protection that Ray-Bans are known for, and could damage a person's eyes. However, this doesn't stop counterfeiters from making them.
Apple AirPods
Apple is the most counterfeited tech brand in the world, and, much like with fake medications, bogus Apple goods are potentially fatal. In 2013, Ma Ailun, a 23-year-old flight attendant from China, died after she was electrocuted by a counterfeit iPhone charger.
According to CBS affiliate news station WPSD, counterfeit Apple products are becoming a bigger problem. In fact, if you've ordered yours online but not through Apple directly, there's a good chance you've purchased a counterfeit product, particularly AirPods. U.S. customs found more than $1.3 million worth of fake Apple AirPods and AirPods Pro in 2021, and have confiscated more fake Apple earbuds that were being shipped from China. One red flag is when the price you're paying is significantly lower than the regular price.
Make Your Money Work Better for You
Rolex Watches
The Swiss watch maker whose name is synonymous with luxury timepieces probably doesn't appreciate the sheer scope of fake Rolexes that can be found out in the world. According to The Fashion Law, there were more fake Rolexes in circulation than real ones in 2019.
Of course, Rolex has such high standards that what qualifies as a counterfeit can even include watches made in their own workshops, according to High Snobiety. Their definition of counterfeit includes any Rolex watch made with non-authentic or unapproved parts.
Cartier Jewelry and Watches
The French jewelry and watch designer has had it with trying to fight counterfeiters. This year, it formed a non-profit called Aura Blockchain Consortium to do just that along with Louis Vuitton's parent company LVMH and Prada, according to Forbes. The plan is to use the technology that undergirds cryptocurrencies and NFTs to help assure a product's authenticity.
The system was developed by Microsoft and it will enable consumers to receive a product history and proof of authenticity when they purchase a product from these companies.
Hermès Bags
Hermès, the French brand known for its Birkin brand and its silk scarves worn by the rich and famous, is notorious for knockoffs.  Unfortunately, even some of its own employees have gotten in on the counterfeiting scandals. According to The Fashion Law, in the mid-2000s, employees were helping a counterfeiting ring by providing actual Hermès materials to produce cheap imitations. They were eventually busted, but the counterfeiting has not ended.
Hermès products continue to be confiscated at the borders — including belts to wallets — and the company spends millions fighting these fakes.
Tiffany & Co. Jewelry
Online sales have made it almost too easy for counterfeiters to sell their fake wares, because they can use real photos of products but ship fake ones to consumers, according to Love Money. Tiffany & Co. took eBay to court in 2010 because research found that nearly three-fourths of the Tiffany branded products the online auction site was selling were fake. They've also sued Costco for selling fake Tiffany diamond rings.
The SHOP SAFE ACT passed by Congress in March 2020 was an effort to start holding online retailers accountable for counterfeit merchandise, according to Bloomberg Law, but clearly the fight will continue.
More From GOBankingRates
Make Your Money Work Better for You